On Inlander.com:

A few Spokanites took home honors from the
2015 Washington State Book Awards
. Bruce Holbert took home top prize in the fiction category for his book
The Hour of Lead,
and Gonzaga creative writing professor, Tod Marshall, got an award for his collection
Bugle.
Democratic Debate recap: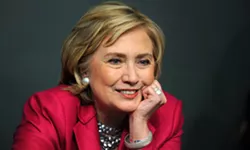 Democratic presidential candidates debated for the first time last night, and many outlets are saying
Hillary Clinton stole the show
. Although she had to answer for her use of private email server, she had some help from her biggest rival, Senator Bernie Sanders, who said: "the American people are sick and tired of hearing about your damn emails." She agreed.
He did not, however, give her a pass on
economic inequality
and financial reform.
As for the other three candidates:
Martin O'Malley
: Eh. The former governor of Maryland needed to separate himself from the pack, but didn't really. He did however position himself firmly within the debate over gun control. When asked which "enemy" he was proudest of making he said these four words: "The National Rife Association."
Jim Webb
complained about not getting enough time to speak, but when he did get a chance to talk, he talked about foreign policy but "
seemed uncomfortable
" talking about stuff that matters to liberals: Black Lives Matter, guns, affirmative action, immigration.
Lincoln Chafee
referred to himself as a "block of granite when it comes to the issues" when asked about his changing party affiliation, but when asked about his vote in favor of the Glass-Steagall Act, he bombed: "I'd just arrived, my dad had died in office, I was appointed to the office, it was my very first vote."
Here's a handy data analysis of how long each candidate spoke and what they talked about from the
Washington Post
.
The
ACLU filed a lawsuit
yesterday in the Eastern District of Washington against two
Spokane-based psychologists
, James Mitchell and John "Bruce" Jessen. The two men are responsible for designing a
CIA torture program
that relied on beatings, sleep deprivation, starvation, waterboarding and other methods the suit alleges.
You can read the entire complaint
here
. See below for the first of three video interviews with Mitchell. You can watch the rest of the interviews
here
.
Lamar Odom
was found
unresponsive in a Nevada brothel
, and is currently in a hospital breathing with the help of machines.
Dennis Hof, owner of the Love Ranch where Odom was staying about 90 minutes from Las Vegas, said he did not see the two-time NBA Finals champ take any illegal drugs. Hof told the Associated Press that Odom was taking herbal Viagra and drinking cognac since arriving, but didn't finish the bottle.
Odom's two NBA championships came with the Lakers in 2009 and '10. He was named Sixth Man of the Year in 2011. He's currently married to Khloe Kardashian, but she's filed for divorce.
MLB Playoffs
Apparently the
end times are near
, because the Cubs
actually won a playoff series at Wrigley
yesterday when they beat the Cardinals 6-4. And in doing so pushes us all to the brink of apocalyptic destruction. The win marks the first playoff-series-clinching win at home in the franchise's 145-year history. Seriously.
The Dodgers also beat the Mets last night to force a decisive Game 5. They'll play Thursday at 5 in Los Angeles.
Both American League Division Series made it to a Game 5 as well. Texas and Toronto square off at 1 pm today. Kansas City plays the Astros at 5.