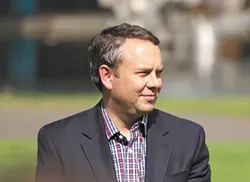 On Inlander.com:

Missed the debate between
Mayor David Condon
and his challenger,
Shar Lichty
, last night? No worries, you can watch it on KSPS's website
here
. Don't wanna watch it? Read our preview blog post
here
. During the debate, Condon answers for the ethics complaints filed by Lichty against two of his cabinent members, and Lichty defends her support of the Workers Bill of Rights.
Council President Ben Stuckart
and his opponent,
John Ahern
, were also part of the debate.
Bonus
: For Weed Wednesday this week, we asked the 80-year-old Mr. Ahern what he thinks about
pot
. Read that Q&A
here
.
Double bonus
: In case you haven't heard, former police chief
Frank Straub wants $4 million
from the city after getting the boot three weeks ago. He says his due
process rights were violated
. Check our news story "
The Terminators
" this week for more context on the
city's bungled personnel maneuvers
.
In other news:


Gonzaga University got a
$55 million donation
from a local philanthropist, Myrtle Woldson, who died last year at 104. GU is also in the midst of raising
$250 million more
to pay for new buildings, scholarships and expanded programs. (via the
Spokesman-Review
and KXLY)
Ken Taylor
, former Canadian ambassador to Iran and the "main hero" in the hostage escape operation of
Argo
fame
died yesterday
. He was 81.
A Seattle librarian wants to spend
$2 million on a rebrand
. Read
The Stranger's
report for a breakdown of how the money would be spent.
And don't miss Raekwon of the Wu Tang Clan tonight at the
Bing
.