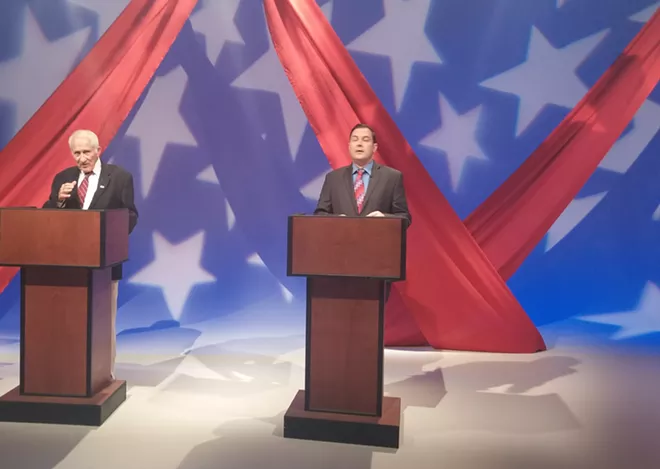 UPDATE:
Both debates are embedded at the end of the post.
Tonight at 7 pm on KSPS! Mayor David Condon goes head-to-head with his rival Shar Lichty. Then, a half-hour later, City Council President Ben Stuckart defends his seat from John Ahern. It's pre-taped, so the
Spokesman-Review'
s Jonathan Brunt, KXLY's Robyn Nance and myself have already asked our questions and already heard our answers.
Watch live to see elected officials battle or to see me stutter while reading. But if you want a taste of a few of the most interesting moments in the debate, here are a few spoilers.
Mayor David Condon vs. Shar Lichty
Condon defends his administration from ethics complaints filed by Lichty.
(The complaints concern City Administrator Theresa Sanders, who
falsely
said that former police spokeswoman Monique Cotton was given a raise as an "enticement," and that she was "not aware" of conflicts between Cotton and Straub; and city spokesman Brian Coddington, who on the day of Straub's dismissal, said he had not heard Straub's job was in jeopardy, and later sent out a press release claiming Straub "decided to leave the Spokane Police Division to pursue new opportunities and be closer to family.")
In personnel matters, they move. As the press in those 36 hours were asking questions of what was happening, the reality is, it was the information we knew at the time. As you talk about an ethics complaint, the reality is, is that this is an interesting timing in that claim. But also, I believe in that process, and you will see that they did not intentionally mislead. But at the time, that was the information they knew, which was literally changing hour by hour during that period.
Lichty explains why no current City Council members have endorsed her.
Well, Karen Stratton does not endorse any candidates, and so she hasn't endorsed anyone. For the other ones, I have a big lift to win this election. I think they wanted to maintain a good rapport with the current mayor, should I not be elected and he is re-elected. I think that is politically smart for them on their move.
...
I've worked with council on different issues. I would say that they do trust my leadership abilities. They trust my integrity. That when I say I'm going to do something, I follow through on that. I wouldn't say that their lack of an endorsement should count against me.
Shar Lichty defends her support for the Worker Bill of Rights.
I had supported the Worker Bill of Rights before I decided to run for office, and so I wasn't going to change that endorsement when I decided to run for office, regardless of how controversial that issue is right now. So that's me standing by my issue. It's a citizen's initiative. The volunteer citizens went out and collected the signatures that were needed to get it on the ballot, and the voters will decide. And what I would encourage all voters to do — I don't like to encourage them to vote one way or another unless it's to vote for me — but to do all of your background information on both sides, the pros and cons, and then make a decision. An educated vote.
Condon predicts havoc if the Worker Bill of Rights passes.
I stand with many elected leaders on both sides of the aisle, both state and local. It will drive jobs out of the city. It will cost employers more money . And ultimately it's unconstitutional, which was deemed that way by our hearing examiner. So I don't believe that that is the right type of policy that we set for that city. We need to grow jobs. We've had some great recent news: Median household income up 11 percent for the first time in many years.

City Council President Ben Stuckart vs. John Ahern
Ahern savors the moment, earlier this
year,
when Stuckart
pounded his gavel down
and left the dais.
The time he walked off the stage, in January, that was when I was talking. This little old lady right behind me yelled, "Go Ahern!" And about that moment, the whole group totally erupted! I go, oh my God, what did I say? I turned around, and everyone was shouting "Go Ahern! Go Ahern!" I thought maybe I'd said something right for a change. I walked out and people were shouting and yelling stuff. At that point, Ben went ahead and gaveled. He said, "This meeting is over," and walked right off the stage, and shut everything down.
...
I think basically, Mr. Stuckart, you need anger-management training.

Ben Stuckart, on why Spokane is not a "sanctuary city" like
San Francisco
.
We're not a sanctuary city. In sanctuary cities like San Francisco, they do not talk to border patrol very specifically and they do not accept ICE holds. We accept ICE holds and we cooperate with border patrol. When we were dealing with biased policing, I met with the legal department and I met with our police officers and part of non-biased policing is not asking immigration status. The Department of Justice and the Supreme Court have said those are federal responsibilities and we should not be doing it locally. Why, you say, is this important? It's because people do not report crimes if they think they are going to be deported.

I had a local counselor at a high school come and talk to me, and what she said was, "I have a student who is in trouble." Her mom was not reporting the domestic violence because her husband was telling her she would be deported. When we passed our law, she was able to report to police the domestic violence situation and it solved the student's problem. It is important for the citizens of our community that our police are sticking to property crimes and other criminal acts that are within our purview.

Ahern channels a certain GOP frontrunner:
One thing I wanted to mention, you take a look of downtown, there are a lot of empty buildings downtown. There are a lot of empty spaces in the current buildings that we have. And all they have to do is bring — I'd like to make Spokane great again, which we aren't. We were a couple years ago. Bring those businesses back, get rid of the paid sick leave, sanctuary city, and the $15 per hour minimum wage. Get rid of those, businesses will come into Spokane, I can guarantee ya that.
Stuckart, irritated by Ahern critiquing Spokane for having policies it doesn't actually have:
These are continual themes in all the forums I've been in and they're just wrong. I'm supported by both the Home Builders and the Realtors Association... There's a reason for that. I've been the strongest candidate on business support on this council. The median income from 2013 to 2014, increased by 11 percent in Spokane. Our business vacancy rates are less than the Spokane Valley. To say that we've done a bad job ignores all the work that we've done strengthening our small businesses in Spokane.