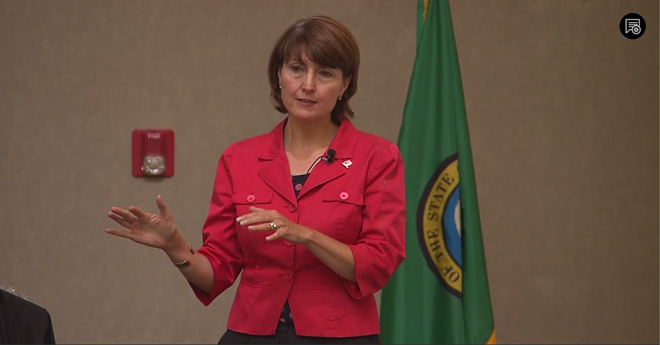 Ever since the city of Spokane passed a policy officially prohibiting city employees from asking about a person's immigration status, critics have been
trying to reverse the policy
. The latest attempt to undo Spokane's policy, a "Respect Washington" ballot initiative known as Proposition 1, was
tossed off the November ballot this morning
by Spokane County Superior Court Judge Julie McKay. (In June,
we reported on the unique arguments
being used to try to remove the initiative from the ballot.)
But as the debate over Spokane's policy has raged, the initiative backers have repeatedly referred to Spokane as a "Sanctuary City," conflating Spokane's policies with much more radical policies in cities like San Francisco. It's this phrase, set in quotes, that often tops
local newspaper headlines
regarding the issue.
Yet "sanctuary city" is a tricky little phrase. To advocates of protecting "undocumented immigrants," it implies compassion and humanity. To advocates of booting "illegal aliens" out of the country, it implies reckless, anarchic defiance.
There's no legal definition of "sanctuary city." And over the years, the meaning of the phrase has come to mean wildly contradictory things. Some use the phrase for any city — like Spokane — that prohibits a police force from asking directly about a person's immigration status. Others reserve it for cities or counties, like San Francisco, that choose to outright defy requests from Immigration and Customs Enforcement (ICE) or U.S. Customs and Border Protection, limiting the information shared with federal agencies.
So when McMorris Rodgers said "she'd supported defunding the sanctuary cities" at a recent town hall meeting, her comments sparked some double takes. After all, the city of Spokane and Spokane County have both been repeatedly called "sanctuary jurisdictions." Was McMorris Rodgers saying they should be defunded?
Over the past 10 days, we tried to get a clear ruling from McMorris Rodgers' office over how she defined a sanctuary city. Ultimately, she issued a statement — "I believe that all local,
state,
and county governments should abide by
federal
policy and cooperate with federal law enforcement at all times, regardless of the issue" — and referred to
legislation she supported
.
A few years ago, it would have been possible to shrug off the "sanctuary city" definitional debate as similar to use of a word like "hipster" — a word frequently lobbed in a debate, but without any agreed-upon definition.
But times have changed. President Donald Trump used "sanctuary city" as a bogeyman during the campaign, pointing to the
July 2015 murder of Kate Steinle
at the hands of Jose Ines Garcia Zarate, an unauthorized immigrant who had been deported five times, in San Francisco. A few months before Steinle's murder, the city had refused to tell federal immigration officials that Garcia Zarate was being released.
Now, Trump has announced a "nationwide crackdown on sanctuary cities," leaving cities and counties scrambling to figure out if they're going to be subject to the crackdown.
Spokane is not a sanctuary city
, says Spokane Mayor David Condon. City Council President Ben Stuckart has repeatedly said the same thing.
"I know our police department doesn't consider us a sanctuary city," Stuckart says, adding that immigration activists, the sort who actually
would
like Spokane to be a sanctuary city, don't consider Spokane to be a sanctuary city.
Spokane County Sheriff Ozzie Knezovich, similarly, has repeatedly expressed frustrations with Spokane County appearing on lists of sanctuary cities, despite the county continuing to work with federal immigration.
"The sheriffs in this state are very angry about this," Knezovich says.
Unfortunately, it's not as simple as saying that Spokane isn't a sanctuary city, or Spokane County isn't a sanctuary county. There are so many different definitions floating out there, you've got to take them one by one.
SANCTUARY CITY DEFINITION 1:
A city with a policy that limits inquiries about a person's immigration status

According to the
New York Times
,
the term "sanctuary city" originated
with the "Sanctuary" movement in the 1980s, where churches —
including one Stuckart attended
— protected Central Americans who entered the United States illegally.
In 2005, however, the Congressional Research Service rounded up a list of 32 cities and counties it referred to as "sanctuary" jurisdictions, defined as cities or counties where the employees are explicitly not required to report illegal immigrants to the feds. That included New York City.
That's why, in a 2007 Republican primary debate, Mitt Romney accused former New York Mayor Rudolph Giuliani of having governed a sanctuary city. But Giuliani disputed that claim.
"The reality is that New York City is not a sanctuary city," Giuliani responded in the debate. And
Politifact criticized Romney's use of the term
as conveying "broader protection than the policies actually give."
In 2014, Spokane passed an ordinance to write existing Spokane Police Department policy officially into city law: City employees would not be allowed to ask about a person's immigration status. The reason why was simple, supporters of the ordinance argued: Unauthorized immigrants needed to feel safe in order to go to the police to report crimes.
"I had a local counselor at a high school come and talk to me, and what she said was, 'I have a student who is in trouble,' Her mom was not reporting the domestic violence because her husband was telling her she would be deported," Stuckart said in 2015. "When we passed our law, she was able to report to police the domestic violence situation and it solved
the student's problem."
In other words, under this very broad definition, Spokane
is
a sanctuary city.
But across the nation, it remains rare for local law enforcement agencies to regularly ask suspects about their immigration status. In fact, as of 2015,
only six states had passed laws
explicitly encouraging or requiring local police agencies to ask people about their immigration status — and lawsuits forced all six to dramatically roll back their policies because of lawsuits
.
SANCTUARY CITY DEFINITION 2:
A city that refuses to put holds on prisoners requested by U.S. Immigration and Customs Enforcement (ICE) or U.S. Customs and Border Protection.

This second definition of "sanctuary city" focuses on detainer requests. If ICE asks a city to hold a prisoner until immigration agents can arrive and pick up that prisoner, will it?
Obviously, that definition doesn't apply to the city of Spokane.
"The city of Spokane has no control over the jail," Stuckart points out.
But how about Spokane County? Well, that's where things get a little complicated.
"Essentially for decades, jails received and accepted ICE detainers on people they were going to look at for possible removal," says Mitch Barker, executive director of the Washington Association of Sheriffs and Police Chiefs.
But in April of 2014, a
ruling from a federal judge in Oregon
changed things. A woman in Clackamas County, Oregon, had been placed in the county jail on allegations she had violated a restraining order. But because of an ICE detainer request, she was kept in jail for two weeks after she'd posted bail. The judge determined that the ICE detainer requests had violated the Fourth and 14th Amendments of the Constitution.
"It goes back to a very basic 4th Amendment tenet. We can't hold you in jail unless you have a reason," says Barker. "Immediately, after that ruling, every jail in the state changed their policies ... I've met with my peers," Barker says. "It's the same issue all over the
country.""
It's why you'll see Spokane County and many others identified on
maps like this one
from the anti-illegal-immigration Center for Immigration Studies, identifying Spokane County as among the list of "Sanctuary Cities, Counties, and States."
"The term they want to use is that 'We're not complying with federal laws,'" Barker says regarding some of the rhetoric around sanctuary cities. "That isn't true. We have no legal authority to hold people. The fact that they disagree doesn't change the law."
In other words, it's not that Spokane County is trying to defy the law — it's trying to follow it.
John McGrath, detention services director for Spokane County, says that the county worked with ICE over the course of a few months to establish a new process. The county still honors a detainer request if it's accompanied by a warrant signed by a judge. And as long as ICE fills out the proper forms for a specific inmate, the county will still notify ICE before he or she is released from a jail or correctional facility.
"We're just making them submit the correct paperwork in their requests," McGrath says.
Over the years, Knezovich says, the paperwork has changed, but there hasn't been an attempt to defy federal authorities.
"We've always cooperated with ICE," Knezovich says. "In no way, shape or form has Spokane County
ever
been a sanctuary."
In some cases, in fact, the county appeared to place a greater weight on a request from immigration agents than an order from a federal judge.
Five Indian nationals, who had crossed the Canadian border into the U.S., were held on misdemeanor charges of
entering the country illegally
. U.S. Magistrate Judge John Rodgers sentenced them to time served and ordered them released.
But they weren't released. Instead, because of a 2016 Spokane County memorandum of agreement with U.S. Customs and Border Protection, the five were transferred to Federal Detention Center SeaTac.
To Nic Vieth, attorney for Hetal Barot, one of the five Indian nationals, that's not only an example of conflicting federal branches, it shows that Spokane County is hardly the refuge that anti-illegal-immigration groups portray.
"This case illustrates the opposite of sanctuary," Vieth says. "There was no sanctuary."

SANCTUARY DEFINITION 3:

A city that refuses to share immigration information with federal authorities
By contrast to Spokane, San Francisco, the target of Trump's sanctuary city ire, has one of the most expansive sanctuary city policies in the country. According to the
San Francisco Chronicle
, "Former Sheriff Ross Mirkarimi barred communication with federal agents in virtually all circumstances."
"Traditionally, [a sanctuary jurisdiction] is one in which law enforcement will not assist [immigration authorities] in any way," says Center for Justice Executive Director Rick Eichstaedt, who filed the successful lawsuit against Proposition 1, the immigration-status initiative. "We focus on initial contacts. You can't make initial stops [and ask about immigration status.] There's nothing to say, you can't assist later in the process."
As jurisdictions across the country have demanded more clarity about the Trump administration's threat to defund "sanctuary cities," Attorney General Jeff Sessions offered this definition in a May memo: Any city or county that violates a federal statute requiring state and local governments to
share immigration status information
with the federal government.
So far, Sessions
has sent warning letters
to leaders of New Orleans; Philadelphia; Chicago; New York City; Clark County, Nevada; Miami-Dade County, Florida; Milwaukee County, Wisconsin; Cook County, Illinois; and the state of California.
Similarly,
McMorris Rodgers supports the "No Sanctuary for Criminals Act,"
legislation in the House of Representatives intended to penalize jurisdictions that refuse to cooperate with federal agencies or share immigration information.
In recent months, the
Chronicle
says, even San Francisco has moderated its policies slightly, allowing "the sheriff to notify immigration agents if someone without legal status is being held on a violent or serious felony charge and has had certain felony convictions in the past."
Cities like Spokane and Seattle clearly
don't
fit this definition. But Sessions also warned the cities and counties that the definition could widen. When Trump passed his executive order requiring the Department of Homeland Security to identify "sanctuary jurisdictions" and deny them federal funds, the cities of Seattle and Portland filed a lawsuit.
"The term does not have any specific legal definition," says Seattle Assistant City Attorney Michael Ryan. "That executive order doesn't necessarily define what a sanctuary city is either."
The executive order references a federal statute prohibiting governments from communicating about "the Immigration and Naturalization Service information regarding the citizenship or immigration status, lawful or unlawful, of any individual."
In a legal brief, Seattle argues that it doesn't violate that statute, but because of past statements from Trump, it sought more clarification.
"It is fundamental that state and local governments are not bound by conditions attached to federal grants unless those conditions are clearly stated," the brief argues. "The Executive Order is fatally ambiguous."
The same could be said about the phrase "sanctuary city" to begin with: It's so ambiguous that it adds to the confusion around immigration policy, instead of clarifying that policy.
So what does this all the add up to? Yes, the city of Spokane has
a policy
to leave immigration inquiries up to the federal government. And yes, Spokane County, in an attempt to follow federal law, doesn't accept detainer requests from ICE without a warrant.
But as far as the way President Trump uses the phrase "sanctuary city," accusing local governments of actively constructing walls to block federal immigration actions?
We're not even close.