Every fall, thousands of people are faced with a difficult, life-changing decision with enormous implications for their life: What to do for Halloween? We're here to help make that important decision easier, as we have highlighted four of the potentially quirkiest, scariest and craziest Halloween celebrations in the greater Spokane area.
If you are looking for something epic to do on Halloween night, look no further. KREM2 news is hosting a party in Coeur d'Alene, complete with drinks, food, a scavenger hunt for a 32" TV and even overnight accommodation. Several of the overnight options are sold out, but there are still rooms available for the night. The party is all ages until 7 pm, when it becomes 21 and up, and lights go out at 10 pm for the last four hours of the party.
KREM2 Lights Out Party • Sat, Oct. 31, from 12 pm to 2 am • $25-$75 • Villa d'Amoore Ranch • 4570 S. Stach Road, CdA • 208-755-5200 • cdaranch@gmail.com

HALLOWEEN BASH FOR YOU AND BOO
The eighth annual Mira-Boo Halloween Bash will feature DJ Dean Jaxon along with over $2,500 in cash and prizes. The party info claims "scary good drink specials" and invites guests to head to the MAX at Mirabeau bar after midnight for another hour of music and dancing. There is also a special $98 package that includes a room at Mirabeau Park, two tickets to the party and two vouchers for the Bloody Mary bar Sunday morning.
8th Annual Mira-Boo Halloween Bash • Sat, Oct. 31, at 8 pm • $10/$98 • Mirabeau Park Hotel • 1100 N. Sullivan, Spokane Valley • 924-9000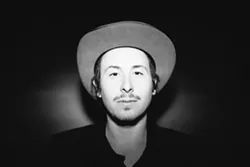 <!——————StartFragment——————>

For those looking to start the party a little early, head on over to the iconic Big Dipper for a Hallow's Eve show. Marshall McLean, Wartime Blues and Pine League will take the stage for a night of energetic rock and blues. Complete with a costume contest, this Halloween pre-funk is a great option for a low-key Friday in preparation for Halloween night.




Big Dipper Halloween Prefunk • Fri, Oct. 30, at 7 pm • $15 ($12 pre-sale) • The Big Dipper • 171 S. Washington • 863-8098




Time to throw together that Al Pacino costume and pretend to be way more loaded than you are! Or for the shorter party goers, perhaps a Joe Pesci costume would be more suiting. Either way, fun awaits at the Nighthawk Lounge in Coeur d'Alene Casino Resort on Halloween night. There will be live music with a DJ, dancing, a costume party with $2,000 in prizes and the mandatory 50-plus couple making out in the corner.




Costume Party • Sat, Oct. 31, at 9 pm • Free • Nighthawk Lounge, Coeur d'Alene Casino • 37914 S. Hwy 95, Worley, Idaho • 800-523-2467

Now that you have a few places to start looking, all that's left for you to do is to decide whether spandex is a good idea or not. Whatever you end up doing this Halloween weekend, have a great time and remember to be safe.