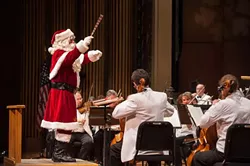 FROM INLANDER.COM
There will
be no armed guards in Spokane public schools.
Spokane City Council tabled a proposal to put armed guards in schools after the idea, proposed by the city administration, withered on the vine. Spokane City Council President Ben Stuckart suggested that it was an idea floated by Police Chief Frank Straub in the waning days before his ouster.
Resort hotel addition looks like a "tourist warehouse"

The Coeur d'Alene's Design Review Commission, a citizen-appointed panel that reviews the design of new buildings,
was unimpressed with the proposed design for additions to the resort hotel.
Commissioners described it as a bunch of hotels stacked together and a "tourist warehouse."
Police arrest friend of San Bernardino shooter

Law enforcement officials in Southern California
have arrested Enrique Marquez
for aiding Syed Rizwan Farook, one of the shooters in the San Bernardino terrorist attack. According to court documents, Marquez had terrorist attacks of his own planned.
Sanders campaign penalized

Sen. Bernie Sanders campaign for the Democratic presidential nomination
took a hit after a staffer was caught peeking at voter data
being used by rival Hillary Clinton. The staffer has been fired and Sanders has been cut off from a Democratic Party list of likely voters. The Sanders campaign blamed it on a software glitch.
House passes spending deal

The U.S. House of Representatives
passed a $1.2 trillion spending package.
Included in the legislation is a range of tax cuts as well as $66 billion increase in federal outlays, which marks a reversal of years of sharp spending cuts.
Best news bloopers of 2015
We've all made mistakes over the last year. But at least they didn't occur on television.