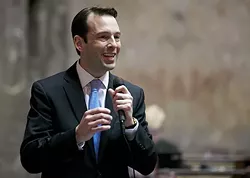 Washington state Sen. Andy Billig, like many Democrats supported by teachers unions, hasn't supported charter schools in the past. From my 2012 story, "
Unchartered Territory
," I detailed Billig's skepticism.
Rep. Andy Billig, D- Spokane, a member of the House Education Committee, says he hasn't been convinced. Schools in Washington state already have flexibility in their structure, he says. In Spokane, the On Track academy customizes its curriculum for promising but struggling students. The Community School at Havermale lets students work on self-designed projects for three weeks at a time. Both are charter-school-style innovations, but both operate under the district's control.
The problem with failing schools, Billig says, is socio-economics. His solutions have to do with early childhood education, better nutrition, all-day kindergarten and improving the overall economy — not charter schools.
But now that existing charter schools are left drifting in a legal limbo, thanks to being ruled unconstitutional by the Washington State Supreme Court in because they weren't considered "common schools," Billig is a legislator seeking a possible solution.
And his solution sounds like a simple one: Charter schools legally need to be governed by school districts to be legal? So have them governed by school districts.
"One of the biggest things I was concerned about with the charter school admission is that a state-wide commission could put a school in a local community in a way that could be harmful to a local school system," Billig says. But his proposed bill would fix that. Currently, Spokane's two charter schools, PRIDE Prep and Spokane International Academy, were authorized by Spokane Public Schools. This would give Spokane Public Schools one more piece of control, but still allow charter schools a certain amount of freedom.
"They would be run by a non-profit board through a detailed contract from the school district," Billig says. They would be able to negotiate in that contract over things like the length of the school year, the school day, budget control, and professional development.
But the details, of course, can get complicated.
"One thing this bill does is it clearly provides that teachers [and staff] have the right to collectively bargain," Billig says.
Currently, schools like Spokane International Academy give the teachers the right to form a union. But they aren't a part of the Washington Education Association, and they haven't currently unionized. In some sense, this makes it easier: When Spokane International Academy wanted to create school days that lasted much longer, it didn't have to negotiate with a union. Instead, it offered starting salaries that paid better than Spokane Public Schools did, and then used that to attract passionate teachers willing to put in the extra time.
Would that have been as easy to implement if the teachers were a part of the Spokane Education Association or the WEA? The exact details of how collectively bargaining would be handled still have to be figured out.
"Think about this bill as a general framework for setting up these schools within a district," Billig says. "And it's going to be very much up to individual districts and organizations running these charter schools to collaborate to fill in the framework."
Also open questions: Will this compromise of a bill bridge very disparate groups to form a coalition or is it the sort of compromise that both sides reject? Right now, Spokane Public Schools is the only district to have authorized charter schools. Would it work on the west side?
"The real strong charter advocates have said it wouldn't work in Seattle and Tacoma because the districts are not cooperative," Billig says. But he argues that by giving individual school districts more authority to set the terms of a charter school, it may become more palatable to districts who have been skeptical.
"This is also something that I think would get utilized by districts all over the state," Billig says.
The model isn't unheard of. In L.A. and Boston, he says, they're called "pilot schools."
"Some [charter school critics] have even said, hey, this actually doesn't sound that bad, but just don't call it a 'charter school' for God's sake," Billig says. "Maybe that's right, but that's just semantics."
For him, getting the bill passed is the important part. He argues it would give the students currently attending charter school's some much-needed certainty.
"Some of the other proposals for charter schools, they have these funky, crazy funding [schemes]," Billig says. "They have to fund it outside the normal funding mechanisms." Even if those proposals were found constitutional, a dicey proposition under this state Supreme Court, they might be more vulnerable to future budget cuts, he argues, since they wouldn't be covered under the constitutionally-protected definition of "basic education."
Billig's full press release:
Billig unveils charter schools proposal



OLYMPIA – Charter schools would be accountable to locally elected school boards, making them constitutional and able to continue to receive funding under bipartisan legislation introduced today by Sen. Andy Billig, D-Spokane.




"At this point, it's no longer about how you voted on the charter school initiative," said Billig. "The fact is we have real kids in charter classrooms who deserve certainty about their education. We should find a way to provide stable funding for these schools and ensure they are complimentary and accountable to the rest of the local public school system, which benefits the children in the charter schools as well as the entire community."




Billig's bill creates "District Charter Schools" within the local school district, which not only complies with the Supreme Court decision because they will be under the control of the locally elected school board, but also means funding will be stable and reliable since these schools will be well within the definition of basic education. This bill creates a charter option for local school districts but a district would not be required to create a district charter school.




Charter schools were approved by voters in 2012. This past September, the Washington Supreme Court ruled that charter schools were operated in ways that violated the state's constitution and could no longer receive public funding.




"This bill could work in concert with other charter policies or stand on its own as the charter school solution," added Billig.




"Either way, it can be utilized to help current charter schools continue as well as create increased options for school districts seeking more varied choices for students and families in their community."




As a result of this legislation, district charter schools created by local school districts may be afforded independent elements similar to traditional charter schools such as formulating curriculum, freedom from some district policies, management of portions of the schools' budgets, and the ability to manage the school's staff more independently.