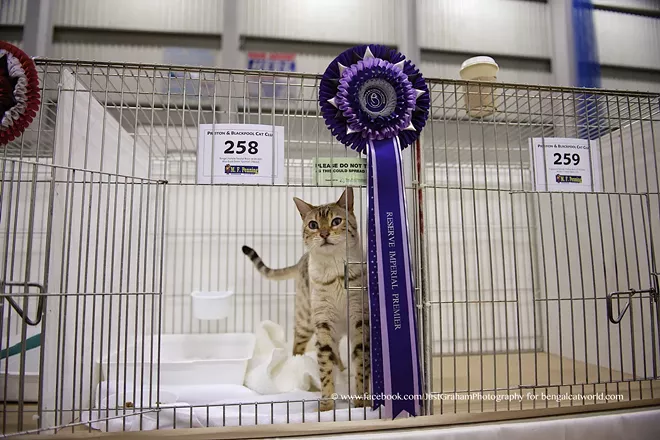 We were first to tell readers weeks ago that Spokane is hosting a really awesome event that caters directly to cat lovers: the Evergreen Cat Fanciers' "On Safari" cat show. It kicks off a week from today, on Friday, Feb. 19, and runs through the weekend.
Obviously this writer plans on being there, and if you like cats even a little bit, you should check it out, too. As the show approaches, more details about the event have been lined up, including the schedule of events.
Friday's events are all about the bengal, the highlighted cat breed of the show. Events that day include a "Parade of Bengals," at 1:30 pm, followed by "Bengal Congress" judging through the rest of the afternoon and evening.
Bengals are a newer breed recognized by TICA (The International Cat Association, an international pedigreed cat registry; sort of like the AKC is for dogs), having been added to the the official breed registry in 1983. An incredibly popular breed, bengals have stunning, spotted coats that evoke their wildcat ancestors, the Asian leopard cat, and other black-spotted cats of the jungle. They're very active and playful, and also tend to like water.
On both Saturday and Sunday, general breed judging takes place for all cats entered into the show in various categories. When cats aren't involved in a judging event, visitors to the show can view them in the staging area and talk to their owners.
Also on Saturday afternoon, local cat rescue organizations are featured during a showcase segment (all will host booths through the weekend, some with adoptable cats) including several of our local shelters — the Spokane Humane Society, SCRAPS, SpokAnimal and Partners for Pets, along with the Western Washington-based Community Cat Coalition.
At various times on Sunday show awards are presented, including the Spectator's Choice Awards, which visitors can vote in. The schedule also lists a cat costume contest.
Show hours for the public are as follows: Friday, from 1:30-9 pm, Saturday, from 9 am-5 pm; and Sunday, from 9 am-6 pm. Find daily and all-weekend admission prices at the show's website. The show is happening at the DoubleTree Hotel (322 N. Spokane Falls Ct.) next to the Convention Center.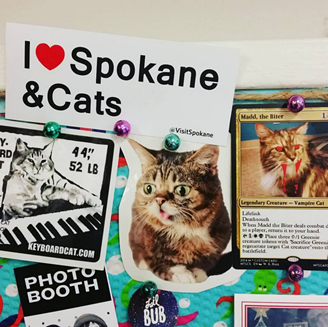 There's still time to enter your own furry darling into the household pets category to see if their incomparable traits are indeed, as you suspected, the best in all the land. Our previous blog on the show includes information from show manager Elaine Weitz on how to determine if your kitty companion would be a good candidate for a cat show.
There's also an Instagram contest going on to let us share our cat city pride. Organized by Visit Spokane, the contest invites locals to share their most creative placement of a sweet "I <3 Spokane & Cats" sticker to be entered into a drawing for the ultimate cat lover prize package. The rules are simple, says Visit Spokane Convention Services Manager Ashley Reese: simply share on Instagram a creative photo of the sticker, and make sure to use the hashtag #SpoCaturdayGiveaway. Find the stickers for free at the Visit Spokane kiosk at River Park Square, Boo Radley's and Atticus, Indaba Coffee, Borracho and Main Market. The drawing for some sweet cat swag is happening during Saturday's show events.