ON INLANDER.COM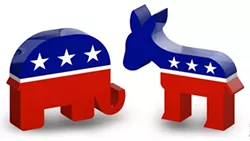 Super Tuesday

It's the biggest day of the 2016 presidential primary season, with around a dozen states on the Republican and Democratic sides each holding primaries or caucuses. Track the results
here
, or use the tried and true method of typing "Super Tuesday" into Google.
iPhone locked
A federal judge on Monday
ruled that Apple does not have to turn over iPhone data
to the government. (Washington Post)


I-90 closed after body found
A man has been arrested after a
woman's body was found on Interstate 90
west of Ritzville early this morning. The highway will be closed westbound for hours while the case is investigated. (KHQ)
Zika scare
A pregnant woman was
diagnosed with Zika virus in Spokane
, but she delivered the baby and it tested negative for the virus.
Hospital expansion
Kootenai Health
will open its 100,000-square-foot expansion in the coming weeks
, and the expansion includes a family birth center and a second floor for orthopedics to Coeur d'Alene's hospital. (Spokesman-Review)

Don't jump!
Watch a Post Falls Police Officer pull away a suicidal man who appeared to be jumping off an I-90 bridge.