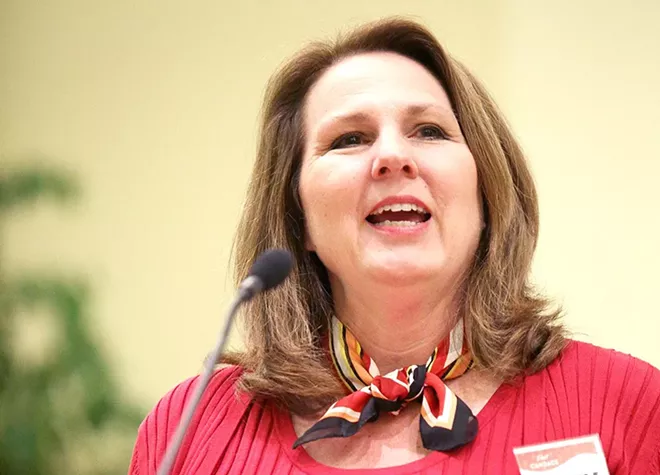 In 2013, Nancy McLaughlin was forced off Spokane City Council because of term limits, and Candace Mumm replaced her. In 2016, Mumm hopes to once again replace McLaughlin — this time on the Spokane County Board of Commissioners, and this time by beating her in the general election.
Yet Mumm won't be McLaughlin's only competition. Josh
Kerns
, currently state Rep. Jeff Holy's legislative aide, also has filed to unseat McLaughlin, who has
been a commissioner for little more than a month
. Kerns was the
Spokane GOP's second choice
— behind McLaughlin — to fill the commissioner seat that was vacated by Todd Mielke earlier this year.
Mumm, who filed as a Democrat for a seat on the currently all-Republican county board, acknowledges that she faces a challenge to win in a Republican-leaning county, but points out that other Democrats have served on the commission before, including Bonnie Mager, who lost her seat to Al French in 2010.
Mumm thinks she may be able to act as a bridge between the county and the left-leaning Spokane City Council. She says she has good working relationships with both French and Commissioner Shelly O'Quinn, who have sometimes been at odds.
"I'm concerned that we're not getting enough done at the county because of some of the relationships on the board," Mumm says. "I feel like I'm going to be able to bridge that."
For Kerns, who has managed winning campaigns for Republicans at the state level, actually having his own name on a ballot is a first.
"Working in Olympia, I've seen a lot of good that can come out of government, but I've also seen a lot of bad and I've seen that local government can play such a huge role in people's lives," Kerns says. "I really want to help and make my community better."
The county and the city in recent years have had differences when it comes to
the region's growth
: the
county
in 2013 expanded the Urban Growth Area, allowing for denser development on the outskirts despite the city's objections.
Mumm says it's important not to just build where you want, but build responsibly where you can deliver infrastructure.
"We have a responsibility to our taxpayers to make sure that when we are going to grow, we can afford it," she says.
Kerns says there
needs
to be more affordable options for people moving away from the city. He points out that in the area where he lives, on the north side of the county near Colbert, people want to move there but the price of land is too high. The urban growth boundary, he says, will have to be pushed out so that there can be more affordable housing options.
All three candidates for commissioner have said it's important to increase the county's revenue. Mumm says the best way to increase revenue is to "increase the value of our business district center and home value and quality of life," which would benefit the entire community.
Kerns says his main focus will be attracting businesses to Spokane County. Kerns recalls graduating from high school, then from Whitworth University, and seeing the people he went to school with
move
away because they couldn't find jobs in Spokane.
Attracting businesses, along with finding more efficiencies in county government would help the county bring in more revenue, he argues. The philosophy is one shared with McLaughlin, but Kerns says he hasn't seen the same passion from other candidates on the issue.
"I want to make this a community where people can grow up here, go to school here, find jobs here and stay here," Kerns says. "That's how we're going to grow our economy."