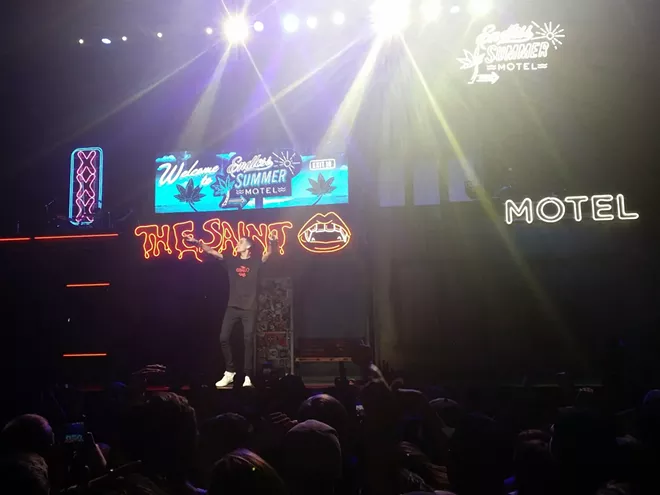 Thousands of people filed into the Spokane Arena last night to drool over Gerald Earl Gillum — G-Eazy for short — and songs from his fire-spitting, hard-hitting new album
"When It's Dark Out."
His sophomore record, which dropped in January, features a whole new side of the 26-year-old heartthrob fans have never seen before. But he's still the "fast-life artist" admirers have come to know.
The stage setup was nothing short of what a knowledgeable fan would expect. G-Eazy's misogynistic tendencies and fascination with alcohol and drugs were prominently on display. Modeling what resembled a Red Light District, neon signs bearing bright letters reading "Girls, Girls, Girls", "XXX" and "Endless Summer Hotel" complete with a marijuana leaf as a palm tree — catapulted the audience into Gerald's world of sex, drugs and rap.
But halfway through performing a mix set of new hits and oldies from early albums like
Must Be Nice
and freshman album
These Things Happen
, he chose to perform "Everything Will Be OK," one of the most heartfelt songs the young rapper has written. Reminiscing on lost relationships, his brother, and witnessing the death of his mother's girlfriend, the voice of stone-cold, womanizing G-Eazy cracked with emotion. Stepping back to quickly wipe tears from his eyes, the audience roared louder.
"That's the thing about music, it brings people together from all walks of life," he said, as he smiled at the thousands of fans screaming, "We love you!"
From then on, the energy of the room maintained a high. G-Eazy continued to rap on as bras were thrown on-stage and he got down with the crowd on the floor of the arena and touched hands with fans in the front row. Even concert-goers in the upper sections and back rows were jumping up and down, just as loud as fans in the front.
Needless to say, G-Eazy remained the female-seducing figure everyone knows him to be, despite flashes of emotion and personal intimacy with the crowd. Continually dedicating his songs and changing lyrics to address the "women of Spokane" or "Spokane girls", G-Eazy managed to strike a balance between his widely known disposition, and a more intimate performance which captured the hearts and humanity of his Spokane fans — male and female.