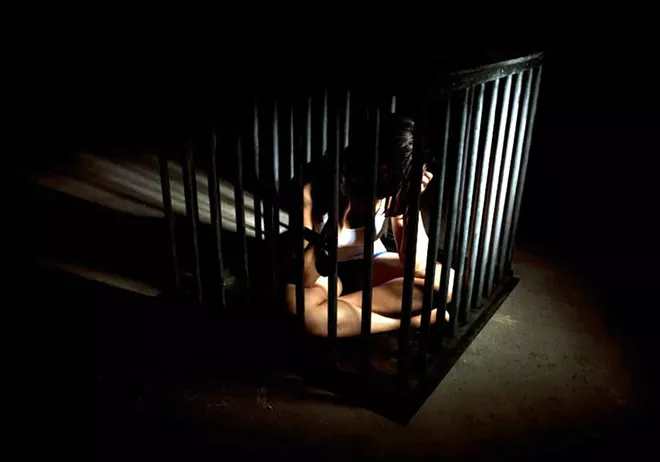 Myth: Human trafficking doesn't happen in my city.
Truth: 151 years after slavery was outlawed by the 13th Amendment, trafficking — a slavery-like situation — still exists. Even in Spokane.
The reasons for this, experts contend, include Washington having an international border and a large seaport, many diverse immigrant communities and a demand for cheap labor and sex work.
Because of the I-90 corridor, Spokane gets a lot of traffic and homeless in the area, says Mark Kadel, director at World Relief Spokane and one of the featured speakers at a recent day-long symposium at Gonzaga called "Combatting Human Trafficking: Theory & Practice," sponsored by the Gonzaga Journal of International Law.
Kadel gained some insight after speaking to former madam Cheryl Larson, a woman who ran an escort service in Spokane before she was arrested.
"She says her biggest days of business were during Bloomsday and Hoopfest," Kadel said. "She says there were a lot of people coming into town and she was busy with as many girls as she possibly could. She says one girl could make $10,000 in a weekend during Bloomsday."
In 2012,
Spokane police shut down
eight different
massage parlors
and spas that were being used as brothels, on commonly used roads like Division, Sprague and Trent. The Spokane police chief at the time told Kadel that no massage equipment was found in any of the massage parlors.
According to an
FBI report
, a staggering number of prostituted women and children are exploited and are not on the streets by choice. The average age of entry into prostitution is 13.
Not all human trafficking is sex-related, however, according to speakers at the conference. Labor trafficking is more prevalent, but is largely under-identified, under-reported and under-investigated. Because Washington is a diverse state, many immigrants are promised work that is actually part of labor trafficking. Identification is often confiscated and there is little or no pay provided to workers.
What makes identifying and prosecuting labor trafficking difficult is that a person may not be physically "captive," but is typically emotionally or mentally captive. Kathleen Norris, program manager for Washington's Anti-Trafficking Response Network, says victims of trafficking fall under a broad umbrella of manipulation, shaming, violence and coercion.
Norris often asks, "Did you feel like you could leave that job?" If the answer is no, then identifying the individual as a victim becomes clearer.
Norris mentioned a case in which a woman had been told by her traffickers: "We've been really good to you and you don't want that to change." When law enforcement asked what this meant to the woman, she said she feared her children would be killed.
A simple step to combat this is consumer-awareness. To find out more about products made with slave-free labor, go to
free2work.org
or
goodguide.com
.
Kadel of World Relief says the supply-demand game that fuels human trafficking must be turned off like a faucet. If you see something that might look like human trafficking, you can call the national trafficking hotline number, 888-3737-888.