ON INLANDER.COM
NEWS
:
Four big take-aways from Spokane citizens' survey on police body cameras
ARTS & CULTURE:
Daily Show host Trevor Noah coming to WSU for Dad's Weekend
NEWS:
In role reversal, this time Spokane Valley Councilman Grafos is the one resigning
HAPPY HOUR OF THE WEEK:
Andy's Bar and Grill
MUSIC:
One of our staff writers reminisces on seeing Prince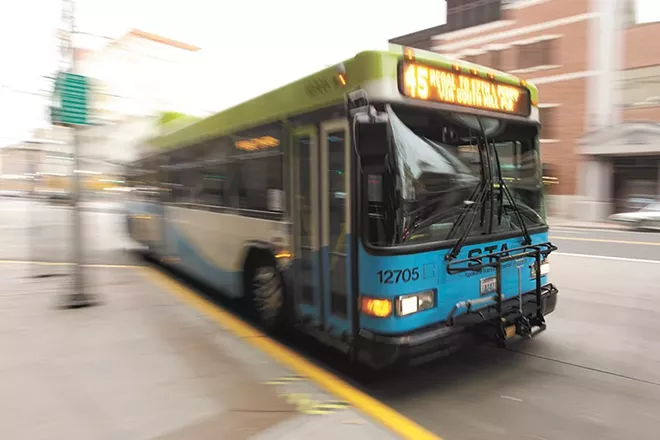 • Transit expansion on ballot again
The Spokane Transit Authority board
voted 6-3
to once again ask voters for a tax increase to expand bus service and provide funding for the controversial Central City Line.
• Complaint filed against council assistant
Michael Cannon, a conservative who ran for Spokane City Council,
has filed a complaint against
Adam McDaniel, the aide for Council President Ben Stuckart, alleging that his outside political work constitutes a violation of the city's ethics code.
• Investigation launched into grave robbing
A skull found near Downriver Golf Course
has been identified
as belonging to a 72-year-old man who died and was interred in 1919. Officials have determined that someone broke into his grave and removed his skull.
• Arson destroys Bonners Ferry church
Historic St. Ann's Catholic Church
was burnt to a crisp.
Law enforcement have a person of interest.
• U.S. suicide rate up
Federal data reveals that suicide rates
are on the rise.
• Mexico could relax marijuana laws
Mexican President Enrique Pena Nieto
has proposed
legalizing medical marijuana and allowing people to carry small amounts of the drug.
• Prince is dead
The legendary
pop star died
in his Minnesota home at age 57. Here he is performing a shredding guitar solo.