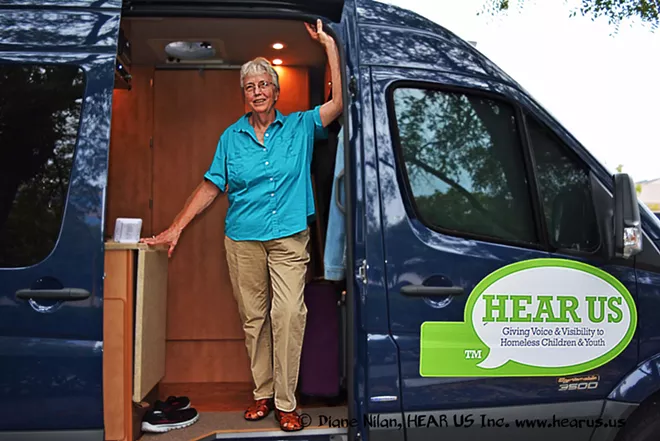 Diane Nilan has documented the lives of homeless kids all over the country. Last week, her work brought her to Eastern Washington, where she filmed the stories of homeless students in Central Valley School District.
Nilan was hired to create a video for the Washington Office of the Superintendent of Public Instruction to be used to increase awareness of
homeless students
and to help train districts across the state. With education programs for homeless youth in the federal Every Student Succeeds Act beginning Oct. 1, Nilan says that requires districts to ramp up how they train school personnel and district homeless liaisons.
The end product will be a 20-minute long film for the OSPI available online and on DVD, likely ready in early 2017, Nilan says.
Central Valley was the final district Nilan visited of about a half-dozen. There were 534 homeless students in Central Valley last school year, according to Leslie Camden-Goold, homeless student liaison for the district. Of those, 75 percent were able to live in someone else's home because they couldn't find housing on their own.
"Central Valley is the gold mine as far as stories and getting to talk to people that really know what is going on," Nilan says.
Nilan said she talked to one student who is staying in a shelter with her mom, and who is grappling with the fact that she can't participate in band at school because being homeless takes too much time. She talked to another mom who has three kids — all of whom have been homeless off and on — who have to leave the shelter they were staying at because of a 30-day limit.
Nilan says lack of available housing has been a common thread in her interviews.
"How do we expect families in homeless situations to get back on their feet when the availability of housing, subsidized or market rent, is so impossible to obtain?" she says. "I think someday we're gonna wake up and say we're going to create a lot more housing options."
Nilan used to run a shelter in Illinois for 15 years and says she's worked on the issue of homeless kids getting into school for the past 30 years. You can see some of the projects and
films she has worked on here
.
She says she's glad to share these stories with districts so they can help recognize homeless students in their schools.
"It takes a lot of different shapes," she says. "And so I think the stories help illustrate what families are going through and might help with the identification."