PULLMAN — On Wednesday morning, a handful of conservative students drove a homemade "Trump Wall" into the the heart of Washington State University's campus with a pickup truck.
The plywood wall was painted to look like brick, with the word "Trump" painted in large gold letters. A strand of red caution tape was strung around it.
"The literature that we've been handing out says, and this is what we believe, we believe that legal immigration is a good thing," said James Allsup, president of the WSU College Republicans Club. "What we don't want is people to break the law and take advantage of our legal system and cheat the line, that's what we don't want."
Hundreds of counter-protesters gathered on the campus's main wall, with signs and orange ribbons pinned to their shirts to show their support for immigrants. They outnumbered the conservative students who were demonstrating in support of presidential candidate Donald Trump, who has proposed building a wall between the U.S. and Mexico.
As the morning wore on, the counter-protest grew as students watched from the top of the library and the steps of the Compton Union Building. Students chanted and held homemade signs. Andrea Chavez, a 21-year-old human development and psychology double major, spoke to the crowd about her own experience having been undocumented herself.
Chavez spoke about the two times she crossed the border, once when she was 6 months old and a second time when she was 5 years old. She said she remembered running through the sewer and then to the safe point with two strangers acting as guides.
"It's part of who I am. It's part of who I became," Chavez said. "I don't tell many people but I had to say something."
The conservatives stood along the steps as the chants continued to start and subside a few feet in front of them.
Blaise Schile, wearing a red "Make America Great Again" hat and a Trump T-shirt, held a "free hugs" sign as he talked with a friend on the steps. The 19-year-old finance major said he originally supported Rand Paul, but he has admired Trump since he was a child because of his status as a business man. Schile is a finance major and would like to be a "real estate mogul" like Trump in the future.
Schile said that he prefers to talk about policy rather than candidates and welcomed conversation with people who disagree with him.
"I think that we actually need more immigration, which is actually Trump's plan, to have more people coming in on work visas, legally," Schile said. "What worries me is jobs going to non-residents and citizens that could be going to other impoverished Americans and a big majority of those are African Americans."
Shortly after, Schile joined a group of conservatives who were talking with a man about Trump's tax and health care policies and the recent release of the tape where Trump is heard making vulgar comments about woman. The man's face was red as he argued his point. A sign reading "80% of women crossing the border illegally are raped" in black sharpie was visible just behind his head.
The protest spanned hours but remained peaceful. Several heated conversations developed along the steps as the two groups clashed but the four police officers standing on the outskirts of the mass did not have to intervene.
One Trump supporter, Murphy Harkins, 27, said that he was happy with how peaceful the protest was.
Harkins, an alumni of Portland State University, came to Pullman to support the conservative students. Harkins said he knows that these protests can be controversial and could cause people can get out of hand, so he wanted to offer his support to the organizers.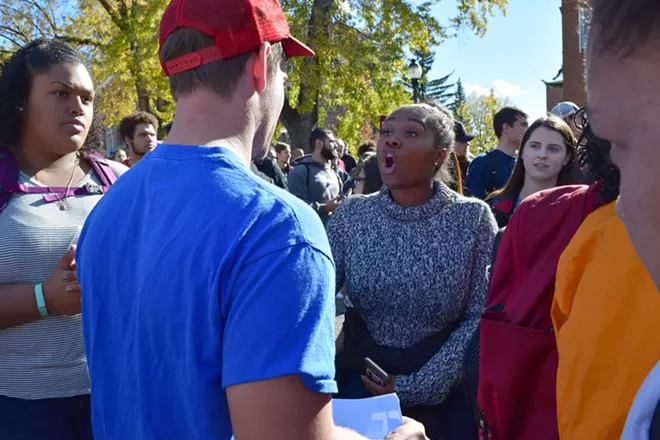 While the protest was a political statement for some, for others it was personal.
Chive Aramburo, holding a sign that read "America is diversity" with a Mexican flag drawn within the bubble letters, has a sister who is currently undocumented and grew up with undocumented parents.
When he was a young boy, he used to wait up nervously to make sure his mom would make it home from work since the Immigration and Customs Enforcement would make periodic sweeps of the warehouse she worked at in central Washington.
His parents are now citizens, but the mother of one of his close friends is not. She was forced to leave the country, leaving her son without family.
"Can you imagine going to college, going to a university with something like this going on where you don't feel welcome and not having your family for support? How alienated he must feel," Aramburo said. "People don't see those aspects, things that are just kind of pushed aside because of the political agendas of the Democratic and Republican party."