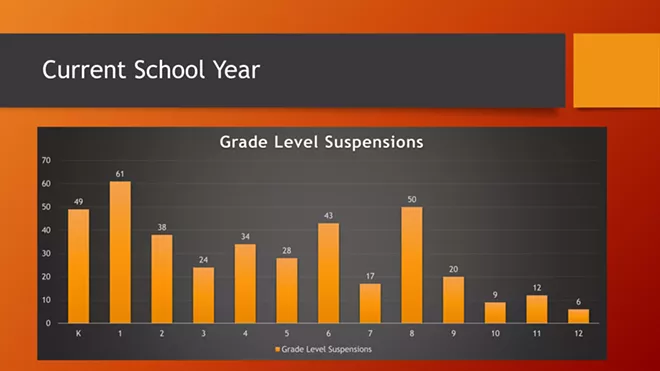 Two things stand out when looking at the data recently released by Spokane Public Schools on student discipline.
For one, the total suspensions rate seems to have dropped significantly, which is good news for advocates who have pushed the district to cut down on exclusionary
discipline
like suspensions and expulsions.
But the second takeaway? First-graders in the first 35 days of the school year have been suspended more than students in any other grade, including middle school and high school.
A total of 61 first-graders
have
been suspended in the first part of this school year, according to district data. The grade with the next highest number of suspensions is
eighth
grade, with 50. After that, it's kindergarteners who have the third-highest amount, with 49 suspensions.
This is troubling, says Vanessa Hernandez, ACLU of Washington youth policy director. In her view, it should be "incredibly rare" to suspend first-graders.
"That doesn't teach
a first-grader
anything," she says.
Still, Hernandez was encouraged with the apparent overall reduction in suspensions in Spokane Public Schools through the first 35 days. Compared to this point last year, suspensions in elementary, middle and high schools have been reduced overall. Through the first 35 days of the 2015-16 school year, there
were
a total of 712 suspensions in the district. After 35 days this year, there were 391 — a significant drop.
And there appears to be less of a disproportionality in suspensions for black and Native American students than in previous years. In May, we noted that black and Native Americans were being
suspended at a rate twice their representation in the student population
; through 35 days this year, that's not happening. However, multi-racial and special education students continue to be suspended at a disproportional rate, according to district data.
This year, the district has focused on implementing restorative practices — efforts to address student behavior and hold them accountable without suspending or expelling them. The district has devoted resources to the cause, trained teachers on how to use restorative practices, changed the district policy around student
discipline,
and passed a resolution saying the district is committed to systematic reform.
But even though suspensions are down overall, there's been less of a drop-off for elementary schools. Jenny Rose, Spokane Education Association president, guesses this might be because elementary schools have not seen the same resources as higher grades. In middle schools, for example, the district has devoted money to hire more staff to help teachers use restorative practices.
"We don't have that at elementary," Rose says. "It's not like it is at the middle or high schools."
Teachers have questioned the use of restorative practices in the past. Many spoke to the Spokane Public Schools board in the spring about students becoming violent or overly disruptive only to return to the class shortly after. Rose says she hears "quite a bit" about students who punch teachers or kick other students. She says it's not unusual for a first-grader to "blow out" and destroy a classroom or principal's office.
While she is encouraged with the training
teachers
have
received this year, she says more staff could be added in elementary schools.
"We need solid support services at elementary that are there all day long ... to work one-on-one with kids when there is an incident," Rose says.
Kevin Morrison, Spokane Public Schools spokesman, says the district does not have data to compare first-grader suspensions this year to past years. But he says this year's numbers breaking down suspensions by grade surprised some members of district administration as well. He says some kindergarteners or first-graders may lack socialization skills in group settings, or they may be dealing with issues at home that may contribute to their behavior in the classroom.
Morrison says the district is continuing its training on de-escalation techniques for teachers district-wide, including more training and support for elementary schools.
Hernandez, with the ACLU, is bewildered when asked why any first-grader would be suspended, saying, "at this stage, the answer is, 'we don't know.'" She would like to know what behaviors led to suspensions of kindergarten and first-graders. But she is still encouraged by the district's progress in other areas relating to student discipline through the first 35 days of the school year.
"It's significant, and that's something the district deserves credit for," Hernandez says. "That doesn't mean there isn't still work to do."