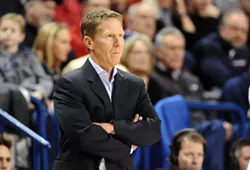 The sound of shoe squeaks bounced around a near-silent McCarthey Athletic Center for 40 minutes as the Zags and Waves played in front of a sold out but student-less crowd Thursday night.
Back when the Zags were rising to national prominence the Waves were their chief competition in the WCC. This season Pepperdine sits dead last in the league with a 4-9 record. In conference play, though, there is so much familiarity that even last place can scare the league leaders. Gonzaga eventually rolled past the Waves, opening conference play with a win for the 21st consecutive season. But in the first half of this 92-62 victory, it wasn't pretty.
Pepperdine in the first half shot over 50% from the field and connected on four of eight from long range against Gonzaga's best-in-the-nation three point defense. But Gonzaga was lighting it up as well. Led by Jordan Mathews' 5-11 shooting display four Zags combined to make 10 three pointers.
Przemek Karnowski and Nigel Williams-Goss led the team with 16 points a piece. Five Zags scored in double figures. Balanced, as always. Pepperdine's Lamond Murray Jr. scored the game high with 19. And Chris Reyes added 10 points of his own, but suffered his second loss to the Zags in 2016. Reyes previously played for Utah, which Gonzaga knocked out of the NCAA Tournament.
Assistant coach Tommy Lloyd said at halftime that the Zags weren't hustling. Well, early in the second half a full-court press forced the Waves to turn the ball over. And on the next possession enormous human Karnowski stole the ball. From that point the Gonzaga lead, which had been floating in the single digits for most of the game, expanded into the teens and twenties.
The game clearly in hand, Mark Few was able to empty his bench late, allowing fan favorite Rui Hachimura and birthday boy Bryan Alberts to see the floor. With their entrance the crowd erupted. It took until the 2:38 mark of the second half but there was a huge lead and a lot of noise. And the Kennel, even without its club, felt normal.
Next up for the 13-0 Bulldogs is a New Year's Eve date with the Pacific Tigers in Stockton, California.