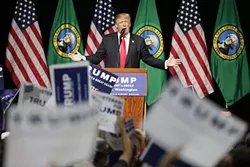 ON INLANDER.COM
NEWS:
No, Spokane's mumps outbreak
is not proof
that vaccines don't work.
IN OTHER NEWS
Killing the death penalty
Gov. Jay Inslee, Attorney General Bob Ferguson and former Attorney General Rob McKenna are asking the state legislature to
abolish the death penalty
. (Q13)
Bye, Beau
Beau Baldwin, the most successful coach in EWU football history, is
taking a job at California
as the offensive coordinator. (
Spokesman-Review
)
Not quite the Ice Storm
A storm is coming that will bring freezing rain, sleet, snow and rain. But today, all you need to worry about is
that freezing rain
, which will turn into ice once it lands. (KXLY)
Police shooting in Bonner County
Two Bonner County sheriff's
deputies were shot Monday
as they tried to arrest a man in Blanchard, Idaho. Though each deputy was shot three times, their injuries are not life threatening and they were taken to Kootenai Health for treatment. There, too, is the suspect, who was also shot. (
Spokesman-Review
)
'Save our health care!'
Cathy McMorris Rodgers gave a speech during the Martin Luther King Jr. Rally at the convention center, but part of that speech was
drowned out
by people chanting "save our health care!" (KHQ) Today, a nonpartisan Congressional Budget Office released a report that says repealing major provisions of the Affordable Care Act, as McMorris Rodgers and other Republicans are trying to do, would
cost 18 million people their health insurance
within the first year.
Rigged!
Donald Trump will enter his presidency with an
approval rating of just 40 percent
, the lowest of any recent president. But the president-elect doesn't care about polls, and
perhaps he shouldn't
. He wrote on Twitter: "The same people who did the phony election polls, and were so wrong, are not doing approval rating polls. They are rigged just like before."