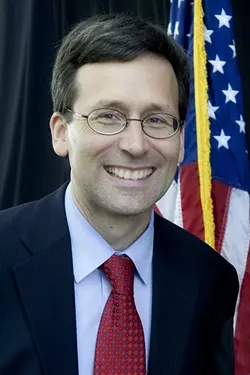 Washington State Attorney General Bob Ferguson will file a lawsuit today against President Donald Trump, the U.S. Department of Homeland Security and other Trump administration officials, Ferguson announced during a
news conference
this morning.
The lawsuit, which will be filed in the federal District Court in Seattle, asks a judge to declare unconstitutional key provisions in Trump's executive order on immigration. Specifically, the suit will allege violations of the Constitution's guarantee of equal protection, due process and religious freedom.
Lawsuits making similar claims have been filed by individuals in at least four cities, including Alexandria, Virginia, Boston, New York and Seattle.
Judge's rulings
on those cases have been narrower in scope but ruled against detention of individuals in airports.
"If successful, this will have the effect of invalidating the president's unlawful action nationwide," Ferguson says, adding that his office will also file a temporary restraining order to immediately suspend the executive order's implementation.
Trump signed the order in question on Friday, Jan. 27.
It temporarily bans all refugees from entering the U.S. and indefinitely bans Syrian refugees. The order also temporarily halts immigrants coming into the United States from seven Muslim-majority countries.
Ferguson also announced that his lawsuit — which is the first to be brought by a state — comes with support from Washington-based companies Expedia and Amazon.com. Both are expected to file declarations explaining how the executive order has hurt their businesses and employees.
"We are a country based on the rule of law," Ferguson says. "In a courtroom, it is not the loudest voice that prevails, it's the Constitution."
By Saturday, travelers impacted by Trump's order were detained at airports across the country, including some
in Seattle
. Protesters, politicians and activists
gathered at airports
nationwide to demand their release.
Trump's rush to sign the order making good on one of his core campaign promises is drawing scrutiny from U.S. State Department officials, as well. An
internal memo
— known as a dissent cable — warns against the executive order that would not make the country safer, but rather could intensify potential threats.
Trump's administration, in response, offered to show those State Department officials the door if they couldn't get on board with his agenda.
And in almost the same breath, acting U.S. Attorney General General Sally Yates ordered the Justice Department
not
to defend Trump's executive order in court, a move the
New York Times
calls a "remarkable rebuke by a government official to a sitting president." The
Times
compared the clash to President Richard Nixon's firing of his attorney general during the Watergate scandal.
Washington Gov. Jay Inslee joined Fergson in announcing the lawsuit.
"Resistance is not futile," Inslee says. "It is productive. At our heart, the American character is one of freedom, compassion and liberty. The inhumanity of this is obvious."