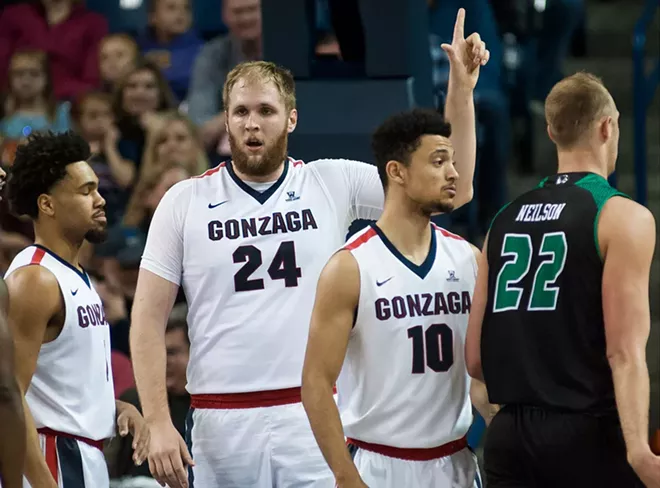 Gonzaga's
96-61 victory
wasn't as easy as it looked. After all, final scores never really tell the whole story.
Entering Thursday's clash with the San Francisco Dons (18-10, 8-7 WCC) the Zags (27-0, 15-0 WCC) were winning games by an average of 23.4 points. They won their 27th by 35 to remain undefeated on the season. But don't say they never get tested in West Coast Conference play.
"They [the Dons] can really cut you up if you're not ready to go," Zags coach Mark Few said after the game.
And that they did as Gonzaga trailed for most of the first half. With 9:30 to play in the first San Francisco held a multi-possession lead. On one end the Dons were dropping in threes, which teams don't normally do against this year's Zags. On the other, a zone defense frustrated the Zags, who were forced to swing the ball from side to side without much success.
But when the ball did get inside, big Przemek Karnowski (23 points) was ready to work. And so was the guy tasked with getting him the ball, Nigel Williams-Goss (30 points, seven assists).
"Nigel's had a good run against them [the Dons]," Few said, "and big Shem has been delivering exceptionally well this past month."
Last month in Gonzaga's 95-80 victory over the Dons in San Francisco, Williams-Goss set a career high with 36 points. Thursday in Spokane he was needed once again.
Williams-Goss (15.6 ppg) and Karnowski (12.8 ppg) have been the faces of the team this season, as well as its two leading scorers, and Thursday's performance was an affirmation of their role. But going forward for this usually balanced offense — this was only the second game all season in which two Zags scored over 20 points — they may have to step up more often.
"We have a bunch of guys capable of scoring 20," Few said. "The beauty of it is that we have so many that we don't always need them to."
Unfortunately, that bunch has shrunk. A broken finger kept Killian Tillie out of the game, and Bryan Alberts was sidelined with a sprained ankle. Few stressed how players would need to step up to fill those absences. Going off of Thursday's example, it looks as if his upperclassmen leaders are up to task.
It was a sluggish start against a streaky opponent, coupled with a shortened bench, that tested Gonzaga Thursday. Saturday afternoon the test will come from the Pacific Tigers.