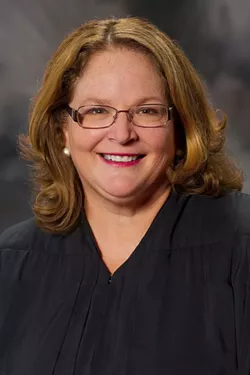 An apparent uptick in federal immigration enforcement in and around local courthouses in Washington has the state's top judge concerned about a chilling effect on equal justice for all.
State Supreme Court Chief Justice Mary Fairhurst wrote an open letter to U.S. Department of Homeland Security Secretary John Kelly (embedded at the bottom of this post), calling for him to curtail enforcement on courthouse campuses.
"In many locations around our state, a courthouse is the only place where individuals are ensured of a trusted public forum where they will be treated with dignity,
respect
and fairness," Fairhurst writes. "This includes victims in need of protection from domestic violence, criminal defendants being held accountable for their actions, witnesses summoned to testify and families who may be in crisis."
She continues: "The fear of apprehension by immigration officials deters individuals from accessing our courthouses and erodes this trust, even for those with lawful immigration status."
Citing reports of ICE agents milling around courthouses from attorneys and other judges, Fairhurst calls for Kelly to designate those campuses as "
sensitive locations
," where immigration enforcement is limited. Other "sensitive locations" include schools, places of worship and hospitals.
Judges in neighboring states have raised similar concerns.
• California Supreme Court Chief Justice Tani Cantil-Sakauye
also wrote a letter
to Kelly and U.S. Attorney General Jeff Sessions, asking that immigration arrests at courthouses stop altogether.
• A judge in Oregon allegedly helped an undocumented immigrant escape immigration agents
through the courtroom's backdoor
. Multnomah County Judge Monica Herranz is currently under investigation after a federal prosecutor filed a complaint.
The
defendant in that case
pleaded guilty to a DUI in a deal that suspended his sentence and placed him in a diversion program. He was arrested two weeks later at a follow-up hearing, according to the
Willamette Week.


• And ICE agents in El Paso, Texas, arrested
a women
immediately after she obtained a protective order against an allegedly abusive boyfriend. The woman was in the U.S. illegally,
NPR
reports.
"These developments are deeply troubling because they impede the fundamental mission of our courts," Fairhurst writes of the situation in Washington state. "Which is to ensure due process and access to justice for everyone, regardless of their immigration status."
Kelly John Dhs Ice 032217 by MitchRyals on Scribd