The Coathangers' songwriting relies on a veil of playful satire, but there's a core of biting truth underneath the silliness in all their songs.

That truth was apparent halfway through the band's blaring Tuesday night set at the Observatory, when drummer Stephanie Luke fought back tears during a song's fill. She had recently discovered the loss of a friend and fellow drummer and tried to jolt herself back into the thick of the set.

"If you or someone you know does heroin, don't do it," Luke said. "It's not hard. That's what these songs are about."

The Atlanta band quickly went back into their sway-inducing garage punk, but songs like "Watch Your Back" went from reading as playful breakup songs to inspiring visions of having to close off relationships and harmful lifestyles. Topics that seem like simple boilerplate in typical garage-rock retrovision have inspirations rooted in these artists' realities.

The band skillfully played within the trappings of garage rock while pushing punk stamina, a tightrope affair they've mastered over their decade-long project. Guitarist Julia Kugel yelped and crooned during many of the straightforward riffs while Luke paired her drumming with a raspy growl reminiscent of punk long gone.

Luke's vocals played best during songs like "Follow Me," where her blistering tom rides paralleled her anthemic hit-the-road lyrics, and Kugel's power chords chugged along the whole way. Kugel's yelps excel in the more garage-meets-surf-rock that is found all over their latest release Nosebleed Weekend. A highlight showing off the band's carefree tendencies came in their closing song "Squeeki Tiki," where Kugel dropped the Jaguar guitar and pumped a squeaky toy for the song's bridges.

The night was full of supersonic buzzing as the other touring band, Los Angeles' Birth Defects,
challenged the rainy Tuesday night crowd to match their thunderous thrashing punk sensibilities for a fast-paced forty-minute set.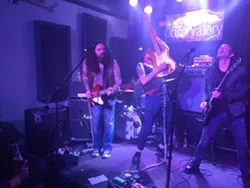 Holding their power chord-wielding axes on their pelvises for much of it, Birth Defects were as heavy as it got Tuesday night. It was hard not to bob your head during their raucous set, even if you stood in the back.

The Ghost Ramp (run by Nathan Williams of Wavves) label's thrashers turned beer swiggers into chuggers within a single face-melting breakdown. Substance abuse and late nights are the center of the band's 2015 album First 8 Mistakes. Unabashedly on the nose, songs like "Drugs" and "No Sleep" were given an extra gear when played live by the sweat-drenched guitarists and writhing bassist.