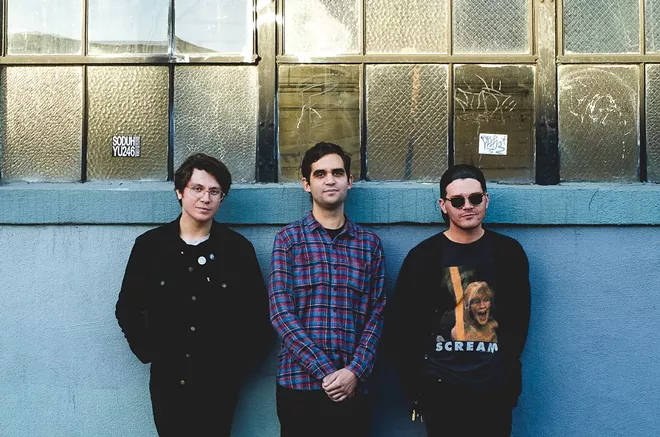 So we're a bit excited for our upcoming
Volume Music Festival
— can't you tell?
Although the festival proper begins on Friday, we're kicking things off a bit early. Tomorrow night
at the Observatory
, Oakland's Mall Walk will perform with Spokane bands Local Pavlov, Empty Eyes and the Dancing Plague of 1518. The show's free and starts at 9 pm, and it'll also be your last chance to buy festival wristbands for $25; the price jumps up to $35 on the first day of Volume.
Can't make it to the Observatory?
No problem: You can still buy a wristband
here
, or at nYne Bar and Bistro, the Bartlett, Baby Bar, Resurrection Records and most Global Credit Union locations.
Already bought a wristband?
You can pick it up in one of two places during Volume: On Friday night, from 4:30 to 9 pm, at Terrain (304 W. Pacific), and on Saturday at our new outdoor Steam Plant stage (140 S. Post) between 2 and 10 pm.
Any benefits to having a wristband?
A number of local businesses in the vicinity of our Volume venues are offering deals for anyone wearing during the festival, including discounts on drinks (both caffeinated and alcoholic) and extended happy hour specials. See the full list of deals
here
.
Capture any awesome photos or videos during the fest?
We'd love to see 'em. Tag your posts on Twitter and Instagram with #INVolume, and also tag us @TheInlander and @volumespokane.
And we're not the only ones excited for Volume: Local indie-pop three-piece
Cathedral Pearls
just dropped a new single for the occasion. Listen to "America's Child" below, and check out the band on the Terrain stage at 11 pm on Saturday night.
Here's a full Volume
schedule
, and be sure to look for our print guide on newsstands now.