Spokane voters may get to weigh in on how close to a church is too close for a cannabis dispensary when they cast their ballots in November.
A petition to stop dispensaries from locating within 1,000 feet of churches with child care centers was sent by the Spokane City Council to the City Clerk for verification last night.
While the dispute began over a store near a Catholic cathedral, the petition would also stop shops from being within 1,000 feet of synagogues or mosques with child care centers, as well as hospitals and drug-rehabilitation units.
Former Republican State Rep. John Ahern sponsored and gathered support for the initiative, telling the
Inlander
that dispensaries near the Cathedral of Our Lady of Lourdes and Pilgrim Slavic Baptist Church have attracted break-ins and thefts.
Also, Ahern says, it is inappropriate for children to be exposed to cannabis when entering or leaving nearby child care centers.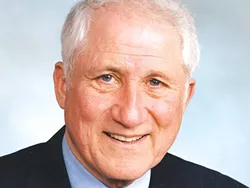 "We have pretty much had our fill of marijuana coming through here," says Ahern, who spent between at least half a year collecting the 3,266 signatures awaiting verification before the initiative is officially put on the November ballot.
He says it is wrong for current law to keep cannabis retailers 1,000 away from schools and playgrounds, but not childcare centers in religious establishments.
"We just wanted to fill the gap," Ahern says.
He and a few other supporters of the initiative have picketed in front of Lucky Leaf Co. downtown in protest of its proximity to the Cathedral of Our Lady of Lourdes about a block away.
Lucky Leaf would not be forced to move under the initiative, but would not be able to conduct business in the same venue if its license expired or was not renewed.
Lucky Leaf owner Shilo Morgan says her business is also a victim of crimes, but it is safe and contributes to the city.
"Property crime was happening before we opened," Morgan says. "I believe crime would happen regardless of whether we are here or not."
The Spokane Police Department has reported reductions in property crime since legalization.
She says she has been writing her own petition to counter Ahern's.
Ahern's petition asks: "Should the Spokane Municipal Code be amended" to add new restrictions on dispensaries. Morgan's would ask "Should the Spokane Municipal Code NOT be amended."
"It is ultimately up to the city," she says.
Morgan also wants to bring to attention the initiative's potential effect on growers and distributors. If Lucky Leaf, a retailer, has to close down, she says, those on the production end would take a hit.
City Councilmember Mike Fagan's name could be found among the thousands of signatures on the petition. Fagan echoed Ahern's "fill the gap" argument. He says religious establishments with childcare centers and drug rehabilitation clinics were on a draft list of prohibitive entities before the statewide initiative to legalize recreational cannabis passed. They did not end up on the final ordinance, but would be a "very appropriate" addition, Fagan says.
He says he does not oppose retail, but does oppose the proliferation of cannabis, which the initiative could limit, if passed.
"[If the initiative passes] we will see far less growth in the amount of stores," Fagan says.
He also volunteered himself to lead talks with the Liquor and Cannabis Board on regulating cannabis advertising.
Fagan motioned to pass the initiative into law Monday night, but did not get support from anyone else on the council, which favored sending it to the voters.
Matthew Howes, who hopes to beat incumbent District 3 Councilmember Candace Mumm in November's election, supported the initiative too, but used his time for public testimony to speak out against cannabis advertising. Howes, who peels cannabis sticker advertisements off of his newspapers, worries about his kids hearing cannabis commercials on the radio.
"Ever since we have legalized marijuana, the advertising has gotten completely out of control," Howes told the council on Monday night. "I'm not trying to stop the sale, I just want the advertising stopped."
He says cannabis advertising restrictions should be in line with tobacco's.
Tony Kiepe, who is challenging Councilmember Breean Beggs for his District 2 seat, also supported the initiative and a crackdown on advertising.