A native trout has inspired a new uniform design for the Spokane Indians baseball team.
The Indians announced the design on Wednesday, as well as a new partnership with the city of Spokane, aiming to raise awareness of and encourage citizens to participate in maintaining and improving the health of the Spokane River.
T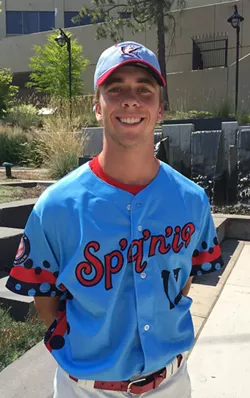 he promotion, called the Redband Rally Campaign, got its name from the redband trout, a distinctive fish only found in the Inland Northwest. Otto Klein, the Indians' senior vice president, says that current trout numbers are down compared to historical counts.
"We can get those numbers back up," Klein says. "It all starts with a clean river."
The campaign will be collecting donations — including by text — at games to give to local river cleanup organizations. Five dollars from each purchase of merchandise featuring the Redband logo will also be donated.
Indians players will don the new uniforms five times this season, beginning with the July 8 game against the Hillsboro Hops.
A Redband Trout mascot for the campaign will also make its fir
st appearance at the July 8 game. Fans will get the chance to participate in a name-the-mascot contest, with the winner receiving a Redband jersey, hat and Indians tickets. The team has only released a silhouette of the trout mascot, saying what it will actually look like is under wraps until the game. The anonymous yet anthropomorphic fish will make trips to schools and community locations which support efforts to maintain the health of the Spokane River.
Klein is particularly excited about the new Redband Headbands. To be passed out for free during the middle of the sixth inning on July 8, these headbands feature the same red and blue spots and stripes as the new uniforms, but also include information on the Redband Rally Campaign on the inside of the headband.
The city of Spokane is supporting the Redband Rally Campaign with an initial $25,000 contribution.
In a press release, Mayor David Condon says he hopes the campaign can encourage participation in river cleanup, and draw support for a $340 million investment in water quality improvement projects.