Jenny Hyde
and
Katie Creyts
, cooperative member
artists and faculty members at Eastern Washington University and Whitworth University respectively, debut their new works tonight from 5 to 9 pm in a two-woman exhibition at
Saranac Art Projects
(25 W. Main).
Hyde, a multidisciplinary artist
who teaches digital art at Eastern, has exhibited at Saranac Art Projects dating back to 2009. Her works have explored cultural geography through study of landscape and the body, and she is the recent recipient of an Artist Trust Fellowship. This month, she debuts a series of digital prints featuring individual American-made rifles.
An area gun shop gave Hyde permission to document
these weapons; she captured their images with a photo scanner on-site. Initially, she was interested only in the .22-caliber rifles, with the intention of viewing the guns as household tools, as they are often understood to be in many rural American homes.
But once the process began, all of the rifles became points of interest for Hyde — the old shotguns, as well as more recently manufactured models. These images reflect rural Americans' cultural identity in different ways, in particular exploring the romanticized depiction of isolation, or what is perceived as "independence."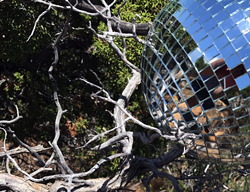 Creyts, an associate professor of art
at Whitworth for the past decade, specializes in sculpture and working with glass — she has studied at the Pilchuck Glass School, among other schools and studios — and is on Artist Trust's board of directors. She received Whitworth's Innovative Teaching Award in 2011 and was named an
Artist to Watch by the Inlander
the following year. She also has previously exhibited her works at Saranac Art Projects.
An avid outdoorswoman, Creyts explored the West this summer on a series of hikes in Idaho, Montana, Wyoming and Colorado. For her, these rugged adventures became pilgrimages, as she devoted her time to exploring the theme of hope — both the dashed hopes of the past and the ever-twinkling hopefulness of the future.
Creyts hiked with a mirror ball and iPhone camera, considering spaces that would respond to the mirror ball, both in reflection and fragment, and recording images that inspired and would become part of the sculpture on view, a geodesic dome titled "Tabanakkle." She considers this to be the shrine at the end of her summer-long trek; selected images from her mirror-ball hikes also will be on view.
In addition to
tonight's
artist reception, the exhibition is open for viewing Thursdays from 2 to 6 pm and Fridays and Saturdays from noon to 8 pm. It runs through Saturday, Sept. 30.