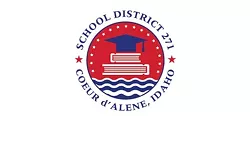 After a series of threats involving Lake City High School students on social media this week, Coeur d'Alene police arrested a student who posted a picture last night holding a rifle with a caption referencing a "threat list."
Jared Reneau, spokesman for the Coeur d'Alene Police Department, says there have been three different incidents this week involving threats to Lake City High School students. On Friday and Saturday, a student posted a picture with a weapon with a "derogatory caption" about Lake City cheerleaders, according to Coeur d'Alene Public Schools. That student was identified and is facing disciplinary action, but he was not arrested, Reneau says.
Sunday night, a student reported to police that somebody on social media threatened to shoot her during school on Monday if she didn't send the anonymous suspect a nude photo. That investigation is ongoing, Reneau says.
Last night, police received a report that a person posted a photo of a Lake City student holding a rifle and referencing a "threat list." That student was arrested Thursday afternoon. Reneau says that student was arrested because of the serious nature of the threats.
This morning, the school enacted policies banning cellphones and restricting students from leaving school. The cellphone policy is similar to the one put in place four years ago, says Coeur d'Alene Public Schools spokesman Scott Maben says. Students were not allowed to leave campus for lunch, and no Lake City High School student was allowed to leave the building before 2:30 pm.
"Due to the additional security measures we took today, students felt compelled to share enough information to enable investigators to identify the source of the most recent social media threats and make an arrest," says Lake City principal Deanne Clifford.
The district has encouraged parents to talk to students about their use of social media apps like Snapchat and Sarahah. The extra security measures in place Thursday will continue Friday, the district says.
"We are seeing highly irresponsible and inappropriate behavior on social media used by many students, and the disruptive effect some of these posts are having on school operations cannot continue," Coeur d'Alene Public Schools says in a statement. "This needs to stop now, and we need your help to make that happen."
This post has been updated.