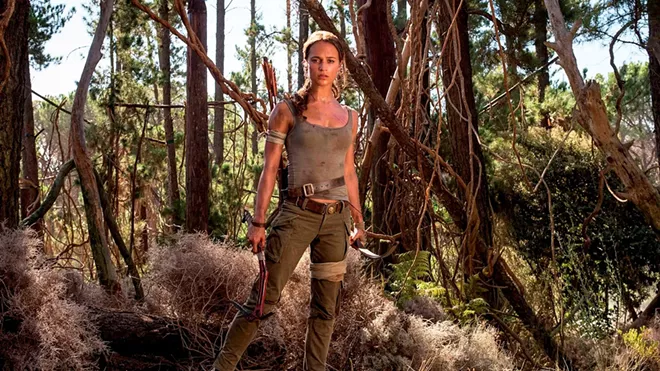 The No. 1 box office slot is still
Black Panther
's to lose, but Lara Croft is back on the big screen to challenge its reign. Here's a full list of the week's other theatrical openings.
7 DAYS IN ENTEBBE
In 1976, an Air France flight was hijacked by German reactionaries, with Israeli Defense Forces swooping in to intervene. It's an event that's been dramatized
many times before
; Daniel Brühl and Rosamund Pike play the hijackers here. Rated PG-13.
I CAN ONLY IMAGINE
A faith-based drama about Bart Millard, the frontman of Christian rock group MercyMe, who escaped his abusive childhood through music. The title is lifted from the band's signature song. Rated PG.
LOVE, SIMON
Popular teenager Simon (Nick Robinson) begins anonymous email correspondence with another boy, only to discover they're the only gay kids in their school, and they're both in the closet. Our critic Eric D. Snider calls this a funny, sweet and uplifting coming-out and coming-of-age comedy. Rated PG-13.
TOMB RAIDER
Videogame heroine Lara Croft returns to the big screen, this time played by Oscar-winner Alicia Vikander, in an origin story detailing the famed treasure hunter's first adventure on a fabled Japanese island. Rated PG-13.