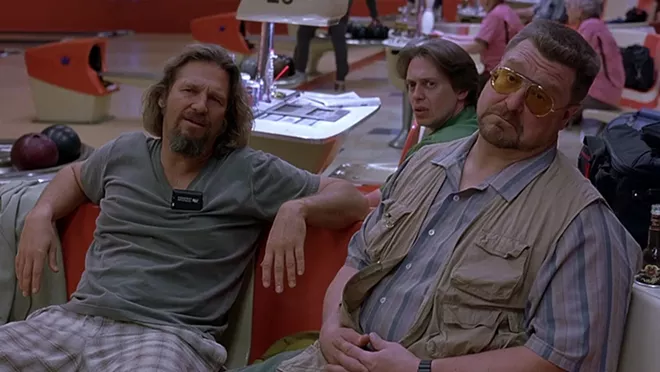 Hey there, dude. How is your costume coming along? You getting ready to sculpt that goatee or pin back the hair you've been strategically growing out since the first time we did this thing a year ago? Bowling ball polished? Beer money secured in one of the many pockets on your
Walter Sobchak vest
?
Good to hear. If this isn't making any sense, you should know that we're hosting our second-annual
Suds and Cinema Presents: The Big Lebowski
Wednesday night at the
Bing Crosby Theater
and it's gonna be one hell of a time, OK?
Doors open at 6 pm so you can get a beer and do some people watching, with the costume contest beginning at 7:30 pm, followed by the movie. It's $4 at the door and beers are also $4.
Here are even more details.
There will be beer from
Perry Street Brewing
— who just announced a pre-party they are calling, in the parlance of our times, "rad" — before and during the film, so please arrive thirsty.
Brain Freeze
will also be on hand with
free ice cream
in flavors inspired by the film.
As if that's not enough truly far out fun, you can head to the
Rain Lounge at Scratch
following the movie for a special White Russian after-party featuring the locally made vodka of
21 Window
Distillery.
We'll be cranking the Creedence inside the theater and fear not,
there will be no Eagles
.
Now, back to the issue of the costume. We don't want you to stress, so here are some tips we dug up from AltDaily for some easy
Lebowski
costumes.
Click here for a complete guide
— but below is a sample.