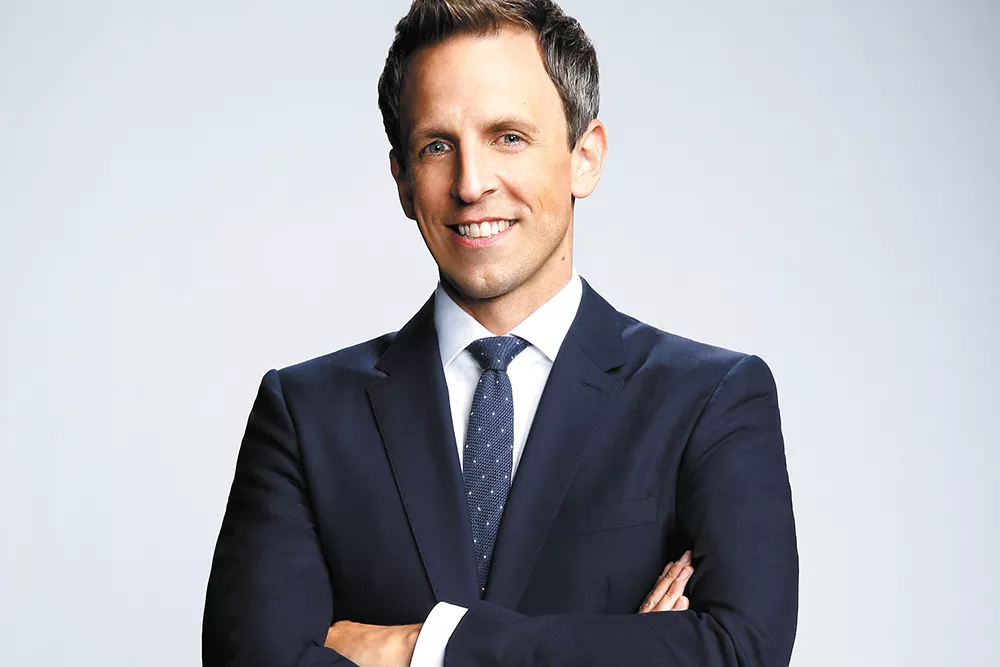 When Seth Meyers took over the chair at Late Night on NBC in 2014, he was entering the bedtime ratings wars that were already glutted with funny folks of varying skill sets.
His former Saturday Night Live co-worker Jimmy Fallon had the cutesy karaoke and fluffy interviews down. Stephen Colbert was announced as host in David Letterman's old CBS Late Show spot shortly after Meyers started, and people assumed he'd bring some of the political bite and audience from his Colbert Report with him. Colbert now has British carpool karaoke king James Corden following him. Jimmy Kimmel has held down the late-night slot on ABC with his everyman appeal since 2003.
Where Meyers would fit among this late-night landscape — as well as the one on cable featuring the likes of Conan O'Brien, Samantha Bee and The Daily Show — was a legitimate question when he left Saturday Night Live, and it took a while for Meyers to find his groove. Specifically, it took the rise of a certain orange-hued politician to help Meyers find his voice — and it's that of a bewildered but passionate advocate for average Americans.
As Donald Trump's candidacy turned from a scary joke into a scarier actual presidency, Meyers' rants delivered from behind a desk — à la his years as SNL Weekend Update host — have become must-see TV, mostly because he just speaks common sense. When Meyers recently returned after a week off to the insane war of words between Trump and a new war widow after a phone call gone wrong, Meyers addressed Trump through his camera, "Look, just stop. Stop tweeting. Stop responding. Do what a normal, decent human being would do: Apologize and then be quiet."
In recent weeks, Meyers has teed off on so-called "alternative facts," the government's response to hurricane damage in Puerto Rico and critics of NFL players protesting at games, while using comedy segments that allow some of the women writers on his show to react (via barbed jokes) to the half-baked apology from film mogul and alleged serial rapist Harvey Weinstein. And while there's always that risk of exhausting an audience surrounded by political chatter 24/7, Meyers manages to twist his comic knife with a smile; he's an ingratiating host without feeling hokey like Corden, or out of his depth when addressing anything serious, like Fallon.
As a WSU Dad's Weekend choice for entertainment, expect Meyers' charm to go a long way in helping his jokes work, even on dads and students who might lean further right than Meyers' TV audience. ♦
Seth Meyers • Fri, Nov. 3 at 7:30 pm • $59.50/public; $54.50/WSU students, faculty, staff • Beasley Coliseum, Washington State University, Pullman • ticketswest.com • 509-335-1514