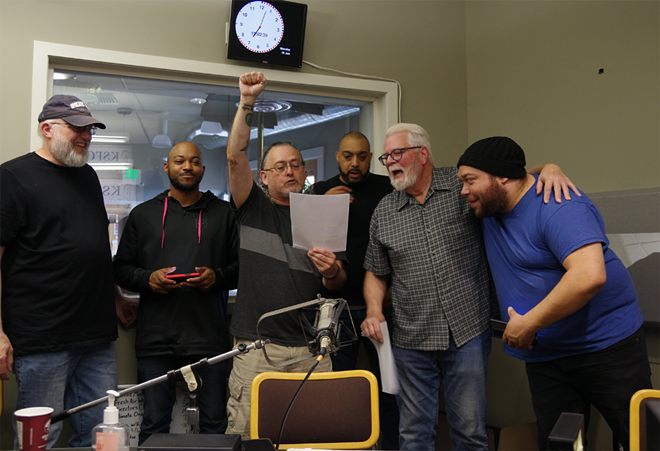 A
n audience views a typical theater production while seated
and gazing onto the stage, immersed into the story via the visuals. But sometimes sound is the only sense needed.
Radio Play Co-Lab
proves this with its immersive, audio-only productions (usually running 30 minutes). Spokane Public Radio is airing the local project's second season of radio plays this month:
Dead Mouse on Your Doorstep
and
Mea Culpa
.
The first production premiers Thursday, Aug. 3, followed by
Mea Culpa
a week later, Aug. 10, both at 12:30 pm. Tune in to KPBX (91.1 FM) to hear them first. Rebroadcasts are also scheduled for Aug. 6 and 13, respectively, at 6 pm on KSFC (91.9 FM), with on-demand listening at
spokanepublicradio.org
.
Both plays are directed by one of Spokane's most passionate storytellers, Juan A Mas. The prominent director and producer's mission is to shed light on local talent and artists. As one of the founders of Radio Play Co-Lab, a collaboration between Spokane Public Radio and Spokane Playwrights Laboratory, Mas creates a newfound sense of appreciation of radio plays through his work.
Mas was inspired to pursue the radio-play medium after binging drama podcasts. He would listen to them in full and become immersed in the idea of visualizing a narrative through sound. Not long after NPR aired a report describing how theater podcasts are an up-and-coming form of entertainment, writers and directors in Mas' creative circle started pitching theater pieces as podcasts. That's when he knew he had to get in on this phenomenon.
Mas loves the idea of being able to tell stories visually, but a radio play involves establishing the character's emotional intentions and using imagination to create a visual world in the audience's minds. Mas learned that when it comes to directing audio he needed to "think of the audience, as in the center, and the scenes are happening around them." As for the actors, group rehearsals took place via Zoom.
As director, Mas turned away from the computer screen so sound could be the only captivating element.
R
adio Play Co-Lab's first season debuted
in late 2022. Its success was a boon for both local theater and the artistic team that made it. (Both 2022 plays are also available to stream on SPR's website).
One of Mas' favorite moments from the pilot sessions was hearing a sound designer's experience of listening to the play for the first time with his father. Mas found a sense of utter appreciation when the designer explained how he was baffled at the thought of his father's excitement toward audio design work.
"That's a bond there, and all of a sudden now that parent is super supportive of their child's dreams and stuff and what they're trying to do," Mas says.
Although the first season of radio plays involved well-established playwrights and internship credit for sound design students at Spokane Falls Community College, Mas wanted to ensure that local artists were recognized for their experience and talent throughout the making of the second season.
Radio Play Co-Labs received a Spokane Arts Grant Award (SAGA) which allowed the company to provide stipends to everyone involved in the radio plays. As Mas puts it, it's "a stipend of a single thank you for your craft and your talent." Professional sound designers were also invited to serve as mentors for students during production.
Mas also wanted the chance to work with playwrights he knew. So he invited Malcolm Pelles and Bryan Harnetiaux to write the scripts for Radio Play Co-Lab's second season. Their respective results are
Dead Mouse on Your Doorstep
and
Mea Culpa
.
Pelles grew up on the picket lines with parents who were activists and wrote his play — about an activist who fights to buy his cat vegetarian food — as a love letter to his parents and his community. As a close friend and collaborator of Mas, Pelles jumped at the opportunity to work with his old friend to produce a new kind of story medium.
"It's such a pleasure to work with him. He's so smart and creative," Pelles says.
With Harnetiaux's Mea Culpa, Mas found a sense of familiarity when it came to the script. Raised Catholic, Mas recalls the experience of confession, which serves as the central setting of the play, about a priest and child confessor who come to terms about their guilt.

"It was told in such a way that even if you weren't Catholic, you should understand the humor and the fear of the child going to that confessional," Mas says.

His favorite part of the experience was collaborating with Harnetiaux, the two of them deciding how to set up an entire world so the audience could understand where they're transported to without seeing it.

While live, in-person theater has been back for awhile, post-pandemic, radio still may be the most accessible place to catch a theater production — you don't even have to leave your house.

Older generations may recall simpler days, when the radio was a main outlet of pop culture, while younger generations are incredibly into podcasts. Radio plays are a way to bring together these generations and connect over a simple form of entertainment.