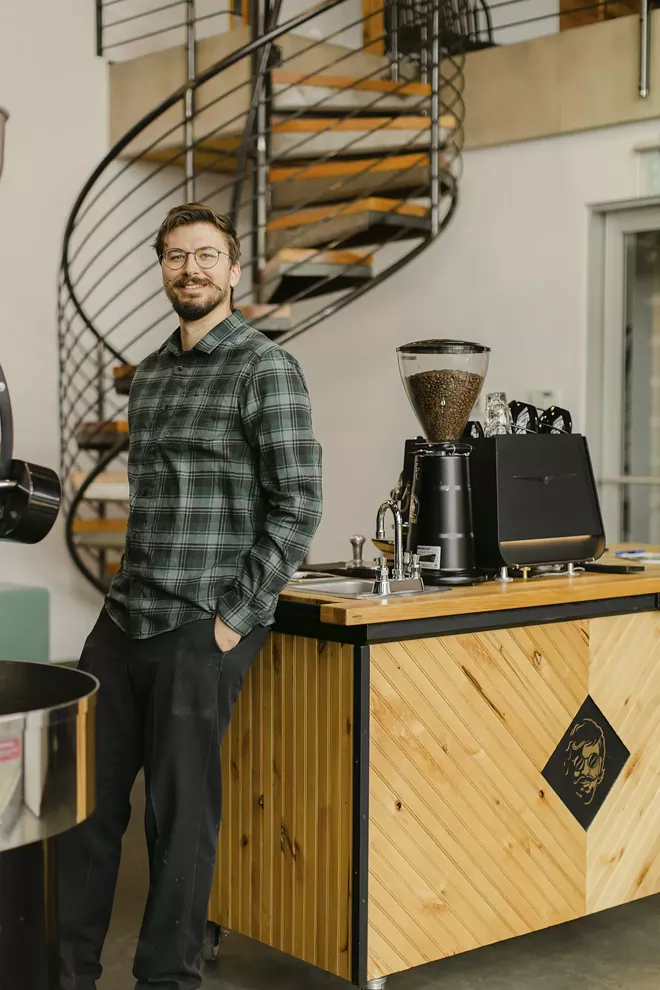 A simple cup of joe can aptly suffice as a morning kickstarter, but there's something even more satisfying about sipping on a cup of carefully crafted coffee that balances and elevates the bean's complex flavors and aromatic nature.
Andrew and Elizabeth Tye opened their pop-up coffee cart and catering business Brew Peddler in May 2022, using their culinary backgrounds to create a unique experience for other coffee lovers in the area.
"We're able to essentially bring the craft coffee shop to you," says Andrew Tye.
The pair worked in the culinary industry before opening Brew Peddler, with Elizabeth working at chef Thomas Keller's Bouchon Bakery and then as a barista at Ritual Coffee Roasters in San Francisco.
"[Ritual Coffee Roasters] took a lot of care on how they trained the people who were dialing in the espresso or steaming the milk," Tye says. "We obviously modified our service a little bit from theirs, but learned a lot from that coffee shop."
Tye, who's always wanted to open a cafe, decided to attend the Culinary Institute of America and work in fine-dining restaurants for seven years to gain an extensive understanding of flavors and culinary techniques.
He still aims to open a brick-and-mortar location. In the meantime, Brew Peddler is a good starting point, allowing the couple to get their name out there and provide a unique craft menu.
"The cart is definitely not a way of getting out of the food world," Tye says. "It was just a way that we could financially get into a business."
Plus, he says it allows them to diversify their menu and services and spend more time fine-tuning their craft before opening a permanent location.
"The cool part about catering coffee is we can make all of our own syrups and just craft a fine coffee menu for people," he says. "We can custom craft each menu for the service experience, which is a fun way to approach it."
Brew Peddler rents space at a local commissary kitchen, where the Tyes make their own sauces, which include vanilla, hazelnut, chocolate and caramel, a rotating seasonal flavor and a couple syrups for Italian sodas.
Tye began roasting coffee beans at Swell Coffee Roasters in Spokane Valley last year, allowing him to create Brew Peddler's own coffee blends. The pop-up often sells these roasts, such as the signature espresso blend "Fresh Off the Press," at farmers markets and occasionally at catering events.
For Tye, the ability to roast his own beans increases the quality of the coffee that Brew Peddler serves.
"It helps us to be very in-tune with the product, even pouring the espresso," he says. "The amount of care that goes into roasting, it affects the care that you're going to use to pour the espresso."
Brew Peddler regularly attends the South Perry Thursday Market and the Spokane Farmers Market in Browne's Addition on Saturdays, while also catering a variety of gatherings such as business meetings and weddings.
Each Brew Peddler catering service includes an unlimited number of drinks for attendees, with rates starting at $325 for an hour (30 people or less) up to $550 for three hours (up to 75 guests).
The cafe serves its regular menu at catering events, but can also create custom menus with additional flavors and even mocktails.
"The idea behind the coffee catering service partly is to offer a craft beverage that's not just alcohol based," Tye says. "If somebody wants a nonalcoholic beverage service for their wedding that's not just like lemonade or iced tea, we could offer a craft beverage, so we offer some different mocktail options as well."
Tye has noticed coffee carts becoming more popular in the Spokane area, partly due to lower overhead and the ability to reach a wider audience.
"During a lot of our catering events it's cool to see just how stoked people get off of a coffee service," says Tye. "It just makes a lot of people's day." ♦
Brew Peddler • brewpeddlerpnw.com • 509-724-0303