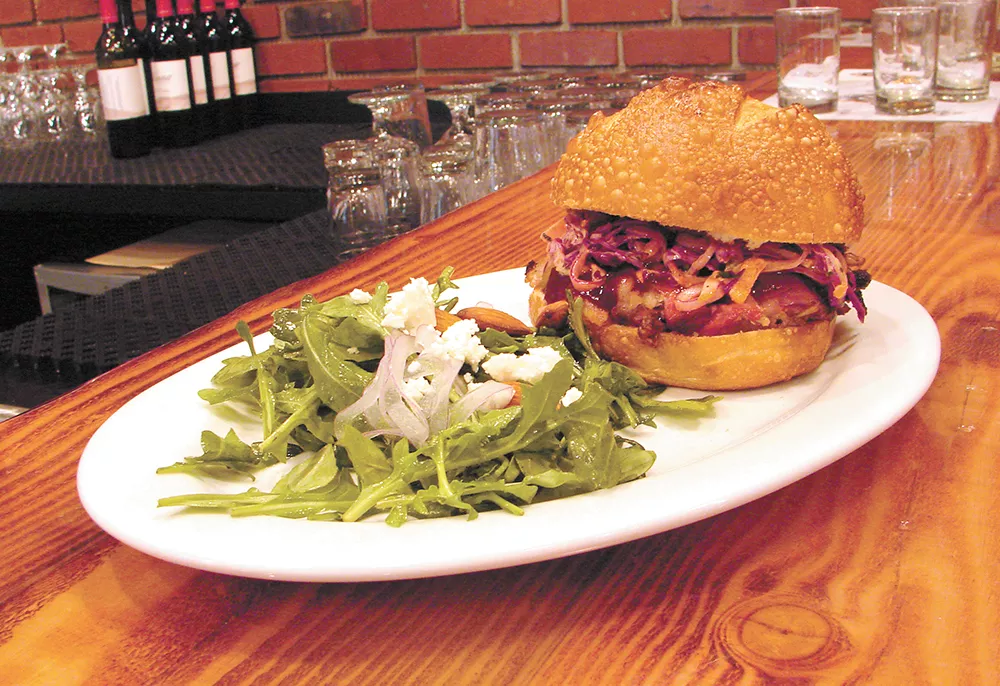 Don't be fooled by the playfulness of the name; Daft Badger Brewing is serious about craft brewing. And like the "Honey Badger" video that partially inspired its moniker, Daft Badger is quickly going viral. From beer to food to service, there's plenty to like.
Their 10-barrel operation opened last month with five highly drinkable beers, ranging from the light Hoppypotamus Pale Ale to the chewy Hibernation Libation Porter ($4.50 pint). The 8.76% ABV Josiah's Revenge Imperial Stout —served in a snifter — drinks like dessert but packs a powerful punch. Badger's Bounty IPA is a refreshingly gentle and citrusy beverage that will have even non-hopheads singing its praises. A taster tray of five 3-ounce pours ($5) includes newbie Summit Cider (which expects to open its Coeur d'Alene tap house later this spring).
Daft Badger is on a quiet, semi-residential street in midtown Coeur d'Alene, in a building unrecognizable as Darrel Dlouhy's former contract painting shop. Dlouhy, since retired from painting, is joined by wife Val Samuel, Dlouhy's longtime painting employee Keith Bertram, who handily made the custom fir high-top seating, as well as Dlouhy's son-in-law and brewmeister, Jake Capaul.
Daft Badger's modest menu of appetizers, salads and sandwiches means you can linger longer. Chef CJ Fox-Lopp — an alumnus of The Cellar and Tony's On the Lake — created the gastropub menu, which features house-smoked meats and cheeses. Try pulled pork nachos or the sandwich, served with a piquant red cabbage and apple slaw atop a chewy pretzel bun. Not Your Mothers BLT is a kicked-up version of the classic with house-smoked bacon, arugula, sun-dried tomato mayonnaise and provolone cheese. Or skip the bread and garden fixings and just order Bacon! served in a pint glass with huckleberry chipotle glaze.
If you want to save valuable tummy space, lighten up with one of three salads, including an arugula with smoked almonds, with either goat cheese and balsamic glaze or feta and red wine vinegar dressing ($4.95/$8.95). ♦
Daft Badger Brewing • 1710 N. Second, Coeur d'Alene • Open Tue-Sun, 11 am-8 pm • facebook.com/daftbadgerbrewing • 208-665-9892