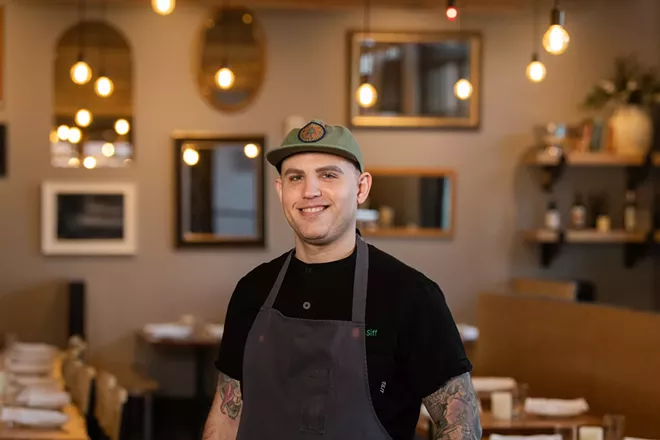 Scott Siff has criss-crossed the country for his career, and although he's worked in such urban hubs as Boston and New York City, he adamantly says the "West Coast is the best coast."
Born and raised in Florida, Siff initially went to school for radio and television, but a random hospitality class piqued his interest in cooking. Meanwhile, a chef who happened to live in Siff's neighborhood gave him his first restaurant job.
Siff moved to Providence, Rhode Island, where he earned two degrees at Johnson & Wales University: an associate degree in culinary arts and a bachelor's in restaurant management and culinary arts. In nearby Boston, Siff worked at the former French-American restaurant, Clio, and the former West Bridge, both of which focused on innovation and exotic ingredients.
Siff eventually moved west, ending up in Seattle. There, he worked for Ethan Stowell Restaurants at both Cortina and Tavolàta at Capitol Hill. At the latter, he met his future wife, Tania, who was the restaurant's bar and restaurant manager. In 2019 Siff relocated to Manhattan to help open Wolf Restaurant, an Italian-inspired collaboration between Ethan Stowell Restaurants and Nordstrom.
In February 2021, Siff and his wife relocated to Spokane, where they both helped launch Stowell's Tavolàta Spokane later that spring in a former Olive Garden location facing Riverfront Park. We recently chatted with Siff about his culinary journey thus far, and more.
INLANDER: What are the highlights of how you got here?
SIFF: Growing up, I kind of had that fat-kid mentality, like, I just loved food. I grew up practicing Judaism, so a lot of our holidays are centered around food. I grew up with a brother and sister, so I started cooking our dinner sometimes. I would watch a lot of Emeril Lagasse on TV. And, like, I would be 14 years old and watching Emeril at 11 pm. And then I just started experimenting at home, like frying things, and probably setting things on fire and making a bunch of mistakes, but that also kind of shaped how I learned. I like to be creative, and you have to make mistakes sometimes to figure things out. And I think the biggest thing to do is learn from those.
Who helped you get where you are today?
Working in French fine dining definitely taught me a lot of discipline and hard work and kind of what it takes to make it in that kind of environment. But what I learned from Matthew [Gaudet, chef-owner at West Bridge] was more like it's OK to have fun with food. I think the chef has a role to play in telling a story, whether that's based on ideas that he or she has, or past experience, past things they've eaten.
What's an essential technique you employ most often?
Emulsification. A lot of our aiolis and vinaigrettes usually have some sort of emulsification with yogurt and Dijon [mustard] and that sort of thing. But we also emulsify our pasta sauce, a lot of them with butter or Parmesan cheese. We never use cream in any of our pastas here, so it's always just either butter, or butter and cheese-based.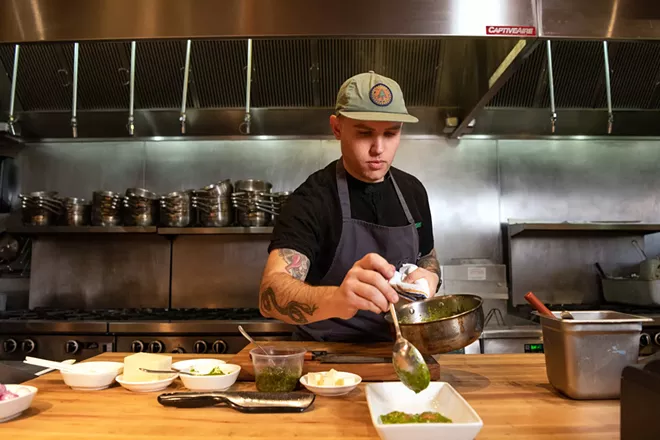 What's your favorite thing to eat from your own menu?
I would definitely say the focaccia is delicious. It's a housemade focaccia that actually changes seasonally as well. Last summer we did a focaccia with a tomato jam and nectarine butter, but right now we have focaccia with pumpkin seed pesto, so parmesan, basil, a little olive oil.
What's missing from the local culinary scene that you'd like to see more of?
Mocktails.
Where would you travel just for the food and why?
Japan and Vietnam. I've been there. So I would say Japan, in general. I was able to hit centralized Japan. I went to Tokyo, Osaka, Hiroshima, out on the west coast. But I definitely would like to hit all the regions. There's a lot going on and a lot of different cuisines.
What's the biggest myth about the restaurant industry we should know?
That we all go out and party all the time. Some do. Some don't. I stopped drinking two years ago. It's tough, but my wife also is sober. At this point, I can't see myself being able to do what I do without being sober.
What might you be doing if you weren't in the culinary industry?
Since I bought a house, I have been very much into home improvement. I put in new tiles on my kitchen backsplash and tiled my countertops, and so kind of taking it step by step, but I definitely am enjoying it. I never really worked too much around home improvement stuff, so now that I know I can mess things up on my dime, I'll take the risk.
And then music as well. I just started picking up some drumming, but I've also played guitar for a long time.
Are there any lessons from your culinary life that you apply to your personal life?
Don't be afraid to make mistakes, because everyone is [afraid], but everyone does [make mistakes]. ♦