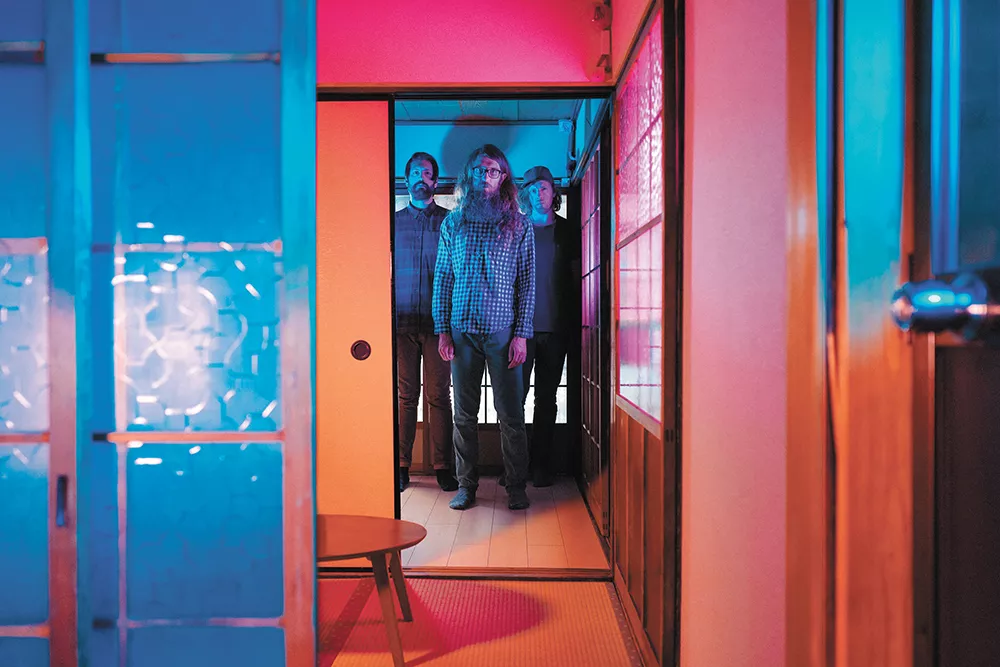 Sometimes you can draw a short, straight line between two albums from the same band.
That's not the case for Maps & Atlases — not right now, at least. The veteran Chicago rock band's new album Lightlessness Is Nothing New (out June 1 on Barsuk Records) comes at the end of a long and winding road that began in 2012, when frontman Dave Davison's father died just before the release of Maps & Atlases' promising sophomore effort, Beware & Be Grateful.
Grieving the loss of his dad and struggling with anxiety, Davison started working on Lightlessness as a solo album before bringing in in-demand producer Scott Solter, known for his work with Spoon and the Mountain Goats, among others.
"He has very strong musical instincts that helped take the music in sonic directions that it wouldn't have gone working with anyone else," Davison says. "Scott also has a deep knowledge of records and exposed me to a lot of music I hadn't heard before."
With Solter pushing Davison out of his comfort zone, drummer Chris Hainey and bassist Shiraz Dada joined the process, transforming the album from solo work to full-blown Maps & Atlases album. The band's sonic hallmarks are all over Lightlessness: vibrant melodies, zigzagging rhythms, off-kilter grooves and a buzzy funk influence not often heard in indie rock. Imagine Talking Heads and TV on the Radio spending an afternoon together flipping through psych-prog-pop records and shopping for 21st century gear and you're in the right (heavenly) mindstate.
Here's more of our conversation with Davison, edited lightly for space and clarity.
VOLUME: Lightlessness Is Nothing New is your first release since former guitarist Erin Elders left the band in 2015. How did his absence influence this album?
DAVE DAVISON: Touring as a three-piece has been a very interesting experience that has allowed us to experiment with different spatial relationships between instruments. With two guitars in the band, there is an emphasis on being locked in for harmonies, but playing as a three-piece has been a fun challenge to reimagine our live dynamic and has enabled us to be more loose than we have been previously.
Next year is 15 years of Maps & Atlases. What has been the driving philosophy behind the band?
I think that we've tried to continuously make music that is both experimental and new, while at the same time meaningful and fun.
Spokane's motto is "Creative by Nature." What's the most creative "venue" Maps & Atlases has ever played?
That is tough! We have played so many unusual spaces, especially when we were first touring and playing mostly nontraditional venues. But most of them were basements, living rooms and/or art galleries, so structurally I guess they were pretty normal. We played at an ice cream shop, which is unusual but was awesome. We've been lucky enough to play in a lot of inspired artistic spaces, notably the Pritzker Pavilion in Chicago, which was designed by Frank Gehry.
If Maps & Atlases was an animal, what animal would it be?
Possum. America's only marsupial. ♦