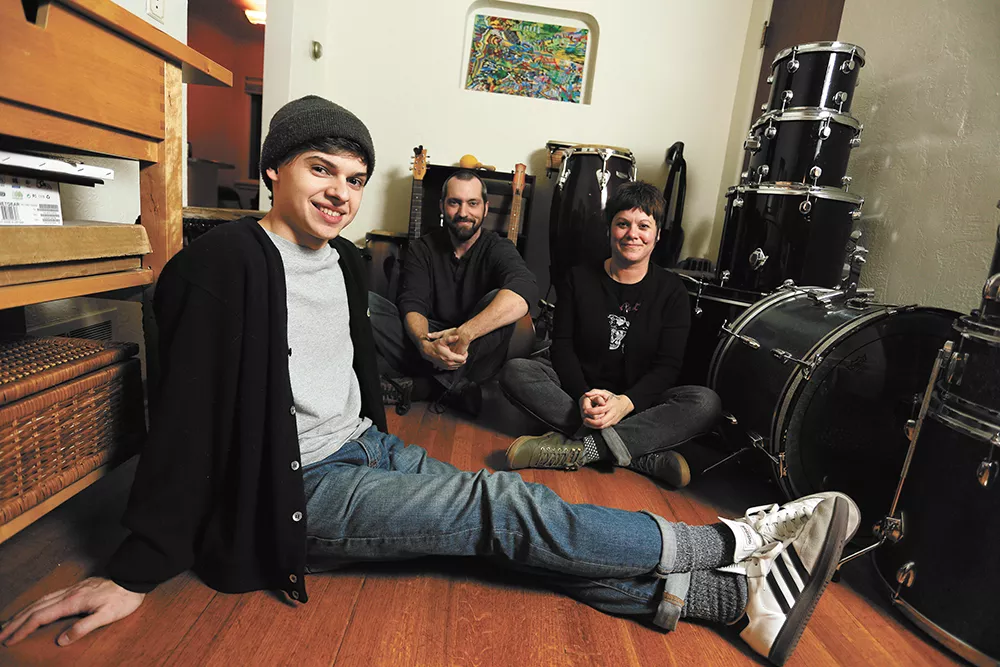 If a band's first music video is meant as a mission statement of the group's prevailing style and personality, then "Stories," the debut video from Spokane trio BaLonely, is a success.
In a single take, the clip follows the band's frontman Norman Robbins via Steadicam through Neato Burrito and the adjoining Baby Bar, in and out of the building and up onto tables, while the characters mentioned in his lyrics pop into the frame as they're mentioned.
The clip, directed by Darrien Mack, not only captures the vibe of "Stories" — a five-minute track about overhearing snatches of anecdotes at a social gathering and realizing everyone else might be more interesting than you — but also the restless yet controlled sensibilities that BaLonely exude during their live performances: Robbins' self-deprecating lyrics and pent-up energy suggest he's a disciple of David Byrne or Elvis Costello, while bassist Kristin Robbins (who's Norman's mom) and drummer Cody Brooks provide the reliable steadiness of any good, straight-faced rhythm section.
The "Stories" video is a complicated bit of choreography, but the band says the process of putting it together was mostly pretty easy: They wrangled extras on the day of filming and completed the whole thing in just four takes, most of which went smoothly (though Norman nearly fell off one of the tables he leaps onto).
"Everyone paid attention, everyone followed Darrien's lead," Norman Robbins says. "Just being able to walk through that scene and have everything set up, it was the coolest. Everything worked out so smoothly."
That laid-back approach is pretty typical of BaLonely, which essentially clicked into place amidst the ever-changing lineups of Spokane's music scene.
At the time the band started, Norman was splitting his time between four projects, including one-man acts like Jan Francisco, which employed improvisation and looping, and the synth-pop act Walker. The genesis of BaLonely can be traced back to the Holy Cows, a short-lived New Wave-inspired band that Norman started with his parents — Mark Robbins on lead vocals and keys, Kristin on bass — and drummer Robert Shugert, all of whom are former members of the long-running but now-defunct rock band the Camaros.
"When I was young and the Camaros were starting up, I thought that was the coolest thing ever," Norman says. "It made me want to play music right off the bat."
The Holy Cows eventually dissolved, leaving Norman with a batch of unfinished songs, which he brought to his mom, who then brought Brooks onboard — they'd previously played together in the rock trio Heavy Seventeen. That was about two and a half years ago, and BaLonely has since formed a distinct sound that marries wiry post-punk and melodic pop experimentalism.
Norman, now 20, was still living with his parents in their downtown condo when BaLonely began, working out of the tiny childhood bedroom where he spent hours noodling on synths and jury-rigged drum machines as a teenager.
"He would play the same riff until he perfected it. And it would get to the point where it'd be, 'Move on!'" Kristin recalls with a laugh. "But a week later, it was, 'Wow, that's the song he made.'"
Live music, then, has long been a staple of the Robbins household, and to answer the question that's no doubt on your mind — no, it's not weird to play in a rock band with your parents.
"I think the best reaction is when people are like, 'Oh my God, my mom would never be in a band with me,'" Norman laughs.
"People react funny when they hear it," Kristin admits.
"You kind of shaped a part of my taste in music," Norman tells Kristin, "so we have this deep understanding of each other's style, I think."
Those primary influences include the character-based abstractions of the Velvet Underground — you can hear Lou Reed's sometimes laconic, sometime manic speak-singing in Norman's vocals — and the shambolic alt-rock of New Zealand band the Clean. Brooks and Norman, meanwhile, have been trading vintage jazz and funk records.
"The longer you play, the better you are at listening to each other," Brooks says. "When we're playing, I'm more worried about me letting them down than them letting me down. I don't worry about them. We work well together."
So now that the band's got a music video under their belt, it only makes sense that they're also about to drop their debut LP, also called Stories. They're releasing the album on a limited run of cassettes at this weekend's Baby Bar show, and it will eventually be uploaded to streaming platforms.
Unlike the "Stories" music video, which was knocked out in a single afternoon, Stories the album has been long in gestation: It's a collection of songs that have been in the band's live repertoire for some time and which they've been recording in piecemeal fashion since March. Robbins wrote all the tracks and recorded them in the house where he and Brooks live, running cords from the upstairs computer down into the basement practice space.
The band has recorded more new material, Norman says, that will likely manifest itself as an EP somewhere down the road (it's also Robbins' final project as a student at SFCC, incidentally). But for now, Stories represents a distillation of BaLonely's still-developing style, and some songs have changed significantly since the recording process started. They've been going back and tweaking things they'd recorded months ago, and in the week before the album release, they're still putting finishing touches on the tapes.
"It's going to be last minute," Brooks says. "We might be folding shit on the way to the show."
And they all laugh, because they know it's probably true. ♦
Mystic 100's with BaLonely • Sat, Dec. 1 at 9:30 pm • $15 • 21+ • Baby Bar • 827 W. First • 847-1234