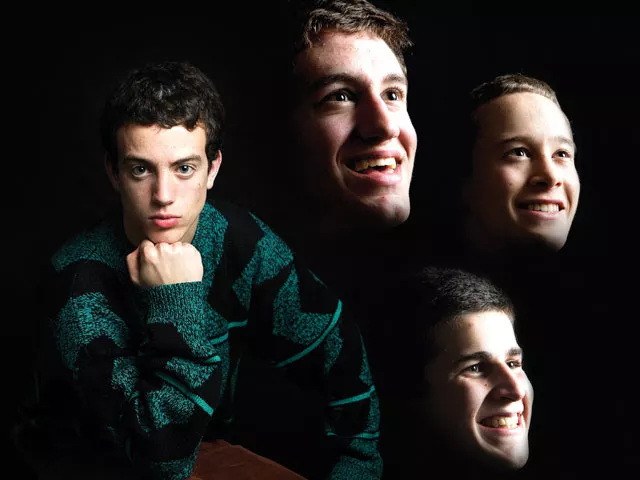 Dave Crume says if you've ever wanted to catch a RAWK Final Four, you should probably go this year. The ninth annual battle of the young bands competition might be calling it quits after this year.
"We're going to take a break for a long while," says Crume, RAWK's president. "I really want to sit down with everybody on the board and everybody who's ever been involved with RAWK, and maybe we decide to call it quits."
Crume, who runs RAWK from Seattle, says the organization has seen huge losses in funds in the last few years, not to mention decreased organizational efforts by longtime RAWK man, Dale Strom, this year. Crume says Strom, who still stands as the organization's secretary and treasurer, is "taking a much needed break."
"Maybe he'll be a Brett Favre and come back, maybe he won't," he says.
"I started volunteering with RAWK when I was 20 years old," Crume continues. "We've done this for over 10 years, and it's been a great run, but I have no idea what the future holds for our organization. Ten years [pass] and life changes drastically. Really, we haven't had anybody who's said, 'Hey, I want to take this on.'
"This year I can honestly say there have been [only] three bands I didn't like," he says, adding that he's still seen plenty of pleasant surprises in the field of 20. "You get a band like the Sassmatrons, they've only played a few shows — they have no idea the talent that they actually have… Or Yukon the Archer — probably the first band that didn't sell very many tickets but stole a whole bunch of votes from everyone else.
"We're just completely amazed — and that's what's cool about the Final Four every year." (LS)
EXECUTIVE SMACK
They're the lyrical indie-rock jam band — the kids out to make fun and noise. The boys of Executive Smack keep the energy high and throw in some witty, introspective lines to make you laugh. They're the official "wild card" — or fifth band of the Final Four.
Just after being named wild card, their drummer took off to Guatemala. Not wanting to turn down the honor, they enlisted the help of a drum machine, rewrote their entire set and transformed themselves into — you guessed it — techno. Tyler Will, Parker Slater, Andrew Nelson and Grant Oakley are striking a new genre all their own, a style they've coined "Lazrwuulf." This is not the soft-spoken wails and beehive dreaming of past songs (like "Grapefruit Dreams of Killer Bees" from their MySpace). In fact, Executive Smack promises an entirely new band in the competition. (JL)
ACT ONE SCENE ONE
Meet the pop-stars-slash-heartbreakers of the RAWK competition. Or, as the eldest, Robby Stevens — he's the upperclassman — explains unapologetically: "We're girly pop." The other guys try to laugh it off, but really, they are. They make pop that makes the girls dance, scream, love and worship them. It's hardly an insult.
Act One Scene One, a Cheney band, began with Lucas Hathaway and Drey Davis jamming and hanging out. They recruited Stevens and bassist Ben Bissell. Soon they became a pop-rock band — a band that has fun and shows it onstage and in their songwriting. By structuring their melodic beats around clever realistic lyrics (not your average pseudo-California emo stuff), Act One Scene One offers carefree pop rock — the kind of stuff only high school kids can make: "We're going nowhere fast / but I'll keep on driving / the steering's pointless / 'cause who knows where we're going?" (JL)
YUKON THE ARCHER
Brian Myers still views Spokane through a fresh, new lens, having recently moved here with nothing more than a small acoustic project. It was time to experiment and move in a new direction when he met Joey Albrecht (guitar), Scotland Shouse (bass), Marshall Bryson (drums) and Nake Braks (guitar), and the musicians collectively transformed themselves into hardcore metal. Though they continue to pursue the quieter side project and respect folk rock as an appropriate medium for conveying a more genuine, heartfelt expression, they found that they ignite a special energy force together when producing heavier material.
More people are taking note of the driven and more edgy Yukon the Archer as they push themselves to play more frequently at downtown venues. They draw people into the pit with a roaring bass and lush light shows to which Shouse explains, "People come to get excited, not serenaded." (JL)
VICTORY FOR A DAY
Ask the metalcore power group from Moses Lake to weigh in on its origins, and you more or less get the origins of the universe: "Well, it all started in the womb, you see. We were born, instruments in hand. Tyler [Herman, drums] wasn't like most babies before birth. While the average baby kicks, Tyler... uhh… double kicks. Kodi [Niverson, vox] was the obnoxious child diagnosed with ADHD, resulting in his running back and forth in his home screaming his little head off. Landon [Bishop], Alan [Johnson], and Seth [Bergman] all had major Tourette's, so we gave them guitars [or a bass in the case of Bishop] instead of mics. Problem solved. Thank you, come again."
The group drives the mosh with a melodic backbeat, stops and turns, and serious, hard-edged vocals. There is a lot of the Devil Wears Prada and August Burns Red pumping through their veins. (JL)
THE SASSMATRONS
Back in the day of local bands turning into big hometown stars, there was one high school band that evolved more slowly below the surface. For Years Blue were quiet only in demeanor — taking the RAWK trophy four years ago and slowly evolving into the Globes.
The Sassmatrons are starting on that same ground. It began with neighbors Ryan Katz and Michael Remington jamming on their guitars. Once their idea generation started conjuring magic, they snagged the rest of their crew from Lewis and Clark High School: Gabe Kohler (vocals), Riley Jesset (drums) and Nick Alfino (bass).
Collectively, they claim the Globes as heroes. With more exposure to new waves of postmodern rock, the Sassmatrons emerge as critics of the genre, explicating every single detail in a piece of art. The gang of five is heavily passionate about their work and creatively intellectual. (JL)
RAWK Final Four with Victory for a Day, the Sassmatrons, Act One Scene One, Yukon the Archer, Executive Smack and Space Opera 77 at the Service Station on Saturday, March 13, at 6 pm. Tickets: $10; $12, door. All-ages. Visit www.rawkonline.com or call 466-1696.