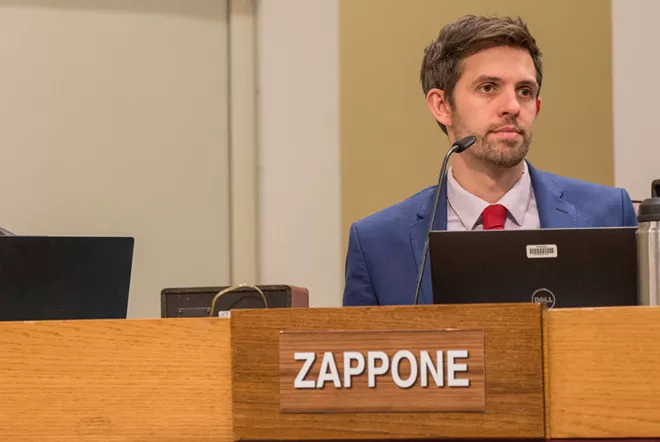 J
udge Tony Hazel had a tough decision to make during a court hearing today.
Spokane City Council member Zack Zappone had designed a city council redistricting map that could ultimately help his own re-election. It put Peaceful Valley and Browne's Addition, two of the most liberal neighborhoods in the city, into Democrat Zappone's neighborhood.
The City Council had thrown out the final recommendation from the City of Spokane Redistricting Board to choose that map, which Zappone argued had the benefits of keeping the neighborhoods together while splitting up downtown.
Behind the scenes, he and others strategized how to sell the map. Zappone's legislative aide, Jeff Gunn, had written on Facebook messenger that most people would likely find a competing map that made "minimal changes" — the one the redistricting board recommended — the most appealing, so Zappone should promote his map with some "BS" about keeping neighborhoods together and giving part of downtown to each district.
When Jim Dawson of Fuse — the husband of potential future City Council applicant Mariah McKay — had asked Zappone how much better the map was for his district, he replied back in a text that it was about "+1.5% percent more Dem."
"Not making it safe like the South Hill," Zappone texted after the city council had voted to swap in his map, but before they officially approved it. "But it's something."
And Zappone was confident.
"Overall, my map should be our city map for the next decade," Zappone wrote in text messages. "As long as nothing crazy happens in the next two weeks."
You guessed it: Something crazy happened.
The map was legally challenged by attorney Mark Lamb, who served as the registered agent for Town Square Strategies, a local conservative consulting firm. Lamb argued that the map violated the provision against using population data to draw maps maps favoring "any racial group or political party."
But if Judge Hazel tossed out the map, it could also have major political ramifications. Esteban Herevia, one of the candidates who already filed to run for the open slot in Zappone's district, lives in Browne's Addition.
There was almost no precedent on the law. And the city charter, everyone agreed, didn't provide much clarity. (The section dealing with "districting" is very distinct from the section dealing with "redistricting, " the city argued, but only during "decennial" redistricting processes.)
O
n the one hand, Hazel agreed with Lamb
that the city's ordinances should be interpreted with "the lowest standard of proof to protect from illegal gerrymandering."
And considering the city had put all kinds of prohibitions on those who could serve on the redistricting committee, including limiting their involvement in politics for a time, he agreed that it was pretty problematic to have Zappone draw one of the maps.
"Do I believe it was a good idea for him to submit a map? I don't," Hazel said in court on Friday. "And I do even acknowledge I think that violates the spirit of the charter? ... I don't think they wanted city council persons drawing the maps and doing the business of the board."
Consider that legally binding in the future.
"As a matter of law, for precedent going forward, the City Council should not be submitting maps, I will make that ruling here," Hazel said.
But the map itself wasn't a violation. It followed all the other provisions — the districts needed to be regular in size and shape, to be nearly equal in population, to follow natural boundaries, and try to keep communities together
.
Zappone's map did that. There was a difference, Hazel said, between being aware of the political ramification and using the political calculations to draw the map. He didn't see any evidence of that calculation.
"We're talking about 1.5 percent versus 3 percent. The differences are not ginormous. It does not scream to me gerrymandering when I look at it," Hazel said. "Especially when state law is, the favored principle is to keep neighborhoods intact and that was one of the only ways to do it."
In other words, Zappone's map lives. But future Zappones may be more legally constrained.