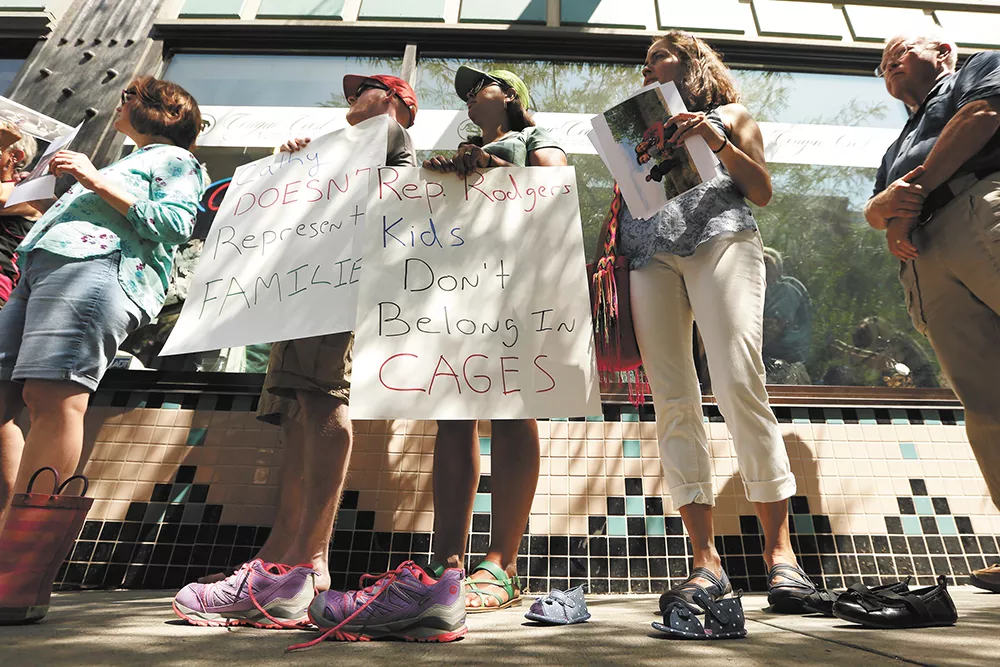 The shoes lined up outside Rep. Cathy McMorris Rodgers' office have various styles — hot-pink sneakers with bright-green laces, sandals capped with silver flowers, tennis shoes sporting the Batman symbol — but they're almost all tiny.
The activists' implication was clear: Think of all the kids who've been separated from their parents by the Trump administration's "zero tolerance" immigration policy. And if that wasn't clear enough, on the window outside the congresswoman's downtown Spokane office, a woman leaves a printed-out photograph of a small separated child, held up by a rock painted to say: "I CARE, WHY DON'T YOU."
Though McMorris Rodgers has publicly denounced the family-separation policy, and President Donald Trump issued an ambiguous executive order to change the policy, hundreds of immigrant children remain separated from their families.
In the last few weeks, activists have gathered outside the Spokane County Jail to object to an Immigration and Customs Enforcement raid that jailed five immigrant workers and rallied at the Greyhound bus plaza to object to Border Patrol sweeps.
Most dramatically, over 1,000 people attended Spokane's version of the Families Belong Together/Familias Unidas No Divididas rally in Grant Park. And behind the poster boards and the rally speeches, advocates have been constructing a network focused on helping local immigrants directly.
Rally attendees raised over $4,000 in a single day for a group that, until this year, didn't even exist: The Spokane Immigrant Rights Coalition.
Progressive groups banded together, including FUSE Washington, Center for Justice, Planned Parenthood, the Peace and Justice Action League, the Hispanic Business/Professional Association and the Spokane Coalition of Color and the Unitarian Universalist church. Together, they're not only preparing the community for immigration-enforcement raids, they're swiftly responding to them when they do occur, rushing to provide legal aid to those detained and support to their families.
"The coalition was in response to increased attacks of immigrant communities in Eastern Washington," coalition co-founder Jim Dawson says. The increased enforcement activity, he says, has sent waves of fear through those communities. Plenty of groups were reacting, but those efforts were uncoordinated, and there were still a lot of holes.
So in January the coalition was formed to fill those holes, coordinate all those groups, fight back and raise funds. Those funds can be used to pay for legal consultations, lawyer retainers, bail costs and asylum-application fees.
Other times, it can be as simple as purchasing a bus ticket. Dawson cites the example of an immigration-enforcement sweep that took away a father before his child was even born.
"He had never seen their child — and the woman couldn't afford the bus fare to get down to the detention center in Tacoma," Dawson says.
So the coalition stepped in to help pay for the bus ticket and hotel cost to help the mother get to Tacoma to introduce her son, for the first time, to his dad.
"People are really outraged about family separation at the border, right?" Dawson says. "But family separation is happening every day in Eastern Washington."
CHURCH WORK
One of the most crucial organizations in the coalition isn't a political action group: It's a church. Even back when Barack Obama was president, Unitarian Universalist churches were championing the protection of unauthorized immigrants.
"Keeping immigrant families together is a moral issue," then-Unitarian Universalist Association President Rev. Peter Morales declared back in 2014. Unitarian Universalist churches across the country declared themselves "sanctuary" congregations — agreeing to sequester and protect immigrants in their walls, just like churches did in the 1980s for immigrants fleeing violence in El Salvador.
So far, the Unitarian Universalist church in Spokane hasn't gone so far as to declare itself a sanctuary. But ever since the controversial travel ban came down shortly after Trump's inauguration, Unitarian Universalist church members have been scrambling to respond.
"One of the things our church believes in is the worth and dignity of every person," says church member Pam Davies. "We decided to form a team to help explore what we could do locally."
The resulting Immigration Justice Team began raising money from their congregation, aiming to pay for legal consultations and other services.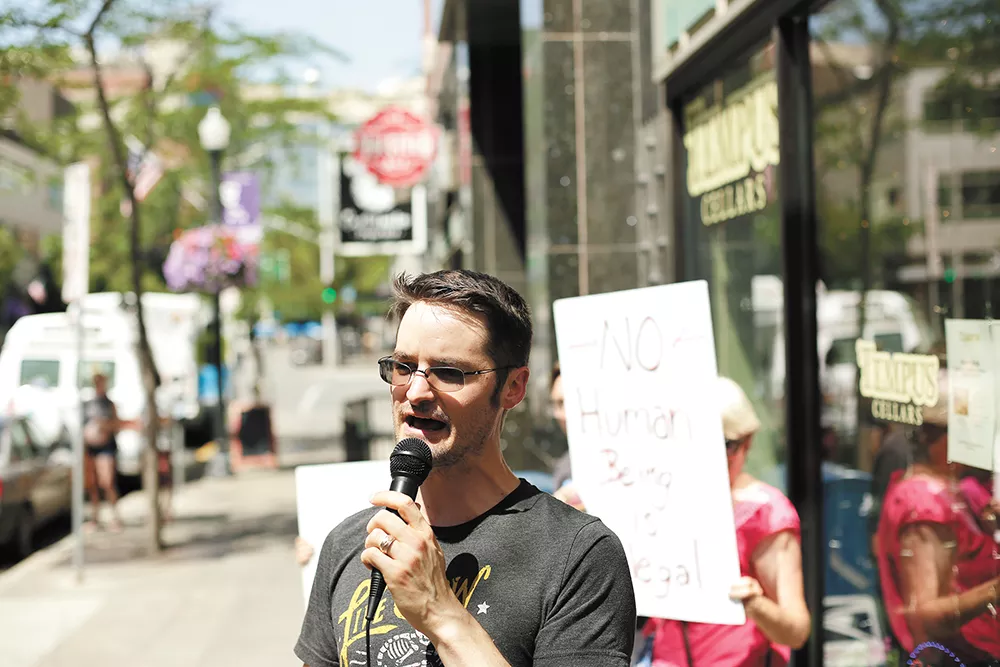 In April, they held a Latin music concert, sponsored by the Smith-Barbieri Progressive Fund, as another. They even had a "Plants for Justice" sale. Davies and another church member dug up a bunch of perennial plants from their yards and their friends' yards — raspberries, lavender, mint, coreopsis — and sold them. It raised over $400.
Sometimes Davis provided assistance personally. On two occasions she chauffeured unauthorized immigrants to consultations to see if they were eligible for permanent visas.
"Mostly they were afraid and eager for knowledge for how they could become legal in the states," Davies says.
TEAMWORK
Meanwhile, a larger statewide group, the Washington Immigrant Solidarity Network (WISN), has poured grant funding into the coalition and partnered with them.
This summer, Lacy Nguyen — the daughter of Vietnamese immigrants and a junior at Whitworth University — is working as a fellow with WISN, a statewide coalition made up of around 100 different organizations.
"Even though there are a lot of immigrant communities in Eastern Washington, they're not organized the way they are on the west side," Nguyen says. WISN's mission is to change that. Nguyen has been holding educational forums at community centers.
"What a lot of people don't understand is, regardless of your immigration status, you deserve constitutional rights," Nguyen says. They have the right, for example, to remain silent.
"You have the right to say to ICE, 'You don't have the right to come through the door,'" she tells them. They need a warrant first, she says. Members of the coalition have been distributing "Know Your Rights" cards to immigrants and their allies.
Not only that, but WISN has also been focused on creating a rapid response team, "community members and allies who are ready on hand to respond" if immigration enforcement is conducting a sweep in the community.
As soon as someone calls the hotline to contact the rapid response team, the team might send a verifier to the location, in order to confirm whether the reports are accurate. Is it Border Patrol? ICE? A false alarm? There's someone to videotape, someone to talk to immigration enforcement agents, someone to provide immediate assistance to the family and communities if the person is detained.
So when the five immigrants were arrested in Franklin County last month, the Spokane Immigrants Rights Coalition sprang into action.
"We did not know the names of the people who had been arrested," Davies says. "I looked them up on the jail roster while [WISN] was looking for the family, so they could make contact with an attorney."
Within 24 hours, all five of the immigrants were connected with Coeur d'Alene-based immigration attorney Alycia Moss. She says the speed at which the coalition moved was crucial.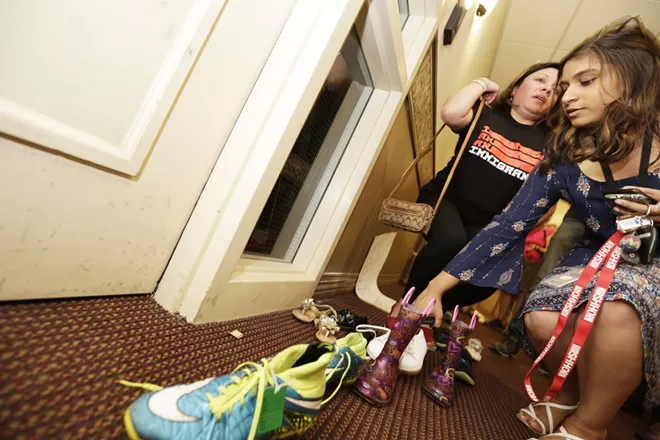 "We usually have a couple days, maybe, to stop them from going to Tacoma," Moss says. Once a detained immigrant suspected of being in the country illegally is transferred to the Tacoma Northwest Detention Center, it can take two to three weeks to even get a bond hearing — and the cost of getting out on bail increases considerably.
Moss conducted consultations for all five of the immigrants arrested and got two out on bail. She says that Unitarian Universalist church, as part of the coalition, helped pay for some of the bail costs — which ran $1,500 per person.
"All the recent immigrants I've dealt with in any way have been non-criminals, and have families here and have U.S. citizen children," Moss says.
Immigration attorneys are among the lowest paid attorneys dealing with some of the most complex cases, Moss says. And because immigration courts are the province of administrative law, not criminal law, detainees aren't given attorneys if they can't afford one. Even kids are sometimes left to fend for themselves.
"If you're in immigration court, it can easily cost $8,000 to $10,000 or more," Moss says. The financial assistance from the coalition has been crucial.
"They're on the ground watching," Moss says about the activists. "They know what's going on."
BULWARK
There's another, subtler role, that the coalition is playing: moral support.
"I have talked to people and asked about their stories who have been racially profiled and are afraid to speak up, because of the retaliation," says Lili Navarrete, manager of the Raiz program, Planned Parenthood's Latino community outreach effort.
Immigration activists in Washington state, like Maru Mora-Villalpando, have been targeted after they acknowledged in newspapers they were "undocumented."
Even immigrants who already have their citizenship, like Navarrete, feel unsafe. In June, U.S. Citizenship and Immigration Services started a task force aimed at "denaturalization" — finding citizens who allegedly lied to become citizens and stripping them of that citizenship.
Moss says that the denaturalization process is so narrow that most citizens shouldn't fear it — but she knows many will anyway.
"That fear-mongering serves a purpose for certain people in the administration," Moss says.
And that's one reason why Navarette says that the efforts of the coalition are so important.
"It makes us feel, not 100 percent safe, but it makes us feel that we can count on someone," Navarette says. "That we have that support."♦