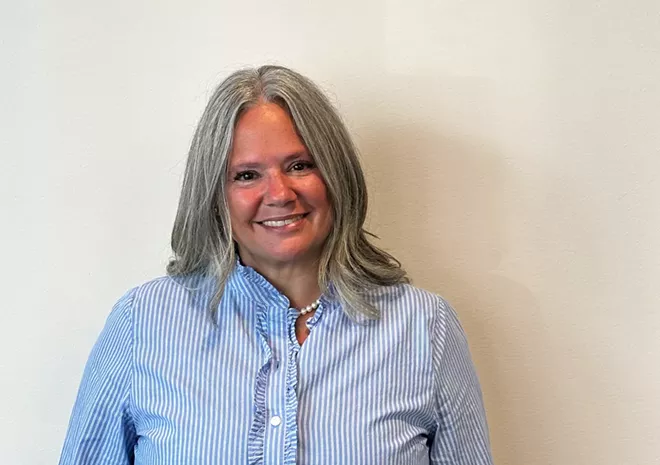 W
hen Hilary Kozel moved to Spokane in 2007 she didn't know anyone.
With her husband's busy schedule, she decided to stay home with her kids and spend her spare time volunteering with Spokane Public Schools.
Her time with the district helped her develop the sense of community that she was missing when she moved to Spokane.
Fifteen years later, Kozel was just unanimously appointed to the SPS board to fill the seat left vacant by Riley Smith, who left to accept a new job as the Eastern Washington outreach director for Democratic U.S. Sen. Maria Cantwell.
Kozel will serve for the next two years to complete Smith's term.
The Inlander sat down with Kozel to discuss her appointment, the steep learning curve of joining a school board, and whether she plans to run to keep the seat in the November 2025 general election. (Spoiler alert, she does.)

Kozel's answers have been edited for clarity and length.

INLANDER: Why apply for a vacant position rather than filing to run during an election?

KOZEL: Because it's a daunting process. This is a great way for me to have an opportunity to get my bearings about it. I've watched many board meetings, and I just know the process somewhat. The timing of this appointment came up at a good time for me, and it just felt like the right fit. But I realized that I have less than two years to start getting the wheels turning for running for the position.

How did it feel to be chosen from among nearly 20 applicants?

I'm just so incredibly honored. I mean, of course, I'm a little nervous, but I guess more than anything I'm just filled with gratitude. What an amazing pool of applicants there were. So yeah, just grateful that there's so many people that were interested in this position. I think that just speaks to an amazing community.

Do you think the SPS community should be more involved with the district?

Yeah, and that's easy to say when it's hard to take time out, but the access is there for the community to ask questions and learn. The more you know, the more reasonable conversation that can be had, the better off everyone is. I think we all want the same thing, but it's just sometimes hard to get. It just takes a little more to get there.

What kind of work did you do as an SPS volunteer?

Oh gosh, I was doing everything from planning class parties, helping with auctions and working with budgets. I was part of a parent teacher group and assisted with a program that benefits lower-income families during the holidays.

I was also on a district-wide citizens advisory committee where district leadership would ask us to get feedback from our respective schools.

In your opinion, what is the purpose of a school board?

To represent the community and advocate for students.

When you say 'advocate for students' what do you mean?

I think the district is on a wonderful path advocating for the whole child. It's not just about academics, it's about social and emotional well-being too. We have to address all of these factors if we want them to achieve academically.

Other than learning the basics, do you have any goals while on the school board?

My goals are to continue the direction that the district is already taking in terms of making sure that we are getting as many kids on board with public education as we can with preschool. Kids are more successful when they begin in a preschool program.

I also have a daughter that just graduated from high school and her classmates had success in doing internships, job shadowing and Running Start programs. Just getting kids prepared for what happens after high school while they're still in high school. I want them to feel prepared, and not just terrified once they step across that graduation stage.

How do you feel seeing increased public interest in school boards recently?

I think it's really unfortunate that school boards are being politicized. I do think conflict disagreement is actually really healthy, but it's how we go about it. When you have two sides that are in conflict, which happens all the time in all public entities, we should go to evidence and data. What does the data show us? What does the evidence show us? What works best for kids?

A lot of times, these people that are going against a school board don't reflect the whole community either. So they're not just going against evidence and data, they're going against the greater community as a whole. At the end of the day, a school board serves students, and the rest that gets political is unnecessary.

Politics reflect our values as a community, and while the school board should absolutely remain nonpartisan, it should reflect the values of the school district.

What values do you hold close?

When we lift up marginalized communities in our society, everybody benefits. We don't know what students are capable of if they're not given what they need. We might have some pretty amazing children in marginalized communities, but if they're struggling with how they're treated at school, if they're struggling with how they look, if they struggle with poverty, what color their skin is, then they're not able to maximize their learning potential. So I just feel like when we address issues in our marginalized communities and do what we can to invest in them, those are the ways that we can lift everybody up so that everybody benefits.

Do you have any advice for someone who hopes to become a school board member?

Even if you don't have a child in the district, there's so much opportunity to be involved. You can be a mentor, or you can just call the school district and ask questions if you have questions about how funds are being spent, or what is this project that you just drove by. There are always opportunities to communicate with the district.

The position is open to absolutely anybody as long as you're a voter within the district. Having children in the district has really provided me with an inside view of how things function and what it takes to run a school district. I mean, we have an upcoming bond vote for which all of the voters in Spokane should have just gotten the postcard.

Can you tell us about the upcoming SPS bond?

Well, it's less than half of what the previous bond was. We're giving voters the opportunity to have input on how those funds would be spent, but there's just a lot of need. A lot of these buildings have had a lot of learning in them, but they need to be modernized just like any facility.

Have you been inside any of the new middle schools?

I have not yet, but I will be at the open house for Sacajawea Middle School. I hear it's amazing and beautiful!

What are your thoughts on SPS' new school bus company Zūm?

It's great, I love the word Zūm. I think the buses look really smart, and I know that there are a lot of kinks that are still being worked out, but I'm really excited and the buses look great.

Do you plan to file for election when your term is up?

Absolutely. Two years is not enough time to serve in a position like this. Even in the short amount of time that I've already been on the board — which is less than a week — I can see how much it takes to learn, so I think in two years, I'll just be getting up to speed and preparing to continue on as a board member.