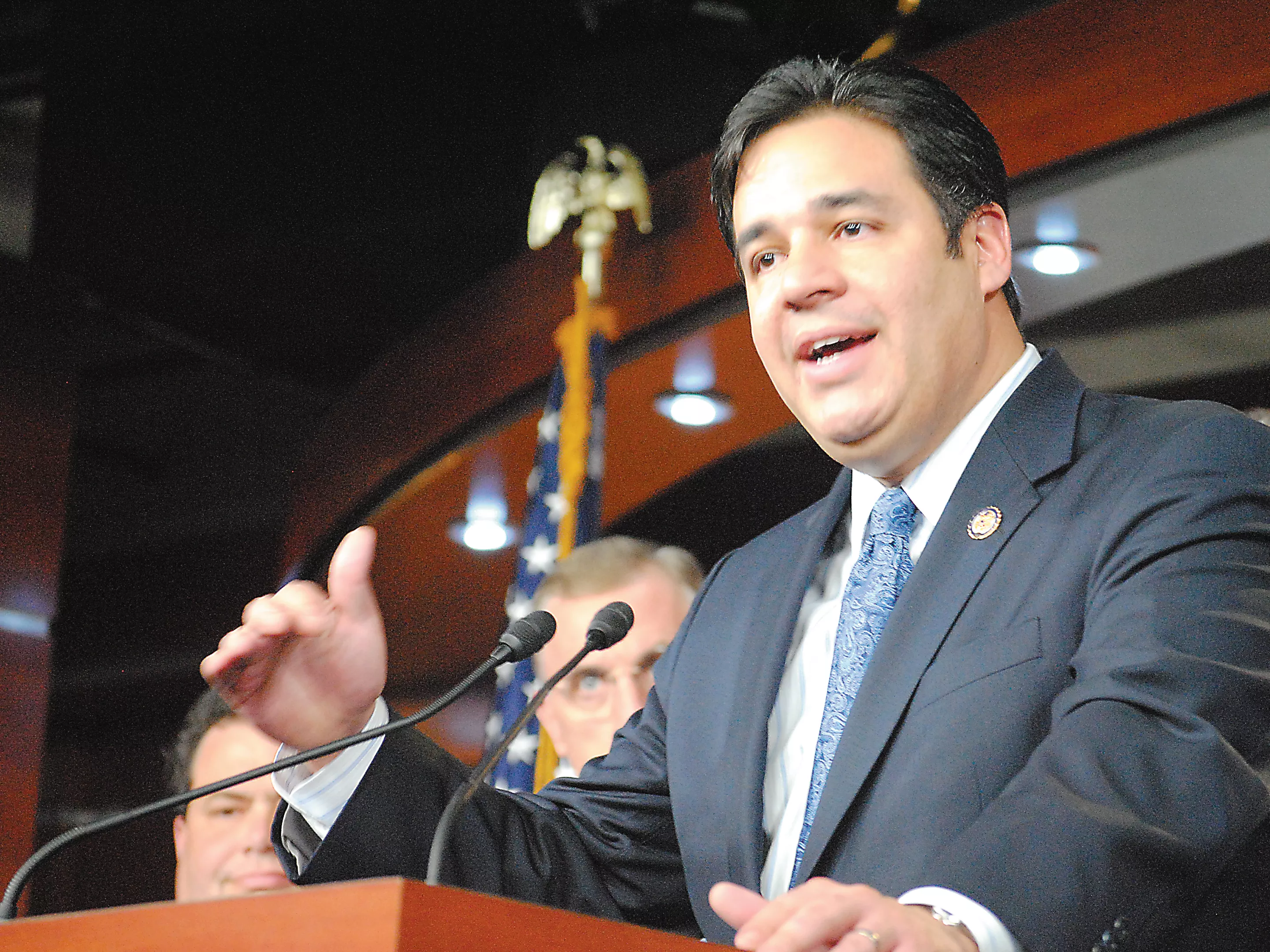 As the 2013 congressional session began, rumblings of a coup against Republican Speaker of the House John Boehner started immediately.
Boehner had just compromised with President Barack Obama, raising taxes on the very wealthy while delaying spending cuts. Conservative House Republicans — who had refused to support even Boehner's original, more conservative proposal — responded by tarring the speaker as a compromiser and promise-breaker.
When Republicans moved to choose their speaker, a few saw a chance for new blood.
The vote went alphabetically. The first two representatives voted Boehner. But next came the strongly libertarian Rep. Justin Amash, R-Mich. Amash didn't vote for Boehner — who had kicked him off his House Budget Committee. Instead, he shouted out the name of an Idahoan who's barely been in Congress two years: "Raul Labrador."
When it's Labrador's turn to vote, Labrador just sits in silence — both times his name is called. "Labrador," the clerk says, looking around. "Labrador." No response.
"I decided to speak with my silence," Labrador told The Inlander Monday. "There was nobody at that moment I thought would be a good speaker."
The coup attempt failed and Boehner was re-elected speaker. But as the dust settled, reporting quickly exposed Labrador as one of the main forces trying to topple Boehner. It places Labrador, who represents North Idaho, in a pivotal position for the Republican future: On one hand, Labrador's work to reform immigration could help woo Hispanics, saving the GOP from demographic doom. But on the other, he's been touted as a rebel leader, a hurdle for any Republicans pushing for a more moderate party.
A Rebel's Causes
Born to a single mother in Puerto Rico, Labrador's voice still carries a whiff of a Spanish accent.
"Every day I look at the Capitol, I get goosebumps," he says. Yet, he remains mostly a visitor: Labrador doesn't own a home in D.C. or rent an apartment. He sleeps on an air mattress on the floor of his office and showers at the Capitol gym. He misses his wife and his five children, and flies back to Eagle, Idaho, nearly every weekend.
He says he's seen how hard it is for anything to get done — there are 535 members, each with their personal sacred cows.
"It's one of the most frustrating things," Labrador says. "Seeing how slowly things get done here."
Yet, lately, Labrador has defied his own party leaders when they tried to compromise.
Labrador wasn't the first choice of establishment Republicans. His 2010 primary opponent, former John McCain campaign worker Vaughn Ward, was recruited by national Republicans and endorsed by Sarah Palin. But Ward's early double-digit lead collapsed in a string of embarrassing gaffes. Labrador, a former immigration attorney, overtook both Ward and incumbent Democrat Walt Minnick.
Liberal groups were alarmed. The People for the American Way named Labrador one of the "10 scariest Republicans heading for Congress," over his opposition to abortion, gay marriage and tax hikes.
Labrador wasn't alone. The more-powerful-than-ever Tea Party, preaching against deficits and bailouts, had fueled a surge of conservative victories in the House. Labrador caught the eye of Robert Draper, author of the in-depth profile of the House of Representatives, Do Not Ask What Good We Do.
According to Draper, Labrador said he "didn't come to Washington to be part of a team," and told Boehner that his debt ceiling plan was a "terrible bill" and accused him of "abandoning" conservatives. Early on, Labrador even hinted at overthrowing the speaker if conservative members were punished for rebelling against leadership.
Today, Labrador says he thinks Boehner is a good man and his frustration is mostly over Boehner's strategy, which he sees as willing to give up ground too early.
"I think we need to be a little bit bolder and stronger," Labrador says. "What I learned as an attorney with negotiations, if you take anything off the table, you show a weak hand." Democrats need to believe Republicans would go over the cliff, hit the debt ceiling and shut down the government. He says there's nothing that's non-negotiable, but he'd only support tax hikes if they come tied to immediate spending cuts.
Labrador's tactics recently created a rift between Idaho's two representatives. Mike Simpson, Idaho's other Republican representative, told the Idaho Statesman that Labrador's refusal to vote for speaker was "irresponsible" and forever undermined his credibility. Labrador, in turn, called Simpson a "bully."
Some constituents praise Labrador's strict fiscal conservatism. "He's probably one of the best congressmen that I've ever had," says Pam Stout, a founder of the Sandpoint Tea Party. "I honestly can't think of a single vote where we disagreed."
But Tea Party power has weakened. In 2010, 24 percent of voters told Rasmussen they consider themselves a part of the Tea Party. Today, that figure has dwindled to only 8 percent.
"I don't think he's done a very good job of representing all of Idaho," says Larry Grant, chairman of the Idaho Democratic Party. "I think he represents a very narrow group."
Yet Labrador is trying to widen the Republican Party to include an increasingly important demographic: Hispanics.
Immigration Plans
Hispanics either hated Mitt Romney or loved Barack Obama: a scant 27 percent of them supported the GOP nominee. Pundits across the spectrum saw a big problem for the future of the GOP. Obama plans to make immigration a key part of his State of the Union address next month.
Immediately after the election, Rep. Luis Gutierrez, D-Indiana, says he ran into failed vice presidential candidate Paul Ryan in the Capitol gym, where Ryan mentioned there were many conservative House Republicans serious about immigration reform.
Gutierrez says Ryan told him he "should talk to my friend Raul Labrador because House Republicans will be looking to him for guidance."
While Labrador is against a "pathway to citizenship" and says the first priority is securing the borders, Gutierrez and Labrador have already met multiple times to find common ground.
"He understands the issues and realizes immigration is more than just a political or labor market issue," Gutierrez says in an email. "He sees the human side of immigration, the families that are being ripped apart by deportations or the decades it takes for some families to get visas."
It's easy, here, to find similarities between Labrador and Marco Rubio, the junior senator from Florida seen as a major contender to grab the GOP's 2016 presidential nomination for president. Both are Hispanic, both were uplifted by the Tea Party, both voted against the fiscal cliff deal and both have a passion to fix the immigration system.
Rubio told the Wall Street Journal last week that he wants to raise the limit on immigrants who bring investments and advanced skills, and wants to let current undocumented migrants earn a working permit and, eventually, citizenship. Labrador is more vague about his plans, but says he's been talking with Rubio, and they agree on a lot.
One bill Labrador helped introduce, the STEM Jobs Act, would have given a higher percentage of visas to those studying math, science, technology and engineering. But Democrats wanted a much more comprehensive bill. Gutierrez voted against it, calling it a "slap in the face to the core values of the United States."
On talk shows like Meet the Press, Labrador has harshly criticized Democrats on immigration.
"They're using this as just a political tool — and they don't really want to resolve anything. They were able to do something about health care reform, but they couldn't do anything with immigration reform," he tells Geraldo Rivera on Fox, "and they want to keep continuing to blame Republicans for their failure of leadership."
Grant, the Idaho Democratic Party chairman, says he doesn't want to take anything away from Labrador's ethnicity, but it's what's put Labrador in the spotlight.
"Right now, I think he's having a good time putting on a show," Grant says. "Going on the talk shows, using his ethnic background in the Republican Party in order to advance his career."
The Republicans of the Future
Labrador says he wants a bolder Republican Party, one that's not afraid of tackling tough issues. After the 2012 election, he lambasted the GOP's big business ties on Meet the Press, saying he "didn't become a Republican to defend the rich."
In the future, he says he wants the party to consider the effects of war and the cost of military spending.
But all the speculation on what Labrador can bring to the party depends on how long he stays. He says he believes U.S. representatives should be limited to 12 years in office.
"I get calls almost every day asking me to run for governor," Labrador says. "I am definitely considering it, but I have not made a decision."
Tea Party activist Stout is one supporter, saying she'd love to see "somebody with a real spine and a true conservative in that office."
But even the governor's office would eventually come with a self-imposed deadline.
"Honestly, I don't see myself doing this for a very long period of time," Labrador says. "I do not want to make politics a career."