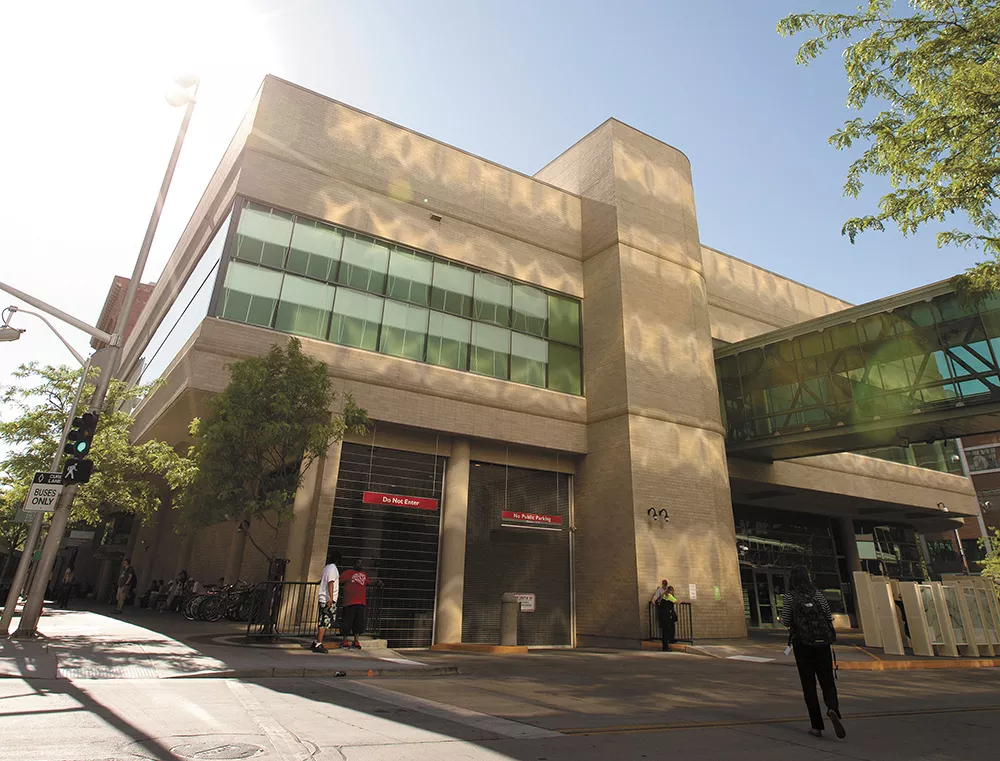 The glass doors hiss open and shut on a Saturday afternoon at the Spokane Transit Authority Plaza. Patrons stream in wearing gay-pride crowns, tie-dye sweatshirts, black trench coats, cowboy hats and camouflage. An immigrant from Eritrea has a rapid-fire conversation in his native tongue with his friends. One man, with a medical bracelet, just got back from having a hernia treated at the hospital. Another's heading there to replace his stolen psych medication.
A homeless couple, Don Salbeck and Melissa Wick, are sitting on a bench, hand-rolling cigarettes, selling them for a quarter apiece. They've seen a lot from this vantage point over the years, but nothing like last week.
"I saw a guy get killed right there," says Salbeck.
He points to the bus schedules near the Wall Street entrance where, on June 7, a man walked up to 49-year-old Sean Oie, pulled out a knife and stabbed him once in the heart.
The Plaza became a crime scene by grim coincidence. Murder suspect Donald Phillips says he tailed Oie there after the two had an argument.
It happened less than a month after the STA board unanimously approved a $4.7 million plan to upgrade the Plaza. Mark Richard, president of the Downtown Spokane Partnership, says that crime has heated up a conversation that's simmered for two decades: Should the Plaza be improved? Or should it be moved?
Unhappy Neighbors
When Bryn West, general manager of River Park Square, gives potential tenants tours of downtown, she intentionally avoids the Plaza.
"When you take a retailer on a walkabout and a block away from RPS is the Plaza, it's rather unsightly," West says. She believes it's hurt the spread of downtown retail. She doesn't want to be seen as elitist or opposed to transit, but she's frustrated by the way some patrons treat the STA Plaza like a hangout spot, rather than a bus stop. She objects to how some patrons crowd the sidewalks or cause trouble in the community.
"The numbers don't lie, right?" West says. "Eighty-two percent of the people that we [eject and temporarily ban] from River Park Square are STA riders."
West can picture better uses for the land the Plaza sits on. Others agree.
"My ownership would say that they do not believe it's the highest and best use," says Alison Bantz, Kiemle & Hagood property manager for the nearby Peyton Building. "They would like to see that the STA loads and unloads buses on their own facility, rather than using the public right of way."
Councilmember and STA board chair Amber Waldref says the Plaza's proximity to businesses is partly why it's been so successful for bus riders, businesses and the surrounding community. Low-income residents need transit, she says, to be able to get jobs and keep them.
"Downtown, there are a tremendous amount of services provided for low-income and homeless folks," councilmember Mike Allen adds.
Tensions between businesses and STA ignited in August of 2012 when STA shut down its smoking area due to roadwork. "When we closed it, we did not consult as much, in retrospect, as I wish we had," says E. Susan Meyer, the STA CEO.
Exiled smokers flooded the sidewalks of nearby businesses. For 11 months, Bantz says, the ownership of the Peyton Building paid more than $24,000 to hire private security to shoo away smokers.
Julie Katzer, owner of the Brews Bros. coffee shop on Sprague, says it got so bad she wanted to sell. "It was almost like they were mobs outside," says Katzer. "People had to fight their way through."
In November of last year STA responded, deciding to spend $70,000 to build a new smoking area. When that was finished, business owners say, the improvement was remarkable.
"We have been really responsive," Meyer says. STA also has shifted loading zones after hearing complaints. As for safety, Meyer says STA has paid for a downtown police officer for 10 years. The new police precinct is just next door, and the most recent Spokane police statistics show violent crime downtown has actually fallen by a third since 2012.
The sheer volume of bus riders means the system is bound to include a few troublemakers. "The folks that are nuisances are nuisances on our system, too," Meyer says.
The Alternative
Even before the Plaza opened in 1995, it was met with criticism. Construction costs for the facility ballooned from a projected $12 million to $20 million. A Spokesman-Review columnist quickly condemned Plaza loiterers as "riffraff."
Meyer, then the executive director of an economic development group, was an early opponent. "[It was my] uninformed wish that STA would go to the Intermodal Center," she says.
For some downtown business owners, the Spokane Intermodal Center, where Amtrak trains and Greyhound buses converge, is an appealing alternative to the Plaza. The City of Spokane already owns the property. But after being hired at STA and researching the question, Meyer says she realized it was "operationally infeasible."
A 2009 Nelson\Nygaard study said it was possible. Extensive changes were needed to the site, but the center could handle STA's buses and remove "the perceived blight at the current Plaza location." But the study also found huge downsides: Customizing the site could cost as much as $6 million, negatively impact traffic flow and mean longer, costlier routes with reduced ridership. It wouldn't work at all with some of the newly added STA routes or the proposed hybrid trolley line.
Instead, the study recommended that the current Plaza be upgraded, a direction the STA board voted to reaffirm last year.
"The taxpayers — if we were to move — would have to pay to relocate something that works, that we own," Meyer says. "How in the world would it make sense to do that, rather than investing in the service?"
Plaza Makeover
"There is a call for a review about the decisions around the Plaza," says Richard, the DSP president. "I hear it from realtors, I hear it from downtown citizens, on all sides of the topic."
When Richard was STA board chair in 2008, he voted to keep the Plaza. But he says the projected costs of the Plaza upgrade have doubled since then.
Once the construction to upgrade the Plaza is underway next May, the possibility of changing locations becomes even more unlikely. Fortunately for Plaza critics, the upgrade is intended to address many of their complaints.
By September of 2016, the south-side Sprague entrance will be opened up, extended and turned into a sprawling waiting area. Riders will be able to see their buses arriving from indoors. In 2015, GPS-equipped buses will begin streaming location data onto smartphones and real-time information screens in the Plaza.
Combine the two, and crowds won't have to cram sidewalks to wait for their bus anymore. "I have high hopes that it will mitigate the loitering on the sidewalk," says West, the River Park Square general manager.
Large conference rooms — where local businesses like Kiemle & Hagood and politicians in the Peyton Building could hold meetings — would replace lightly trafficked second-floor retail spots. The escalator will be shifted to the side, the cougar statues relocated and the waterfall eliminated.
"Instead of just having one retail space downstairs, we'll have four," says Karl Otterstrom, STA's planning director. He points to the Plaza's west wall. "This whole side is retail. Just like a good city street." He envisions restaurants, fast food joints, bookstores and convenience stores.
After all, there's another side to the relationship between businesses and buses. Bus riders are customers. It's why the Plaza's first floor already has the most successful Subway franchise in the Spokane region.
Katzer, the coffee shop owner, sees that too. She believes, ultimately, that the Plaza is an advantage: moving it would likely hurt her business. "We have tons of bus riders in here," Katzer says. And it's not just about coffee sales, it's about the character of downtown.
She sees the diversity, with the Davenport Hotel on one side and the Plaza on the other, as part of downtown Spokane's magic. "I can have a millionaire and a homeless person sitting next to each other in the café," Katzer says. "And it's kind of cool." ♦