With the widespread support for the Spokane Transit Authority Plaza on the STA Board, it's unlikely the Plaza will be moved any time soon, despite the concerns from local businesses that some Plaza patrons were negatively impacting downtown.
As the Plaza heads toward a $5.8 million rehab, however, the long-time community debate about the Plaza's impact on the community has come to a head. The decision to move forward with the rehab was delayed in July to give business groups like the Downtown Spokane Partnership more opportunity to raise their concerns. But while Spokane Valley City Councilman Ed Pace, a member of the STA board, supports the renovations and the delay, he's critical of the STA for one thing: Not directly including the bus-riders, loiterers and the homeless in those discussions.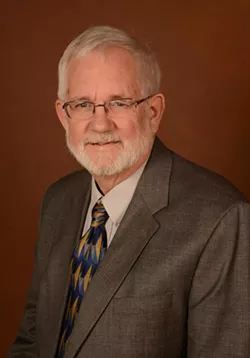 "The STA should have taken the initiative to reach out to all the stakeholders," Pace says. "[Including] the bus-riders and the street people."

After all, the controversy around the Plaza, he says, is about those people.
"Nobody really says it, but they talk about 'elements' — shadow language that hides what their real concern is."
Nobody questions that Pace, a former Hewlett Packard product manager and a semi-retired Lutheran minister, is deeply conservative. After all, he's campaigned for Matt Shea for the legislature, and won his own council seat by accusing an incumbent council member for straying in small ways from conservative positions.
But while conservatives sometimes get stereotyped as caring more about big business than the poor, Pace says his position on listening to the Plaza patrons is completely consistent with his conservative values.
"I'm all about truth, justice, freedom, liberty. You can't discriminate against people because of who they are if you want to have truth, justice, freedom, liberty," Pace says. "They are citizens, too, just as much as you and me. We might not like everything they do, but they're still citizens… They are on public property. They have the right to be there."
Some, like DSP's Mark Richard, say the problems come from those who don't ride the bus. But Pace feels this is missing the point.
"People ride buses, not businesses," Pace says. "People pay sales taxes, not business organizations, and sales tax is what funds STA. People pay bus fares. It's all about people. You can't divide them up by bus-riders and non-bus-riders."
He suggests an outreach program to connect with the Plaza population, to ask them what they want and need. He doesn't, however, think he would be a good candidate.
"In order to reach out to them, it's not going to be a 67-year-old with a beard that's going to walk down there to connect with them," he says. He doesn't buy the idea that they wouldn't care about changes to the Plaza.
STA Board chair Amber Waldrer says the conversations with business groups has been specifically tailored to business groups because they were the ones that requested those conversations.
"We welcome any input from any organization," Waldref says. "We're taking comments from anybody that wants to give us comments on the STA plaza redesign."
She says she's already been flooded with emails from bus-riders pleading with STA not to move the Plaza. STA plans to hold a public forum on Nov. 6 from 4:30 to 6:30 pm at the Plaza. The main focus will be to get feedback from riders over route and budgetary details, and the "Moving Forward" plan for STA's future. Waldref says it would be a good idea to get community feedback about the Plaza design during that forum.
There's another interesting piece of Pace's philosophy here, however. Pace is from Spokane Valley, which doesn't have much in the way of a downtown. But downtown is something Pace has a special affection for. It's part of the character of a city.
Pace uses the word "scummy" to describes downtowns across the nation, but doesn't mean that in an insulting way. He sees the scumminess of downtowns are part of their appeal. They're real and gritty.
"Downtown is downtown, people pee on the sidewalks," Pace says. "People drink on the sidewalks. People get drunk and puke on the sidewalks. That's life. If you want to be downtown, you live with downtown."
He's experienced that personally.
"Back in the late '60s, early '70s, I had the opportunity to hang out in New York City a lot. Manhattan. That was when Canal Street was really scummy. Broadway was really scummy," Pace says. "I was young and crazy and I loved it."