Yesterday, we wrote a post about the Spokesman-Review's "Signs point to dim future for STA Plaza" story, noting that the one person supposedly predicting the Plaza would move says he doesn't believe the Plaza would move.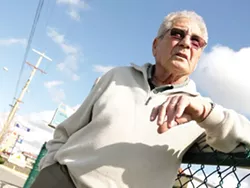 In response, the writer of the Spokesman-Review story, David Wasson, wrote a Spin Control blog post embedding a Spokane Valley City Council briefing where Hafner says: "Mark my words … the only resolution to it will be to move the Plaza."

In context, one could conclude that Hafner was talking about the only resolution that the business groups would be satisfied with — not what he actually expected to be adopted by the STA board. Several of the comments on Wasson's blog came to the same to conclusion.

Still, to double-check, we emailed Hafner last night asking him if the first line in the Spokesman article — "Spokane's business community likely will succeed in pushing the region's central bus plaza out of downtown, a former transit board chairman predicts" — was accurate.
Here's Hafner's response this morning:
I am not sure what the intent of the reporter was when it was stated a "former transit board chairman predicts." Evidently he, for sure, misunderstood. I did not predict that STA would move from its present location. In fact, my conversation centered around making it a friendly business Plaza. Neighboring with the other businesses that are involved. Hope this clarifies my position. Take care.
We forwarded the email to both Wasson and City Editor Addy Hatch, and Hatch sent back a reply, saying that Hafner had originally praised the story.
Well, here's what he sent Dave after the story ran:

Dave—-Thank you for a very well and accurate written article regarding STA. I am sure that others feel the same way. Again, thank you. Take care.

Chuck Hafner
Nevertheless, the board has repeatedly, in votes and rhetoric, indicated it supports the Plaza staying where it is. And current STA board chair Amber Waldref says no board member has come to her and suggested moving the Plaza.