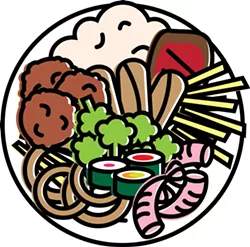 When you're watching your calorie intake, portion control is essential, but when you're on a budget, the opposite is true; more is usually better. As any thrifty diner will tell you, larger portion sizes mean you might have lunch and dinner covered, either because you're too stuffed to think about your next meal or because there's some left over for later. Check out these places where you're going to get a good meal and then some.
Chorizo, Potato, Beans and Egg Burrito, $7 large
Orlando's Mexican Drive-Up, 451 W. Dalton Ave., Coeur d'Alene, 208-659-2684
This humble drive-up has had a bit of a cult following ever since Orlando closed his walk-in Hayden joint. Fast, friendly and affordable, this place is a must if your idea of breakfast is a burrito that will tide you over until dinner. The veggie burrito ($6/$7) with eggs, beans, zucchini, mushrooms, onions, and pico de gallo is tops, yet if you're more of a meat-and-potatoes fan, try the chile verde ($7/$8) or the chorizo burrito combos ($6-$7.50).
Fried Chicken Dinner, $9.50
Molly's Diner, 224 S. Lincoln, Spokane, 624-4413
We like any place that offers tater tots as a side, which Molly's Diner does for their burger and sandwich specials. That and their sign — featuring a floppy, slightly-irritated looking dog after whom the place is named — never fails to amuse. But it's their large menu, huge portions and low prices that really impresses us. Where else can you get a homestyle dinner like meatloaf or three-piece fried chicken dinner with salad or soup and not just one but three sides (including tots) for under $10?
Kyle's Quesadilla Burger, $8.95
Hoot Owl Cafe, 30784 ID-200, Ponderay, 208-265-9348
Follow your heart at the Hoot Owl, where hearts on the menu definitely don't indicate heart-healthy meals; rather they're customer favorites. It's a kitschy, cozy roadside diner jam-packed with all manner of owls — paintings, figurines, wall hangings — and a long history of serving up super-large portions of breakfast and lunch, ranging from classic omelets, salads and sandwiches to funky mashups like Kyle's quesadilla burger, a hefty hand-pressed patty topped with pepper jack cheese, bacon bits, salsa and chipotle, inside a grilled tortilla shell, accompanied by soup, salad or fries.
Hummus Plate, $3.95 and Spinach Pie, $3.95
Mikey's Greek Gyros, 527 S. Main St., Moscow, 208-882-0780
Sometimes being able to stretch your dollar means getting creative in how you order. At Mikey's, one of several Greek places in Vandal country, the key is eating in stages. Start with some hummus ($3.95) served with warm pita, then add a salad like tabouli ($1.85-$2.50) or jump into a meaty entrée like the sweet-ish Leapin' Lizard Chicken or a savory vegetarian entrée like the spinach pie ($3.95). Coordinate with your dining partner and you'll not only have plenty to share, you probably have some a few shekels left for a beer ($3) or baklava ($2).
Tuna Melt, $8.25
Terry's Café, 7815 E. Trent, 924-1481
Most places serve fries with their sandwich selections, but at Terry's, you get a choice of fries, macaroni and cheese, scalloped potatoes and side salad, including macaroni or potato salad. Add one of those to a tuna melt on Texas toast and you're set for the day. Located on busy Trent Avenue within hollering distance of the ever-present trains, the place looks a little like a Western frontier cabin, yet inside, the aroma of griddled meat and coffee tell you that this is going to be a classic diner experience: good food and plenty of it.
The Junkyard, $5.95
Triple B Backhills BBQ on Best food truck, 510 E. Best Ave., Coeur d'Alene, 208-755-3797
Their motto is "never trust a skinny chef," which at Backhills BBQ, translates into meat and more meat. The Best Avenue food truck has gained a following for its smoked tri-tip and pulled pork, which we like combined with their sides: baked beans, pineapple slaw and macaroni and cheese. It's called the Junkyard, and it's only messy if you get it piled onto the quarter-pound Junkyard hot dog ($6.95).
Tycoon Hawaiian Dip, $7.95
Smacky's on Broadway, 6415 E. Broadway, 535-4230
The mishmash of décor and quirky menu go hand-in-hand in this low-key lunch spot: Oil cans hanging from the ceiling, a half-round bar that would look at home in a Quentin Tarantino film, homey wooden paneling on the walls. And the food! Fistfuls of meat nestled in torpedo rolls, ranging from the usual — turkey, roast beef, pastrami — to the unexpected, like blackened chicken or liverwurst. Smacky's goes Polynesian with their Tycoon Hawaiian French Dip, the perfect blend of savory ham, gooey cheese and sweet pineapple.
Lunch Special Beef with Broccoli and Orange Chicken, $7.95
Hong Kong Express, 113 W. Indiana, 328-6888
Don't be intimidated by the bright goldenrod menu packed with hundreds of menu items: lunch and dinner combos, dim sum, moo shu, lo mein, appetizers, party platters for upward of 70 people and more. For $2.25 a plate, dim sum is a great way to stay in budget and try lots of food, and the lunch buffet at two for $10.99 is a ridiculous bargain. We recommend you go with a friend and coordinate lunch specials, choosing one ($5.95) or two items ($7.95), accompanied by the requisite soup, rice and egg roll, for a fast fill-you-up meal. ♦