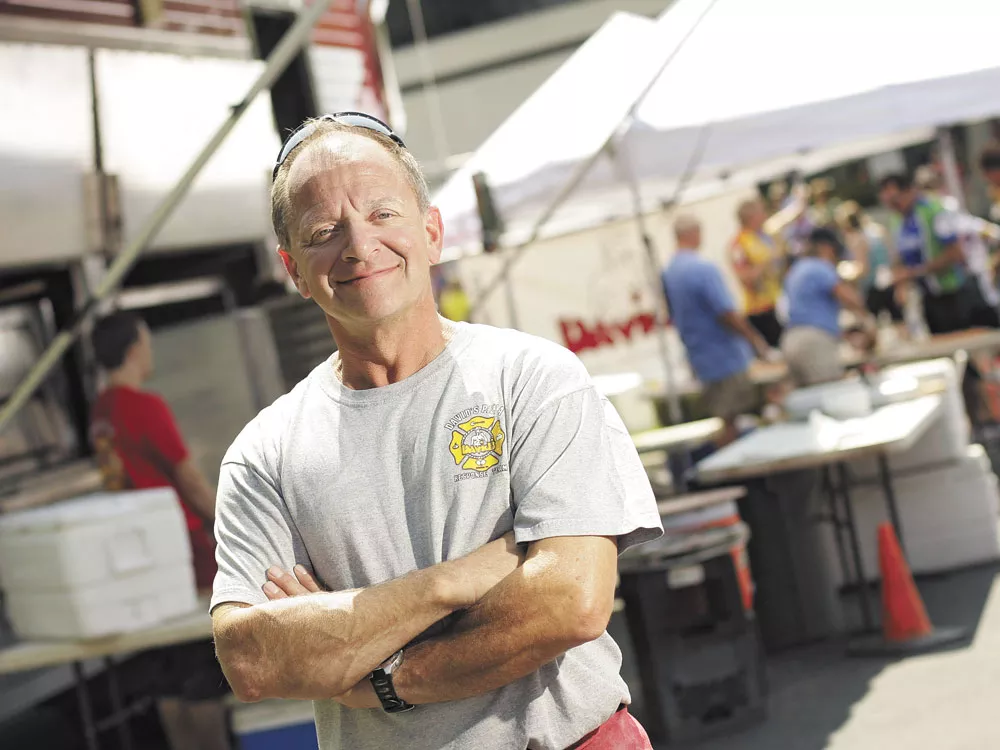 Restaurant owners have enough to worry about. Are the forks clean? Is that fish fresh? Is my staff happy? Am I going to make money this month? It's a high-stress, high-turnover business.
But many restaurants (and other businesses) in Spokane master these details enough to ask the bigger questions, too: Am I supporting my fellow businesses? Am I giving back to my community? Am I making a difference?
Here are two local restaurants that can answer those questions with a solid yes. 
David's Pizza
You'll see it at any of Spokane's big community events — the big red fire truck from David's Pizza. Hoopfest, Bloomsday, Spokefest. It's there. Even at smaller events, like bike rides and block parties. But what you may not realize is David's isn't making a profit from the pies at these events. The income may go towards the event. Or their services may have been purchased at an auction.

"It's just something we do," says David's owner Mark Starr, who's owned the popular Gonzaga-area pizzeria for almost 15 years. "I've always tried to be invested in a lot of different things."
No kidding. Just take a look at the David's dossier. The YMCA, Vanessa Behan, Inland Northwest Blood Centers, the Boys and Girls Club, the Browne's Addition Concert Series, Friends of the Falls, Cystic Fibrosis, the Fill the Boot campaign. You name the local institution or charity, and David's has probably lent them a hand.
"Yesterday, we were contacted by Coaches vs. Cancer," Starr said last week. "We're gonna donate catering to them. It's a very worthy cause, and they're gonna auction that off. We do the same thing with Camp Reed."
This is the way Starr likes to help out — by donating his time, by showing up in person. Just writing a check, he says, "is like dropping your card in a fish bowl for a free lunch. I don't think that's sending the right message. If you put in an effort, that means more to them."
However you give, though, he stresses its importance — for individuals as well as for business owners. "Look at our economy now and the troubled times people are going through," he says.
"If I just sat at home and worried about our profits, I just wouldn't be comfortable with myself."
The Satellite Diner

"The most amazing thing is our customers," says Kimberly Dunham, co-owner of the 13-year-old Satellite Diner, a Spokane institution and late-night haven. Once the restaurant decides to get behind a cause or charity, its customers line up behind them. "It doesn't matter if it's good times or bad. 'If you're in, I'm in.' When Katrina happened, people were so desperate to help," she says. "[And] if they're part of a community to help — and this is a community — it makes people feel good to give."
The diner has worked for years with St. Jude's, muscular dystrophy and the Humane Society, but it's been involved with perhaps dozens more — Safety Net, Feed Spokane, Parades for Paws. They'll tie special events at the restaurant to charities. They've raised money for regular customers who have fallen onto hard times.
"We have such loving people and there are lots of situations that call for acts of kindness," says Dunham.
Some of their philanthropic work has been simply rallying other businesses to help. "[It's] the businesses locally that give gift certificates or their time, whether it's a haircut or the trainer across the street who gives his time. We're kind of just the vessel for that.
"I don't think we're any more outstanding than anyone else, because we couldn't do it without the other ones," she says.
Dunham and David's Mark Starr both stress that they're not in it for the recognition. (In fact, both were reluctant to talk to The Inlander for that reason.) That's not the point.
"I get a tremendous amount of fulfillment and enjoyment out of being able to do something and make somebody's life a little easier," says Starr, who underscores that actually showing up at his charities' doorsteps is also just plain fun.
Dunham gets biblical.
"We try to never let the left hand know what the right hand is doing," she says of balancing profit with philanthropy. "I think that came from God himself, actually."