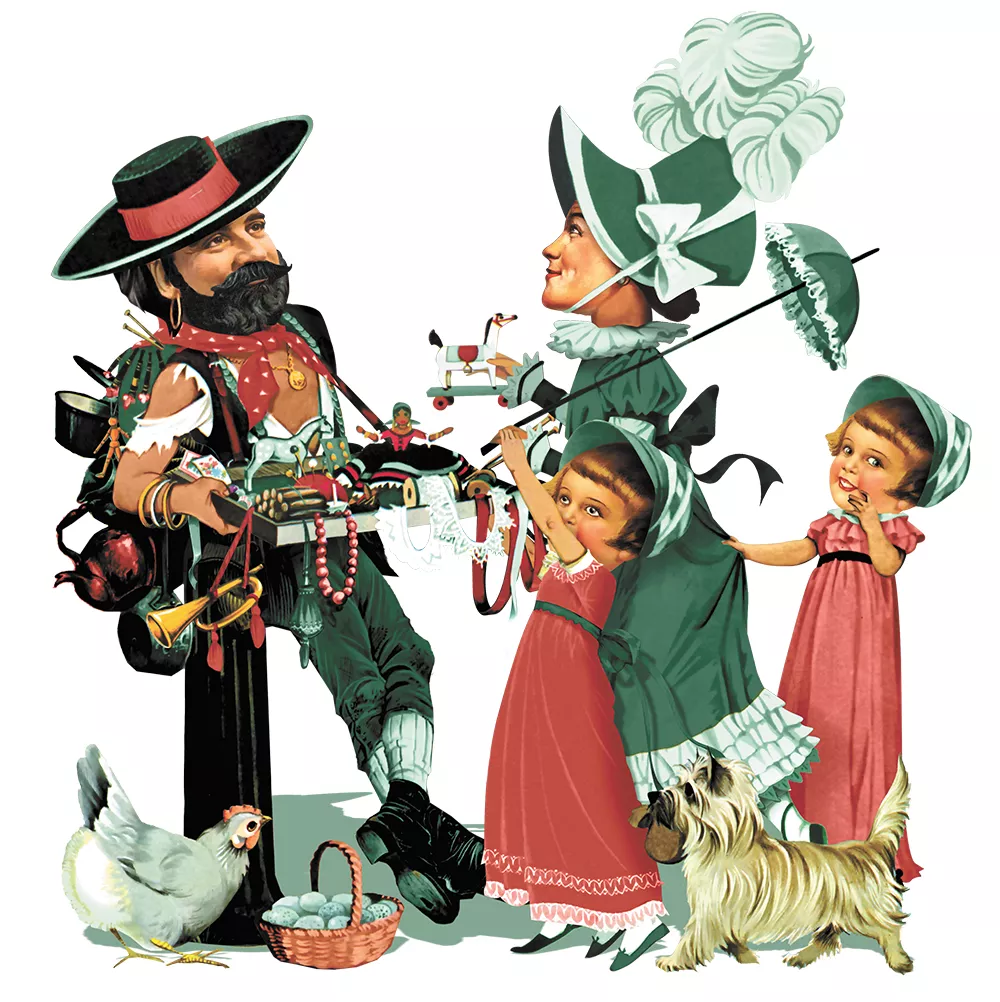 Best Bookstore | AUNTIE'S
Housed in the historic Liberty Building in downtown Spokane, this towering, three-story local bookstore is as integrally Spokane as anything could be. Were there a category, it might also be up for the award for Spokane's best-smelling store — thousands upon thousands of books, new and old, make Auntie's a book hunter's oasis and give it that wonderful vintage aroma. (JORDAN SATTERFIELD)
2nd PLACE: Barnes & Noble; 3rd PLACE: 2nd Look Books; NORTH IDAHO'S BEST: The Well-Read Moose
---
Best Gifts | BOO RADLEY'S
Between hilarious novelties, clever T-shirts, coffee-table books, comic books, lunchboxes... OK, look: Boo Radley's wins this award every year. What more is there to say that hasn't been printed already? Boo's is one of Spokane's most beloved establishments, and its undying dedication to bringing you twisted entertainment will keep it running as long as the world needs whoopee cushions. (JS)
2nd PLACE: Atticus; 3rd PLACE: Kizuri; NORTH IDAHO'S BEST: Lucky Monkey Trading Co.
---
North Idaho's Best Vintage Boutique | FRAY
Walking into Fray is like walking into a do-it-yourselfer's dream. Everywhere you look, a vintage piece has been revived with a fresh coat of paint or new upholstery or repurposed into something completely new.
Like the secretary desk that was once a 1907 Vose & Sons piano. Or the mirror framed by pieces of metal salvaged after Hurricane Katrina, the metal barrel that was upcycled into a chair. Even the aprons made from men's dress shirts have both a vintage feel and modern accents.
"Some people go down memory lane [in the store]," Sylvia Darcy, one of five vendors who operate Fray, says. "They're reminded of their grandparents or their mother when they were little. Some people are bummed out because they gave away that piece they should've kept."
Furniture, including couches, dressers, tables, chairs and storage pieces like a set of distressed lockers, new and "pre-loved" clothing, including tops, bottoms, shoes, accessories and even faux fur coats, and lighting fixtures make up a majority of the store's inventory. But if you look around, you'll find surprises like a tray of weathered plastic letters used in readerboards and various kitchen tools.
Fray also holds classes several times a month in the workspace in the back of the store. Past classes have featured wire-wrapped jewelry, vintage albums, woodland wreaths, stained glass and chalk paint.
The five vendors began throwing around the idea of opening their own store after Shabby to Chic Shoppe, for which they all repurposed pieces, closed. It took a few years for things to come together, but two and a half years later, Fray is a gem of Coeur d'Alene's growing Midtown neighborhood.
Darcy thinks the changing economy, a more consumer-conscious culture and the quality craftsmanship of older items is bringing vintage pieces into the mainstream.
She also thinks a renewed interest in completing projects yourself, plus the opportunity to make a long-forgotten item new again, is driving people into stores like Fray, which fits perfectly with the store's aim to repurpose, salvage and upcycle.
"Our mission statement is all about creativity," Darcy says. "In that respect, I feel like we're more than just retail." ♦ (AZARIA PODPLESKY)
---
Best Ethnic Grocery Store | DE LEON FOODS
De Leon Foods is a perfect fit for this category, and this is their second win in a row. It's obvious why: Not only do they have a Mexican grocery store with a range of selections somewhere between exceptional and excessive, their deli serves some of the best Mexican food in town. (JS)
2nd PLACE: Best Asian Market; 3rd PLACE: Cassano's
---
Best Organic/Natural Foods | HUCKLEBERRY'S
As the reigning champion of organic foods in Spokane, Huckleberry's is a paradise of groceries that fall into the sacred realm of "tastes good and is good for you." This win should not come as a surprise to anyone who has ever set foot inside of Huckleberry's, with its stunning beer and wine selection, some of the best produce in town and a fully fledged bistro to boot. (Try the quiche — it's otherworldly.) (JS)
2nd PLACE: Trader Joe's; 3rd PLACE: Main Market Co-op; NORTH IDAHO'S BEST: Pilgrim's Market
---
Best Pawn Shop | PAWN 1
Pawn 1 is a bona fide local business success story, with eight stores open in Washington and Idaho and a firm grip on the market. That success could be credited to their atmosphere, which is far more comfortable than people might expect a pawn shop to be. They get extra points for their TV on DVD section, which made it easy to binge-watch The X-Files and Friends before it was cool. (JS)
2nd PLACE: Double Eagle Pawn; 3rd PLACE: Axel's Pawnshop
---
Best Bank | WASHINGTON TRUST BANK
In the 112 years since it was founded in Spokane, Washington Trust Bank has been no stranger to "Best Of" awards. The bank continues to pride itself on local boosterism through community involvement and cultural sponsorship while expanding its operations across the Pacific Northwest. (E.J. IANNELLI)
2nd PLACE: Banner Bank; 3rd PLACE: Umpqua Bank; NORTH IDAHO'S BEST: Mountain West Bank
---
Best Credit Union | 2015 Hall of Fame Inductee | STCU
"STCU is me." We've seen the phrase emblazoned across billboards and bus banners, and we've heard it proclaimed in the catchy TV spots by community members and business owners, touting their sincere loyalty for what started out as Spokane Teachers Credit Union.
For members and nonmembers alike, it's been these ongoing marketing campaigns that have made us more familiar with the hyperlocal focus of STCU. Chances are, most of us know of at least one of the dozens of people — a family member, a teacher, a local business owner — who've shared their personal stories about STCU since the testimonial campaigns were first launched back in 2000.
"The union is member-owned, so it makes sense that our members are the face of our marketing," says STCU's Vice President of Marketing Barb Richey. She's been overseeing marketing since the second year of STCU's move to testimonial-focused advertising.
Richey herself was featured in one of the credit union's earliest commercials, back before she started working there. At the time, Richey was an employee at Eastern Washington University. In her spot she candidly said she'd been a member of the union since 1986, and that STCU is where she opened her first checking and savings accounts and took out her first car loan.
Her story isn't unique, and that's partly why she says these always unscripted testimonials have been so impactful, helping grow STCU's membership to the more than 134,000 members it serves today.
"Every employee at the organization has an alabaster heart on their desk that signifies the heart of the member, and we focus on that to make decisions every day — we focus on that love of the members," Richey reflects. "In turn, I think our members truly love us and some members feel like they want to share that love, and when they do, it just happens to be about their farm they're working on, or the business they own."
If STCU's story of growth seems a bit cloying, that's because it is a throwback. In an age of corporate banking scandals and online convenience trumping face-to-face human interaction, sincerity and an unfettered devotion to its members is why STCU has simply continued to outshine itself year after year. Considering this, it's also no wonder that the credit union is now celebrating its 10th consecutive win in this category since 2006's Best Of readers poll.
Beyond STCU's love of its many members is a wider appreciation of and love for the community where its members and employees live and work, Richey adds. One indication of its continued commitment to that effort is the growing participation in STCU's "Who Do you Love?" campaign, held every February, and for the fourth time this year. Locals are invited to nominate and then vote for regional nonprofits to receive a donation from the credit union. The number of nominations and subsequent votes in the contest has exponentially increased since that first year, with 8,000 individual nominations submitted this year, compared to 500 in the contest's first year, 2012.
"We reciprocate that love," Richey says. "We're in the community, and our goal is to give back to the community whenever possible." ♦ (CHEY SCOTT)
2nd PLACE: Numerica Credit Union; 3rd PLACE: Global Credit Union
---
Best New Car Dealership Group | LARRY H. MILLER SPOKANE
Larry H. Miller's philosophy was "Have a little fun, make a little money and take care of the customer." That became the backbone of a business empire that now spans six different fields — and its renowned emphasis on customer care is undoubtedly what led so many pleased Lexus, Toyota, Honda and Hyundai owners to voice their support for the dealerships that bear his namesake. (EJI)
2nd PLACE: Dave Smith Motors; 3rd PLACE: Wendle Motors
---
Best Spokane Retail Marijuana Shop | CINDER
In an industry that is still relatively young, Cinder is quietly setting a standard for weed shops in the area. As the first to open in the Spokane Valley, they pride themselves on integrity, a welcoming atmosphere and good product — all specifically important to an activity that was only recently decriminalized in Washington. With any luck, shops like Cinder may help to lift the outdated stigma associated with marijuana. (JS)
2nd PLACE: Sativa Sisters; 3rd PLACE: Spokane Green Leaf
---
Best Furniture | THE TIN ROOF
There are homes and apartments throughout the Inland Northwest that have been furnished in their entirety by Tin Roof. That's not just because this popular home furnishings and décor showroom has a range of items for every room. There's also a genuine warmth and dedication to customer service that's hard to beat. (EJI)
2nd PLACE: Walker's Furniture; 3rd PLACE: Mor; NORTH IDAHO'S BEST: Runge Furniture
---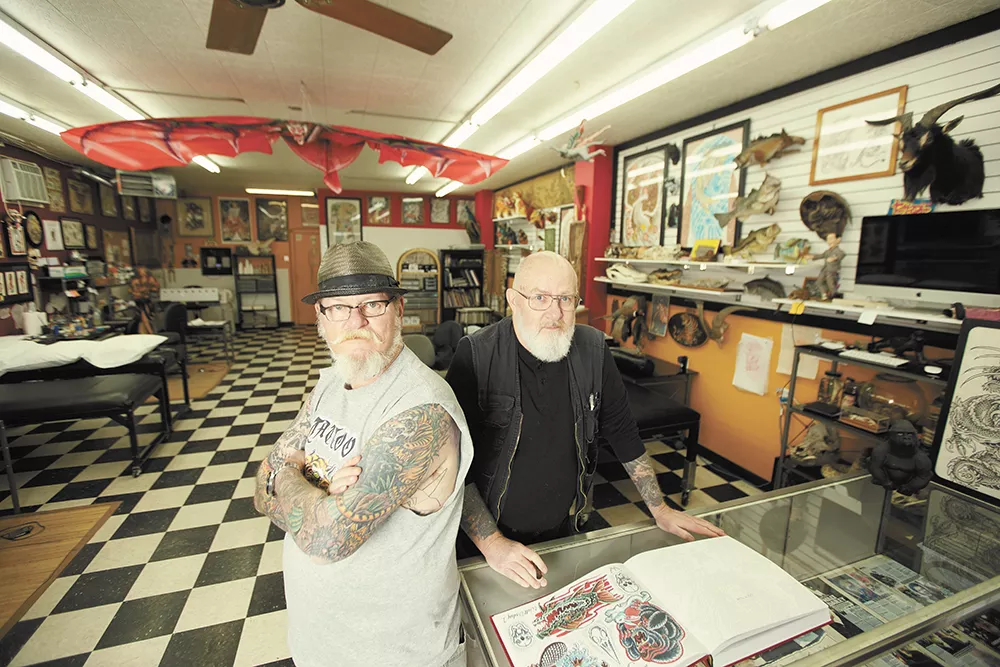 Best Tattoos | TIGER TATTOO
While tattoo artistry is not exactly considered a subtle line of work, Tiger Tattoo owner Walt Dailey is a man with an eye for the finer details, both in and outside of his tattoos. Having spent more than 36 years in the world of ink, Dailey is one of the most experienced artists in the Spokane area, and he gives off an air of humble and adept wisdom.
"The only reason I know 36 years off the top of my head," Dailey thinks aloud, "is because I have a tattoo club membership card that says '36 Years' on it."
To Dailey, this number is fairly inconsequential, but to the clientele of Tiger Tattoo, there's inherent talent and care from three and a half decades of practice. This, Dailey speculates, is what makes him and his staff — Duffy Moon and Sienna J. — such a popular choice for a tattoo in Spokane.
It's also due in no small part to the fact that, like any great local establishment, the people at Tiger Tattoo absolutely love what they do.
"It's nice to be able to make a living but not have to work for a living," Dailey says. "I'm happy on my way to work, I'm happy with the work that I do."
Tattoos are not always associated with joy, but Tiger Tattoo was clearly born with joy flowing through its ink-filled veins. Dailey takes an obvious pride in his handiwork and relishes the opportunity to be a part of his customers' self-expression.
"Tattoos are such a deeply personal thing," he explains, "so naturally everyone is ecstatic when they get their first one. But if they come back for that second one or that third one, that's a really good feeling."
Moon, working on a client at the tattoo station to Dailey's right, chimes in. "We've got some people that we've been tattooing for so long," Moon says, "that now we're tattooing their kids and their grandkids."
Supplementing experience with variety and artistic pride, Dailey has turned Tiger Tattoo into a Spokane benchmark, not just as a tattoo parlor, but as a local business. Sometimes, as they say, practice makes perfect. ♦ (JORDAN SATTERFIELD)
2nd PLACE: (tie) Anchored Art Tattoo; On The Level Tattoo; 3rd PLACE: Living Skin Tattoo; NORTH IDAHO'S BEST: Inkworld Tattoo
---
Best Hair Salon | OASIS
Every year Oasis Hair donates a portion of its net profits to Sacred Heart Children's Hospital and the Vanessa Behan Crisis Nursery. So not only do you get style in the form of expert cuts and coloring for men, women and children at any one of this top-rated salon's four area locations, you get substance to boot. (EJI)
2nd PLACE: Jaazz Salon; 3rd PLACE: House of Pop; NORTH IDAHO'S BEST: Bombshell
---
Best Spa | LA RIVE AT NORTHERN QUEST RESORT & CASINO
The Greek historian Herodotus said you can't step in the same river twice. Fans of La Rive — and there are plenty — say you can and you should. Often. The pampering and rejuvenating treatments on offer at this four-star spa, named for the Kalispel Tribe's reverence toward the natural elements, hold the promise of endless healing and relaxation. (EJI)
2nd PLACE: Spa Paradiso; 3rd PLACE: The Coeur d'Alene Resort Spa
---
Best Barber Shop | THE MAN SHOP
The usual barbershop experience involves thumbing through an out-of-date U.S. News and World Report while biding time in a well-worn chair. At the Man Shop, you can play darts or practice your putt before taking the next available spot. Then you can channel-surf as your hair is meticulously cut by a trained stylist. (EJI)
2nd PLACE: Porter's; 3rd PLACE: Weldon Barber; NORTH IDAHO'S BEST: Clean Cut
---
Best Thrift Shop | VALUE VILLAGE
When you shop at Value Village, you're not just supporting a single charity — you're supporting partnerships with as many as 140 nonprofits across the Pacific Northwest. That broad-minded approach helps spread funds to different programs and services throughout local communities while giving bargain hunters lots more variety. (EJI)
2nd PLACE: Goodwill; 3rd PLACE: Northwest Christian Thrift Store; NORTH IDAHO'S BEST: St. Vincent de Paul
---
Best Vintage Boutique | FRINGE & FRAY
Those who thrift know — the best thing about buying used is that no one else can truly duplicate your signature style. At Fringe & Fray, stylish and sustainable shoppers are grateful for the always changing inventory and visually pleasing (not to mention organized) racks. "We need more boutiques like Fringe & Fray in Spokane!" Spokanite Jalen Bolz tells the Inlander. "The staff is always extremely friendly and they constantly have new items, unlike so many other boutiques. Their prices are so reasonable that I find myself stopping by at least once a week to check out the latest items." (CS)
2nd PLACE: Veda Lux; 3rd PLACE: Carousel Vintage; NORTH IDAHO'S BEST: Fray
---
Best Record Store | 4,000 HOLES
It's impossible to overstate how remarkable it is that Bob Gallagher's 4,000 Holes has stayed so beautifully consistent in its more than 25 years of existence. Given the decades of exciting and terrifying industry changes, the owner of the beloved Spokane record store has had every reason to cut his losses and find a more merciful line of business.
Fortunately, time has been on Gallagher's side. Vinyl units are being moved at an exponential rate, and record sales are currently the highest they've been since the early '90s. In between chats with customers at his commercial turf on North Monroe, Gallagher runs through some theories on why he thinks that is:
"We've been force-fed digital for over 20 years," Gallagher says, "but it has never sounded better than vinyl."
Undoubtedly, the recording industry has become obsessed with using digital formats as their main form of distributing music to the public, and why wouldn't they? It's cheaper for them, without any of the laborious and expensive production costs involved in making LPs and CDs. And the convenience of digital music being available on the fly makes it look like they're doing you a favor.
"People like to come in and shop from me because of three common denominators," says Gallagher, holding three fingers in the air. "Because they like the better sound, they like the feeling of owning music, and because they have jobs." He laughs.
Indeed, collecting records is not the world's cheapest hobby. "I have 3,500 CDs at home. If those were all vinyl records," Gallagher jokes, "I'd probably be single, living alone somewhere."
That being said, record collecting is also inexplicably rewarding. Gallagher calls it "vinylitis."
"I can't even tell you why I like these things so much," he says, waving a copy of Surf's Up by the Beach Boys in the air. "There is something about this that I just can't resist."
That affection for records, and ultimately music in general, is at the heart of what has made 4,000 Holes a landmark establishment in Spokane. Gallagher has always had his loyal customers, and now the return of vinyl has allowed him to bring the noise for a new generation of record nerds and casual listeners alike. ♦ (JORDAN SATTERFIELD)
2nd Place: The Long Ear, CdA; 3rd PLACE: Unified Groove Merchants
---
Best Pet Boutique | THE URBAN CANINE
Despite its name, this consistent favorite doesn't discriminate based on species — locals can find supplies for their friends in both the canis and felis families. Inlander reader Cassie O'Meara says, "My dog and I look forward to running out of food so we can stop by, browse new treats and toys, and above all get a warm reception from our favorite place besides the park." Karla Porter, a South Hill resident, echoes O'Meara's sentiments: "Urban Canine has always been very helpful with recommendations for best food choices for my animals for every situation, from feline asthma to UTIs and all other health concerns. Their products are top quality, and the owner and staff genuinely care." (CS)
2nd PLACE: The Yuppy Puppy; 3rd PLACE: Prairie Dog Mercantile; NORTH IDAHO'S BEST: GoodDog
---
Best Hotel | THE DAVENPORT HOTEL
In the 13 years since reopening after a painstaking renovation by owners Walt and Karen Worthy, the historic Davenport Hotel has established itself as the crown jewel of downtown Spokane. It's the place you tell out-of-towners they have to stay; the place to celebrate the most special occasions, and a place that lifelong residents of the region stop by to simply marvel at its exquisite, timeless elegance. Of course, when serving its main purpose, the Davenport also excels, according to Inlander reader Charla Cochran: "I love the atmosphere and the service the Davenport staff provide. The rooms are always clean and the beds are to die for." (CS)
2nd PLACE: Northern Quest Resort & Casino; 3rd PLACE: Hotel Lusso; NORTH IDAHO'S BEST: The Coeur d'Alene Resort
---
Best Mall | SPOKANE VALLEY MALL
With a total of four definitive shopping malls across the greater Spokane-Coeur d'Alene area, this category tends to be an annually rotating cycle. Now think a little deeper about these meccas of consumerism. Each one has a set of unique offerings — a mix of national and local retailers, and each is located in a distinct location. But of the four, the Spokane Valley Mall arguably hosts some of the most popular, single-location stores in our region: H&M, Old Navy, Nordstrom Rack, Forever 21. These retailers and a slew of restaurants, department and specialty stores are the reason many Northwest shoppers drive from all around just to hit up this particular mall. (CS)
2nd PLACE: River Park Square; 3rd PLACE: NorthTown Mall; NORTH IDAHO'S BEST: Silver Lake Mall
---
Best New Business Opened in 2014-15 | PINOT'S PALETTE
Thanks to the recent boom of learn-to-paint (with the option to sip beer or wine) studios like the year-old Pinot's Palette in downtown Spokane, anyone can become their own version of Pablo Picasso or Claude Monet. Pinot's hosts 40-person classes nearly every day of the week, often selling out sessions weeks in advance. Even for those who consider themselves hopeless when it comes to anything artistic, Pinot's step-by-step classes — taught by instructors who themselves are artists — allow participants to leave their easel with a sense of accomplishment. Due to its mass appeal that spans ages and interests, Pinot's has become a go-to spot for date night, girls' night, private parties and for anyone with the urge for a creative outlet. (CS)
2nd PLACE: The Malted Mutt; 3rd PLACE: The Rusty Moose Country Gifts
---
Best Women's Boutique | SWANK BOUTIQUE
If you're feeling out of the loop on the latest women's fashion trends, step into Swank and take a look around. Swank owner Jody Mallonee's mission is making it so fashion-conscious, Northwest women don't have to turn to the web to get their hands on the newest looks from the pages of magazines. Always stocking her North Spokane boutique with on-point swag from top brands like Free People, Hudson and J Brand, shoppers at Swank don't have to fret anymore about jeans purchased online not being the right fit because they couldn't try them on. (CS)
2nd PLACE: Fringe Boutique; 3rd PLACE: Lolo Boutique; NORTH IDAHO'S BEST: Marie's Boutique
---
Best Men's Clothes | NORDSTROM
With much fewer options than the ladies when it comes to shopping for men's clothing in our region, it's a bit harder to find locally owned shops that can take the winning title year after year. But then again, Nordstrom is based in Seattle, and it didn't unjustly take the top spot. With such individually oriented customer service — don't forget its free tailoring services — and a comprehensive inventory of the highest-end brands, Nordstrom's men's department is where local guys go when they need that one staple "splurge" piece, like a suit. Or name-brand shoes. Or designer jeans. You get the idea. (CS)
2nd PLACE: Anderson & Emami; 3rd PLACE: The Bachelor Pad; NORTH IDAHO'S BEST: Thrux Lawrence