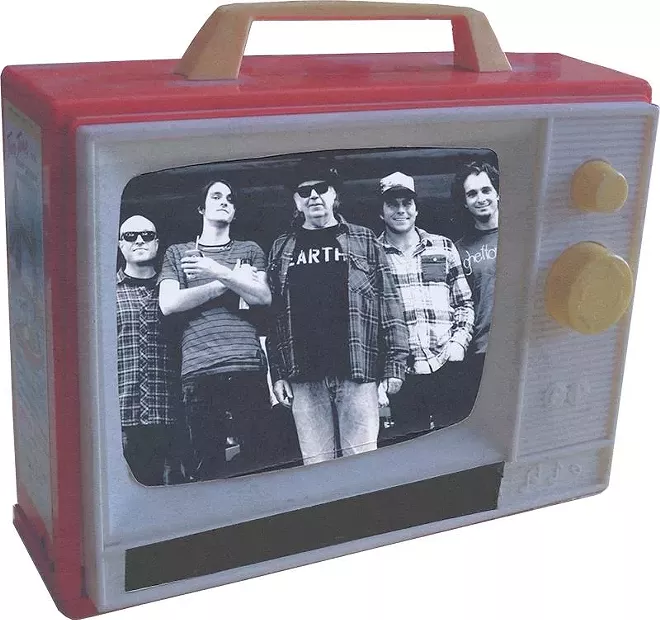 FRIDAY
Neil Young and Promise of the Real
are burning up the Spokane Arena tonight. The show, based on set lists from other tour performances, will most likely begin with an acoustic solo set from Young and progressively get heavier as the evening continues. Read our interview with Lukas Nelson (Willie Nelson's son and leader of Promise of the Real)
here.
Be sure to check for our review of the show Saturday.
It's easy to get excited about one huge free night of local artwork on display, but
Terrain
is about celebrating (mostly) local music, too. This year's stellar lineup of indie/pop/electronic/funk acts will tempt you to camp out in front of the venue stage all night long — there will constantly be something different on stage. Headlining the event is Portland-based act
Wampire
, who will transport the audience back to a 1980s house-show dance party with their psychedelic, EDM-inspired tunes. Multi-genre Spokane acts on the bill range from the well-established to up-and-coming bands. Here's the schedule:
5 pm - Twin Towers
6 pm - Paisley Devil
6:55 pm - The Backups
7:45 pm - Haunted Tubes
8:35 pm - The Tone Collaborative
9:25 pm - Phlegm Fatale
10:10 pm - Wamprie
11:20 pm - Cathedral Pearls

Want more art/music? Check out First Friday listings
here.
Just up the way from Terrain,
Bullets or Balloons
are touting their newest EP,
Naturalistically
, at the Big Dipper. The prolific band may have released a full-length back in February, but they're back with seven more garage-rock songs to share. The act continues to delve into complex instrumental math rock territory with "Short Haired Strom." The entire EP is over in just 15 minutes, and it's completely worth your time. The all-ages show starts at 7:30 pm and is $7 at the door.
SATURDAY
The Portland Cello Project
has not one, but two performances at the Bartlett Saturday, likely after multiple sold out shows in February. One at 6 pm and another at 9 pm. For $20, go see what all the classical meets pop fusion group is about.
Purity Ring, oh Purity Ring. This Canadian electronic pop duo was too busy to talk to us this week, but we still wrote a little something
up about
them anyway. The band plays the Knitting Factory Saturday at 8 pm for $20. Check out tracks from their new, progressive album
here.

Raise your stein to this! The family-friendly
Oktoberfest Party
at Two Seven Public House on the South Hill is back for yet another yet. Band performances on the parking lot stage include
Jus Wright & the River City Roots, Hey! is for Horses
and
Boomshack String Band
.
Get your heavy rock music on over at the Viking Bar & Grill for
Thunder & Lightning's Spectacle
of Boobs 'n Music. Bands like
Witchburn, Invasive, Volcanoes on the Sun, Drop Off, Evolved, North Fork
and more come together starting at 11 am to raise money for breast cancer awareness. This is a free, all-ages event but a monetary donation will be taken.
SUNDAY
Big Gigantic
are big in the EDM world right now. And they're not just two guys playing turn tables, they also play saxophone and drums over their instrumental jazzy/electronic music. Catch them at Knitting Factory Sunday night. Look out for our review of the show come Monday morning.