ON INLANDER.COM
NEWS:
A human trafficking crime in San Antonio over the weekend has
claimed the lives of at least nine people
. A total of 39 people, suffering from heatstroke and dehydration, were packed into a tractor-trailer when it was discovered in a Walmart parking lot. The truck's driver was taken into custody and will be charged. (via
New York Times
)
NEWS:
Spokane County Democrats
face more PDC problems
.
WHAT'S UP?
This week's event highlights
include concerts from Herb Alpert & Lani Hall at the Fox, Parker Millsap at the Bartlett, and the return of Unifest to downtown Spokane.

IN OTHER NEWS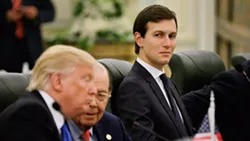 Jared's talking
President Trump's son-in-law and senior adviser Jared Kushner
denied colluding with Russian officials
before a
closed-door meeting with Senate investigators
this morning. Kushner is a
central piece of the Trump-Russia puzzle
. (
Washington Post
)
No relief from fires
Multiple fires
are burning in western Montana
as Gov. Steve Bullock declared a
state of emergency
. The Lodgepole Complex, the state's largest fire, has burned about 226,000 acres and consumed a dozen homes in the northeastern part of the state. Closer to home,
evacuations were ordered in Stevens County
as a 200-acre wildfire burns near the town of Hunters. (
The Missoulian
,
Montana Standard
,
Spokesman-Review
)
No resolution in Olympia
Washington legislators
have left the state capital
without resolving a rural water-rights dispute or addressing a $4 billion construction budget. (
The Olympian
)
Phelps vs. shark? Not so much
U.S. Olympian Michael Phelps, a 23-time gold medalist,
didn't actually race a great white shark last night
; people who tuned into the Discovery Channel to watch the much-hyped spectacle aren't real happy about it. (
New York Times
)