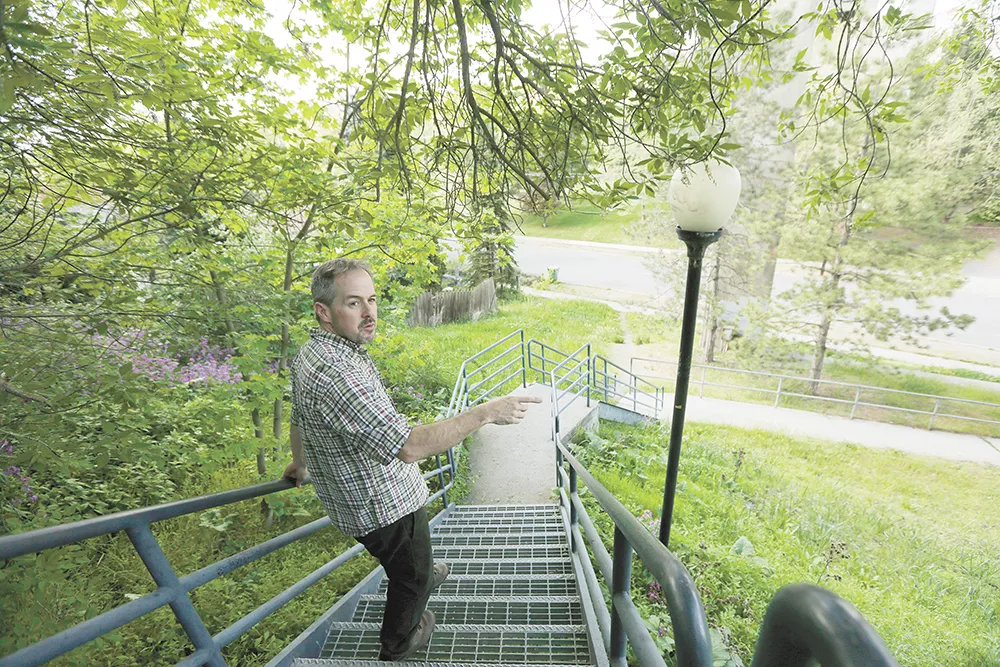 Tod Marshall has settled into a nice little routine: Smoking weed at his buddy Thrasher's beat-down apartment in Wichita, Kansas. Doing a little speed now and then. Listening to tunes and watching Thrasher deal pot to a steady stream of visitors. It's around Christmas, six months after high school graduation.
An older neighbor named Kenny, just out of prison, is hanging out, too, when a couple of Marshall's high school classmates — on holiday break from college — pop in to buy some weed. Not long into the impromptu reunion, Kenny pulls a long knife out of his sock, freaking out the college boys who promptly make their exit. Marshall, though, stays behind even as Kenny pulls out a spoon and needle. And while he decides not to shoot heroin, Marshall parties all night with Kenny and Thrasher before starting the long walk home in the eerie predawn light, his exhaustion and intoxication not enough to keep his mind from working the night over in his head.
"Holy Jesus, is this going to be it?" Marshall recalls thinking to himself. "I may be afloat. I may not know what's next. But I need to avoid living in a place like this with a knife in my sock."
Not everyone can look back on their life and see such a clearly marked fork in the road. But looking at Kenny that night, Marshall recalls, "it was this weird mirror, that this could be your future."
Marshall never saw Kenny again, and his path "didn't cross much with Thrasher's anymore."
Until, that is, both Thrasher and Kenny popped up in Bugle, Marshall's third book of poetry, in a sonnet titled simply with a smiley-face emoji.
The 14 lines mix fact and fiction, Marshall's past growing up poor with his present as a successful academic and one of the Northwest's leading literary voices. That poem, along with those filling Bugle and his previous books, The Tangled Line and Dare Say, showcases his ability to intermingle humor and despair, darkness and light, sometimes in poems just a few lines long. In person, Marshall is unfailingly funny and generous to those around him, whether they be students or fellow poets. His work shows a depth of wisdom and thought that comes with hard-earned experience, part of the reason he was named Washington's poet laureate, the first from the east side of the state, in February of this year.
"He's just a really kind, self-deprecating, humble person, the kind of person you want to be around because you know he's going to be receptive. He's a very good teacher," says Laura Read, Spokane's poet laureate, who's known Marshall through academic and poetry circles for nearly a decade. "His poems, there seems to be another little part of him that escapes in the poems. Like a little valve or something. It's really fascinating."
That valve taps into Marshall's past, where a hectic childhood and the paths not taken — like joining Kenny with that spoon and needle — led to his passionate pursuit of artistry in his writing, and in bringing that art to those communities that rarely get glimpses of art for art's sake.
Rural communities.
Poor communities.
Places where adults are too busy putting food on the table and where schools are too strapped to care much about the arts.
Places Marshall knows all too well.
MAN IN THE WILDERNESS
The G.I. Joes never made it to Kansas.
Marshall's early childhood was spent, often happily, playing in the woods of upstate New York — the first indications of the avid fly fisherman and backpacker he'd later become. As the oldest sibling, Marshall tended to his little brother and sister as they wandered the wilderness of the Adirondacks, usually free of adult interference.
The nights, though, often brought sudden moves to new towns and new apartments so his parents could stay a step ahead of angry landlords and creditors — too many displacements for Marshall to recall, and a part of the family history that changes depending on who is doing the telling, he says.
"The next move was always going to be the good one," Marshall says, describing how his father would break the news of another late-night escape. "They were all framed that way, and my mom went along with that."
His home was loving, but also a "dysfunctional, alcoholic household," Marshall says, recalling two-liter bottles of lemonade and vodka sitting around the house, mixed in advance, for his father's enjoyment. Marshall describes his father, now 25 years sober, as a "Willy Loman type," a dreamer and natural salesman, and his mom as the classic enabler.
One of the sudden moves eventually took the family all the way to Wichita, where Marshall spent the bulk of his formative years in a series of trailers (yes, there were tornadoes) and rental houses. The G.I. Joes didn't make it, but a few things always managed to travel with the family on its sudden moves: Marshall's Hardy Boys books, soccer trophies, the family's funky stereo.
Friendships were temporary due to the vagabond lifestyle, and possessions were largely temporary, too. "Every time you moved, you really wanted to reinvent yourself again," Marshall says. "Partially to forget what came before, and partially to create a new life, something better."
At various times Marshall's dad made a living selling photography packages, as general manager of a professional indoor soccer team and as a manager of a soccer complex. At one point, after a business deal went awry, his father had to flee the state, the family left behind, not knowing where he went, until they reunited in Portland nearly a year later.
The chaotic home life pushed Marshall to be, as he puts it, "hyper-vigilant to threats and distractions" and throw himself into reading as a means of coping, an escape from the chaos. Reading came early in school, as New York sent 4-year-olds to kindergarten, and his teen years in Kansas were full of "a lot of fantasy books. There was a whole Dungeons & Dragons period. Stephen King."
His success on grade school standardized tests constantly pushed him into "gifted" classes where he quickly realized that his socioeconomic background set him apart, as he shared classes with "kids far more well-off economically, who didn't have their moms making their clothes."
As a Midwestern teenager in the '70s and '80s, a turbulent home life didn't keep Marshall from a fairly typical existence. He was a gearhead, owning two '69 Camaros he'd use to gun around town. He worked part-time jobs as a busboy to pay for gas and parts. He tried selling photography packages with his dad for a while, but "I'm not a good closer, and it was pretty sketchy." He went to a lot of concerts at the local arena thanks to his dad's role with the indoor soccer team, seeing bands like Rush, Styx, Van Halen and Journey — all bands you can still find on his iPod.
Music was a big part of his life from the beginning. His dad had a guitar and "he would hammer out Kingston Trio, Peter, Paul and Mary and others." Marshall thinks Don McLean's "American Pie" may have been the first time he "sensed a non-literal relationship between language and meaning."
Marshall was also a self-described "pretty shitty student" in high school, thanks to both a general lack of motivation and a period in 10th and 11th grade "when I discovered substances, shall we say?"
Still, he managed to graduate — "I think I had a 2.2 grade point average" — and recognizes that his parents had it rough raising him and his siblings.
"As kids, we can be mercilessly oblivious to the pain and suffering of our parents," Marshall says. "Day to day, my parents did the best they could. They didn't have a whole lot of options."
Neither did Marshall six months after graduation, walking away from Thrasher and Kenny. But that would soon change.
---
Loam
Love is peasant. Love is find. It lends me, it is unlike toast, it is prow. It
is ride, not self-seeding, it is easy language, it keeps sandy loam close.
Love does not spite but rejoices chartreuse, celebrates brindle, cheers
wildflower bloom. Love always process, always trout, always whistle and
flute, always always very dear. Three remain: grain, hap, and love. And
the greatest of these, my brothers and sisters, is love, always peasant,
always prow, always sandy loam and always, always near.
(originally appeared in The Tangled Line, 2009)
---
SHOW ME THE WAY
It's second period on a Monday morning at Spokane Valley's University High School, and Michael Connelly's ninth-grade Literature Arts class is turning its attention to poetry for the first time. Marshall is visiting, one of dozens of events and appearances for him in April as part of National Poetry Month.
Marshall puts an image of the Kansas University mascot on the screen in front of the class. The red, blue and yellow Jayhawk represents where Marshall got his Ph.D. in literature.
The Jayhawk, Marshall explains, is not a real bird, but a fictional blend of blue jay and sparrow hawk. It's also rooted in history; Jayhawks were westward pioneers who would steal from farms as they passed through Kansas. And later, the Jayhawk name was given to the anti-slavery forces in Kansas during the Civil War.
That one word, he explains, is loaded with history that goes back 160 years, and is also wrapped up in his own personal story. It's "one of my favorite words," he says, and you start stringing together a few of those, and suddenly you're writing.
"Poetry is made of words," he tells them. "They're going to be historical commentary, and have emotional connections. Think about all the words that make you sad."
Before class started, he'd worried about the focus that high school kids would have early in the morning. The windowless room doesn't help, but soon enough he's clearly in his element, the students calling out some of their favorite words as a way of showing that people's love of playing with language in early childhood doesn't disappear as we age.
"Hoopla."
"Mahogany."
"Sticky."
"Edamame!"
"Moist!"
A collective groan erupts as Marshall tells the class that "moist" is possibly the most-hated word in the English language.
"Did you say that just to get a reaction?" he asks the girl who offered up the reviled term. After she admits as much, he tells the students that's fine, that poetry is meant to "challenge and inspire," and that it's an art form they've known and loved since they were kids reading Shel Silverstein and Dr. Seuss books.
By the end of the 50 minutes, Marshall has managed to get the students to write haikus and recite poems in front of each other. He's also told them about his role as state poet laureate and his idea to collect poems from throughout his tenure for a book and website called Washington 129, named for the fact that the state will be 129 years old when Marshall's two-year stint as state poet laureate ends. He'll repeat his presentation to a couple more sessions at U High before racing back to man his office hours at Gonzaga University, where he's an English professor.
Marshall's ability to connect with audiences is part of what makes him a great choice for poet laureate, according to his predecessor in the position, Elizabeth Austen. He's a natural teacher, and his poetry is appealing on several levels, she says.
"Tod combines his deep knowledge of poetry with a genuine desire to help people connect with the art form," Austen says by email. "And unlike many other academics, he's able to talk about poetry in ways that are relatable and immediate (and often funny — bonus!). He's got an egalitarian attitude toward access to art, and he's already shown he's willing to work really, really hard to reach people (quite literally), where they are."
Marshall's own connection to poetry — first as a writer, and now as an ambassador for the state — did not come easily.
"When I was in high school, I hated poetry," Marshall says. "I felt like poems were being taught to me as riddles that I didn't understand, and that made me feel stupid."
That feeling went away after Marshall was able to leave Wichita and his wild high school years behind.
THE BEST OF TIMES
Soccer ran in the family. Marshall was a strong player growing up, and a short guy could get the best of larger players through guile and speed. He played for his school and on club teams, even while partying hard on the side.
After that long night at Thrasher's, Marshall enrolled in a couple of classes at Wichita State University and sent a recruiting tape to several colleges. One tape made its way to a small school in Michigan, Siena Heights College (now Siena Heights University), and the former all-girls school run by Catholic nuns offered a full scholarship if he could make his way there.
His dad AWOL and his mom living with his siblings with relatives in Oklahoma, Marshall caught a ride with a friend to southeastern Michigan.
The undergrad population was just 900 or so students, and the small community "for me was tremendously important. The intimate community, the close network." Figuring that philosophy is what smart people studied, he started with that degree in mind and delved into a variety of causes in college. "I was the guy who, the day they served veal in the cafeteria, would sit down in the doorway ... and say, 'I can't believe you're eating veal!'" Marshall says. Inspired by mentors who encouraged his writing once he showed some facility for it, he decided to add English to his philosophy studies, ending up with degrees in both.
"All that crazy, druggy energy in high school, when I got to Michigan, got reinvested," Marshall says. "The nuns taught me a great lesson in what mattered. They were supportive, absolutely accepting, not judgmental."
Two nuns in particular had an outsized influence on Marshall. Sister Pat Hogan took him to anti-nuclear demonstrations and would read poems in her philosophy class in solidarity with war-torn Nicaragua. Another, Sister Pat Schnapp, taught him that despite theories to the contrary, art and Marshall both were connected to the world around them.
"I have a clear picture of him in class, his eyes intent and on high alert at all times, processing everything with his high-octane analytic skills," Schnapp says by email. "He was a refreshingly vibrant student and a joy to have in class, willing to challenge where others were only willing to catch cat naps."
The lessons learned at the hands of the sisters weren't lost on Marshall.
The nuns "instilled in me a sense that all this learning, it wasn't worth much if you're not willing to give other people entry points to the same place," Marshall says.
That lesson has stuck with him as he's continued through his MFA program at Eastern Washington University, through his Ph.D. at Kansas and now as a professor for the past 17 years at Gonzaga.
---
Still More Work
The beetles bust their asses for days,
stripping flesh from the dead cow,
this overtime shift they didn't request
but had to take. No one's in charge
but the sun. Every now and then a crow
carries a brother beetle from the bones
high enough to glimpse mountains and the city
where we scavenge the hide of hours,
skeleton of days. Forget us.
This is about cows with broken legs,
the long rot, coyotes, hawks, and beetles,
with mandibles like opposable thumbs,
a complete kit for taking bodies
apart. Black lords of sage and hunger and dust,
O how they labor in the heat, they know
neither meek nor might, they feed,
they lie on ribs, they creep across skull and hips and spine,
and when nothing's left, dutiful members
of the brutal union that trades hours for food,
they crawl to death's next shift.
(originally appeared in The Tangled Line, 2009)
---
BLUE COLLAR MAN
It's early on an unseasonably warm spring Saturday morning and Marshall is behind the wheel of a Subaru Crosstrek, the first new car he's ever bought, and one that's going to rack up a serious number of miles as he crisscrosses the state as poet laureate.
It's an hour drive to Ritzville, one of the rural stops he's determined to include in his travels during his two-year term. As he drives, he alternates between the classic rock of his youth and poems he's working on memorizing to recite at public events. He figures he has maybe 40 or 50 poems he can draw on from memory; he calls sharing other poets' words "the ultimate act of hospitality to a work of art."
From his travels before taking on the role of Washington's poetry ambassador, Marshall has found there's a hunger for the humanities in all corners of the state.
"Every time I do an event in an Odessa or Republic or Metaline Falls, people show up," he says. "They buy books. There's clearly an interest out there, a hunger. A real desire for enrichment of this sort. There's something that happens with the arts that doesn't happen on the internet or on TV."
There's competition for Marshall's event at the Ritzville library, though. The weather is beautiful, sure to attract hikers and fishermen to nearby Crab Creek instead of his talk. And the Ritzville Adams County Journal reports there's also a concealed weapon training class down the road in Lind.
Marshall navigates to the library using Google Maps on the smartphone he bought at the urging of the folks at Humanities Washington and the Washington State Arts Commission, the position's two organizing bodies, who encouraged him to up his digital game. He's now tweeting regularly, too, @wapoetlaureate, promoting all manner of poetry events throughout the state. If you want to show the world that poetry is a vibrant and living art form, it seems being digitally engaged is part of the job.
About 15 people gather in the library's basement for a two-hour workshop that is a miniature version of the conversation Marshall wants to have with the entire state as poet laureate. He gives the gathered — mostly from Ritzville, but also travelers from Lind and Soap Lake — some of his background and how he overcame his hang-ups about poetry. He reads some William Butler Yeats ("The Song of Wandering Aengus"). And he talks again about how poetry and playing with words is natural for kids, but that playfulness is often beaten out of people by antiquated and intimidating teaching of the form — if it's taught at all.
"The rhythmical movement of language is something we're drawn to early on," Marshall says. "One of the saddest dynamics in education the last 15 years is how creativity and the arts keep being squeezed out of the curriculum."
Marshall then joins the group in a writing exercise, and at the end, several read their poems to the group.
"I kind of think our imaginations work best when there's some limitations," Marshall says on the drive back to Spokane, talking about the exercise and the different ways he plays with poetry. "If I'm told to sit down and write whatever I want, I freak out."
Marshall is not someone who simply plops down and cranks out genius. He works hard on his poems. He sweats over them. "It's pretty rare that I get lightning bolts from the muse," he says. He schedules writing time between semesters, or during sabbaticals, meaning there probably won't be a lot of writing happening beyond these community exercises during his poet laureate tenure.
When he does get to hunker down, he does it in a chair in the Peaceful Valley home he shares with his wife Amy Sinisterra, often with his dog Teddy on his lap, and it isn't strictly poetry. He's done essays and pitched some chapters of those collections to publishers. On his first sabbatical as a tenured professor, he wrote 60,000 words for a novel that he doesn't imagine will see the light of day.
"I think there's a different brain for the novelistic imagination," Marshall says. "I can write and riff and give descriptions and dialogue and character," but pulling it all together is a puzzle he hasn't solved yet.
Poetry, though, is another story, judging by the work in his books, the awards he's received and the respect of his peers.
"Tod's poems are just marvelous — deeply musical, often wrestling with darker aspects of the human existence, and surprisingly, sharply funny," says former state poet laureate Austen. "He's also adept at capturing the idiosyncrasies of place, and in a number of poems he memorably evokes the particularities and contradictions of Washington."
Marshall, she says, "is entirely the right person for this role."
---
OK
Do you rename the flowers
after relatives living and dead?
That red one there with an arching stem
must be Kathryn, niece smashed
by a jeep in her driveway (getting a ball
from underneath), older sis at the wheel.
And that one, daisy missing a few petals,
must be Dawn, the crack whore cousin
from Ponca City who said she'd blow you
for 20 bucks. You were 14
in the front seat of a Buick. She took
your twenty and laughed, told you
to get out and walk home. You did.
The universe is a wildflower. Remember
that blue blossom the color of summer sky?
Dare you to say mama, to say daddy or love
or please. In Oklahoma, the rivers are red
with red dirt and red water. Sunset,
when it finally arrives, is red no matter what
you say or do or dream. No matter anywhere:
learn to rip things tenderly apart.
(originally appeared in The Burnside Review and Bugle, 2014)
---
DON'T LET IT END
When he was appointed Washington poet laureate this past winter, Marshall was already teaching a full spring-semester load. That was in addition to leading a committee charged with the formation of a public humanities center at Gonzaga. Marshall envisions the center, slated to open this fall, as providing "free community forums and lectures about contemporary cultural issues" to east side audiences rarely exposed to art and how it connects people. "It's part of Gonzaga's mission to break down the barriers between the school and community," he says.
April served as a short, albeit hectic, version of what his schedule might look like for the rest of his tenure as he teaches a lighter load in the fall. Dozens of stops in places like Ellensburg, Seattle, Olympia, Gig Harbor, Bellingham and Federal Way filled his calendar, with media appearances and events like Spokane literary festival Get Lit! interspersed with his poet laureate evangelism. He figures he'll be able to be more tactical with his travel in time, but he wanted to accept every invitation he got to talk about poetry after he became poet laureate.
"Tod is somebody who can't say no," says Elisabeth Mermann-Jozwiak, Gonzaga's dean of the College of Arts and Sciences. She's talking about his work on campus, but that willingness to lead the charge for the humanities extends to all of his roles. "That's kind of his ethic — service to the community. It comes through his poetry, and it comes through his work with students. It comes through in everything he does. He takes on these tasks with his heart and soul and puts them into projects he believes in."
As poet laureate, that means a focus on Washington 129, which will collect poems written by Washingtonians of all stripes.
The idea of showcasing other poets was a big reason he was chosen as the new poet laureate. Julie Ziegler, executive director of Humanities Washington, explains that the job is given to the applicant who combines being active in the state's poetry community with doing quality, published work, and has a worthwhile project to pursue. "Clearly, Tod had all of that," she says.
"This is not an ivory tower position where you just sit and write lovely poetry," adds Karen Hanan, executive director of the Washington State Arts Commission. "This is very much about being an ambassador of poetry on behalf of the state, being out there and being visible. And his plan with the 129 anthology, lots of people will get to be part of what he's doing. They'll understand the importance of poetry. They'll see their own words published ... He's saying poetry fits everywhere. It doesn't matter if it's a senior citizens' retirement center or little kids, big kids or the military. He sees poetry as a universal medium that everybody has a say in. Everybody can do it. Everybody can be a poet."
Marshall's out to prove just that. Just like the students at U High and the people at the Ritzville library, meeting Marshall likely leads to you putting pen to paper and writing a poem, even if you didn't plan on it. It happened to me, in Ritzville, where I walked away with my first effort at writing a poem since some stunted Rage Against The Machine-inspired rap lyrics 20 years ago. It could happen to you, too.
"What is poetry? What is art? What does a poem look like in 2016?"
These are all questions Marshall posits before extolling the value of poetry, and art in general, in forcing people to think abstractly in a world increasingly determined to try to see complex issues in black and white. The arts "allow for ambiguity of thought," are about "cultivating those spaces of uncertainty, and we need more of that. Art takes us into that space.
"I know the arts are first and foremost about mystery," Marshall says. "There are three answers, not one answer." ♦